This Simple Formula Is The Secret To A Magazine-Ready Home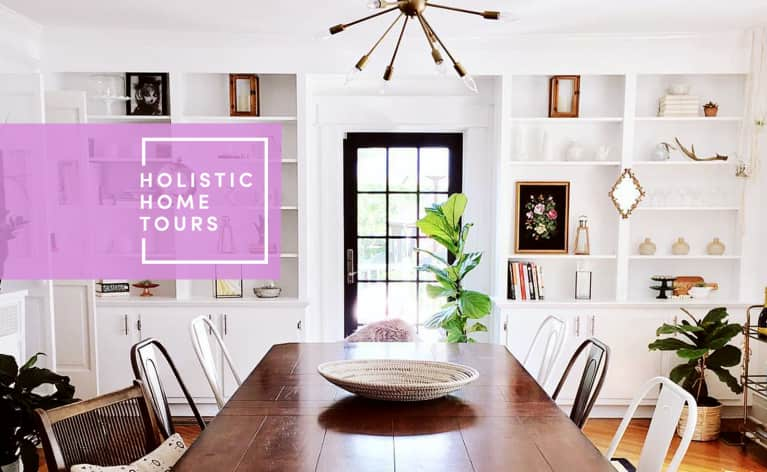 Today on Holistic Home Tours, we're taking a quick trip over to Maplewood, New Jersey to peek inside a bright, inviting family home that strikes the perfect balance of beauty and coziness.
We've all been inside homes that look too pristine and buttoned-up to really settle into. Tanya Meda's family fort is not that. The stay-at-home-mom turned interior stylist and her husband and four kids have lived in, loved, and decorated the space for the past 12 years. "My oldest daughter loves being my assistant. She is always the one I run things by before I hit publish," she jokes.
Meda combines white surfaces, warm woods, and grabby greens for a tactile, inviting home. She may have a self-proclaimed pillow problem, but her approach to rugs is totally genius. Let's take a tour of her Scandi-inspired sanctuary.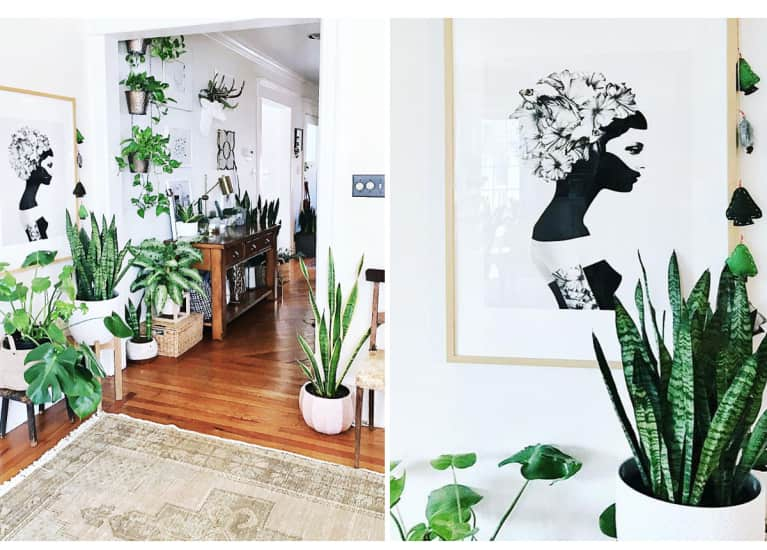 How does your home change with the seasons?
I like lighter and brighter accessories in the summer and I add a little more color in the cooler months. And in the summer, our deck becomes an extension of our home—our outdoor living room.
What's the most sentimental thing hanging on your walls, and what's the story behind it?
I had a custom sign made for my husband with our wedding song lyrics on it. I love being reminded of that day and I love that the kids read those words and know the meaning behind them. Life can get so crazy sometimes, so it's nice to have that reminder of when it all began.
What are three words that describe your design philosophy at home?
Casual, livable, stylish.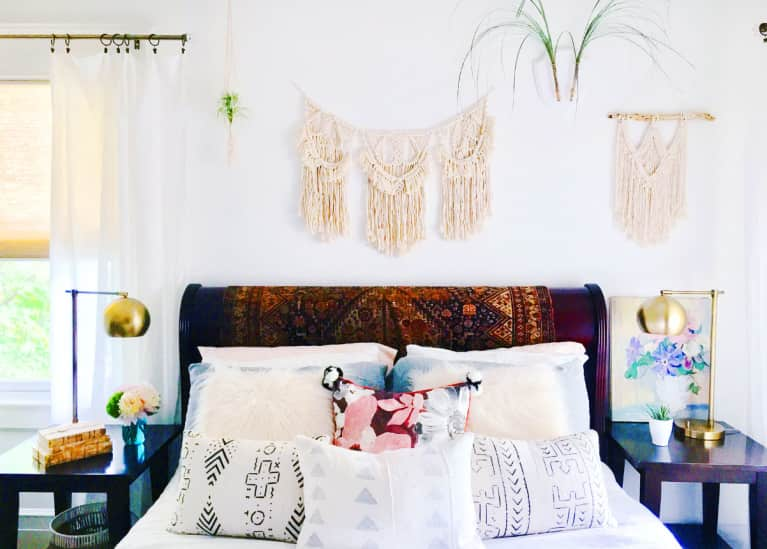 I love all the rugs in your space—can you tell me a little bit about them?
Oh wow, do I love rugs—vintage and really worn ones in particular, as their history totally fascinates me. Moving rugs around a home is such an easy way to change the feel of a space almost instantly. This summer, I moved all of my more-muted rugs into the living room to give the space a lighter feel. Then once it gets cold, I'll layer rugs to create visual interest. For me, white walls, plants, and rugs are the key elements of a magazine-worthy home. It is such a simple formula, yet a magical one.
Favorite place to buy furniture? Accessories?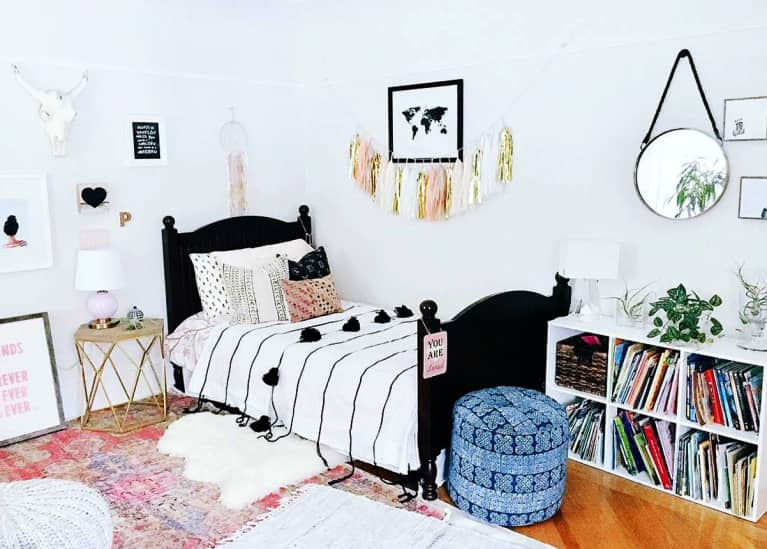 Coziest spot in your home?
Emerson's room is one of my favorite spots to snuggle, and Serena and Lily's hanging chair in my living room is my favorite spot to sit and read. It's where i have my coffee on the weekend mornings and just watch the rest of the family.
What noises can be heard in your home? What smells?
Lots of laughing, talking, yelling, crying, singing—we have it all with four kids. Music is always playing—always. There is a dance party at any given moment. You can usually hear one of the kids playing the piano or the guitar.
I went vegan a few months ago, and as a result I'm trying new recipes daily, so the house always smells like something yummy. I also always have candles burning. I love the warm ambiance they create and their delicious aromas!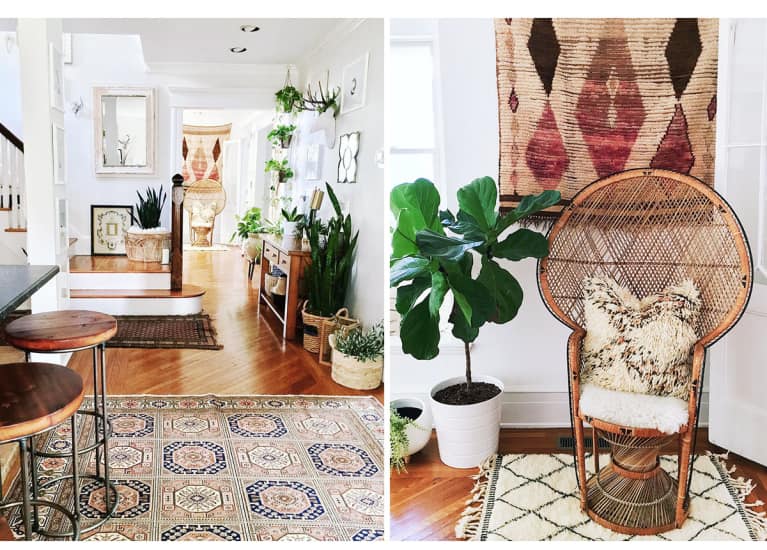 What's the oldest thing in your home? Newest?
I have a few vintage rugs that date back to the early/mid 20th century, and a vintage chair i found recently that obviously has a lot of history. As of today, the newest piece in my home is a gorgeous leather chair from Eclectic Goods. It is one of my favorite pieces in my home.
What's your favorite room in the house and how do you use it?
Our living room. I love its style: It has some really special pieces but like us, it is still casual and fun. There is nothing in there the kids can't touch—they love to take all my pillows and create pillow castles on the sofa. Peyton brings her dolls in to play. Dylan reads on the sofa. Emerson and Beckett are always coloring or creating something together at the coffee table. It's a well-lived-in, well-loved space.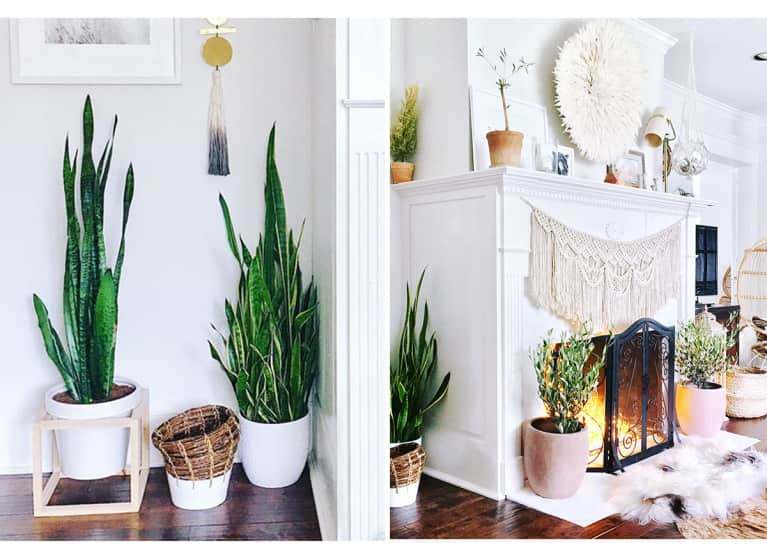 How does your home relax you? How does it motivate you?
I find the Scandinavian style very inspiring and refreshing. Toss in a little beachy boho through textiles, and I'm in heaven. Caring for my plants also motivates me—I love knowing that they are natural air purifiers too. But my biggest motivation will always be my kids, my family. I love creating a home that is warm, inviting, and full of love for them. It might not always be walk-in ready, but there is no shortage of love—and I think you can feel that the moment you walk in.
What's the best compliment you've ever received on your space?
That although the photos of my home are beautiful, it is even more beautiful, warm and cozy in person. That's all I want.
Here's a primer on how to bring some of Meda's style into your own space, wherever it may be.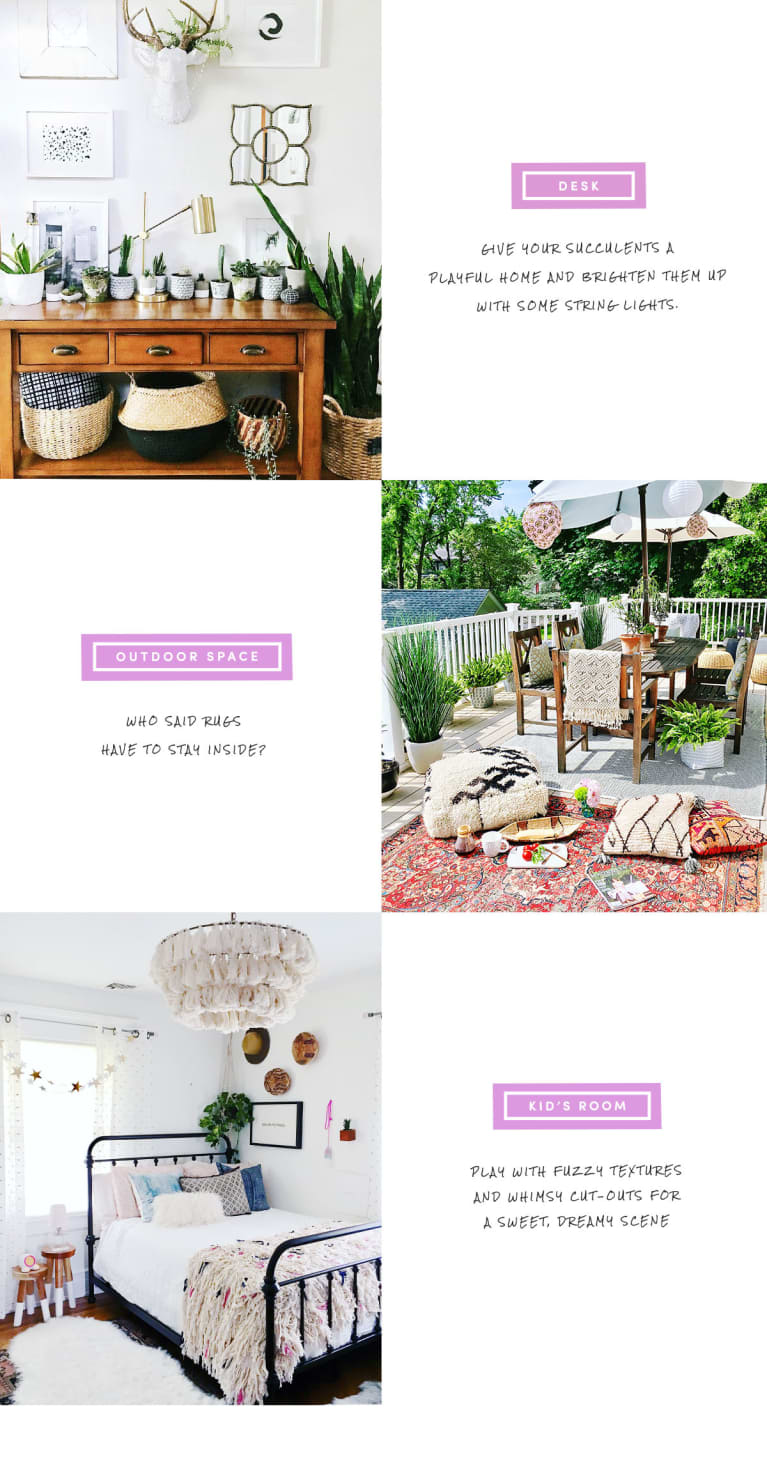 To peek inside more feel-good sanctuaries around the world, check out the rest of our Holistic Home Tours.