A Holistic Dermatologist On What Healthy Aging Actually Means + 3 Tips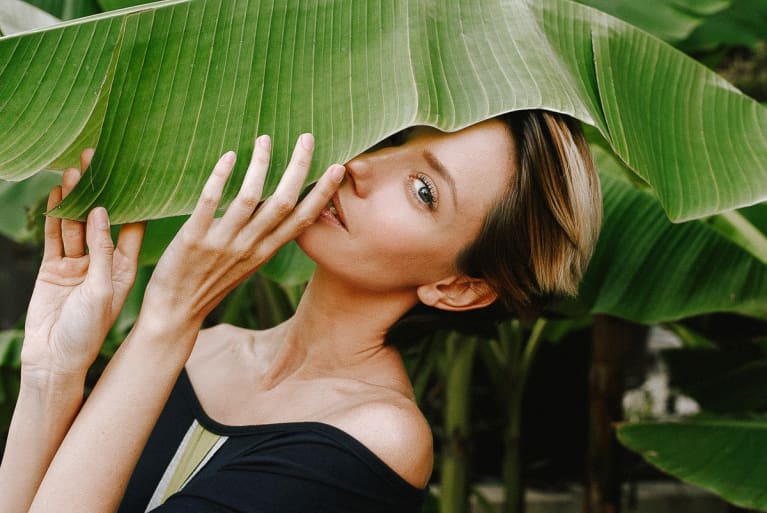 When we talk about aging, we tend to get topical- or product-heavy. We talk about how starting an SPF routine in your early years will set you up later in life since you'll be skipping years of sun damage (it will, we should add). We talk about how layering on serums and treatments can improve the epidermis in a myriad of ways (they can, of course). We talk about how facials or special tools can take years off in a moment's notice (again, true).
But the conversation changes when we start to talk about healthy aging (it is Healthy Aging Month, after all). Here, it becomes a much bigger conversation about how we can celebrate and promote skin longevity and vibrancy.
What does this look like in practice? Allow board-certified dermatologist Keira Barr, M.D., to explain.
What healthy aging means to a holistic derm. 
"My biggest tip is to stop buying into the concept of 'anti-aging,'" she says. "Societal pressures lead us to believe that getting older means getting less attractive, less important, less worthy, and that's a bunch of garbage. Rather than trying to get back to what we once were, we should celebrate where we are now and be more of that."
See, it's all about a mindset shift, one that goes from How can I turn back the clock? to What are the most important steps I can take to make sure my skin is the best it can be? And when you change how you think about your skin, you start to change the way you care for yourself.
"Healthy aging means taking care of all of you, not just your skin—though on that front, using a daily moisturizer with sunscreen; antioxidants like vitamins C [and] E, a topical retinoid, and getting a good night's sleep are always a good idea," she says. "More importantly, it means spending more time doing what you enjoy, not what you think you should be doing to please someone else. Take time to really get to know what is important to you, what you want, and who you want to spend your time with, and give yourself permission to let go of the rest. It's simple, not easy, but always worth it."
3 daily actions to take to promote healthy aging:
"I believe that skin care starts from the inside out. Therefore, I'm a big believer in supplements. Sure, it'd be great if we could get all the nutrients we need from our diet, but, unfortunately, we can't, and it's unrealistic to expect us to," Barr writes in a recent review of mindbodygreen's nr+. "That's why I rely on supplements for myself and often recommend them to others. Because I want to stay on top of the latest products and research, I'm always trying new options with new ingredients—testing on myself first to see what works, what doesn't, and how I can best pair ingredients together. As part of my recent routine, I started nr+. I added it because I was familiar with nicotinamide riboside (NR), as well as its additional ingredients like phytoceramides, astaxanthin, and rhodiola. I have noticed my skin is brighter and more radiant: A smart skin care supplement can truly enhance the appearance of your skin.*"
"We all know that stress is an inevitable part of life and arises when we are under mental, physical, or emotional pressure that we perceive exceeds our ability to adapt to it. This results in a wide range of physiologic and immune reactions that can trigger or exacerbate skin conditions," she writes about the brain-skin connection. "Various studies highlight that focused breathing, mindfulness meditation, and relaxation techniques have been used successfully in a variety of skin conditions including acne, alopecia areata, atopic dermatitis, and psoriasis."
"When you look in the mirror and see fine lines, wrinkles, uneven tone, texture, and pigmentation, you may want to take stock of how you are stocking your pantry. Antioxidants are the antidote to free radicals. Vitamins A, C, E, anthocyanins, beta-carotene, lycopene, zinc, selenium, and resveratrol are just a few of the antioxidants that serve to protect your skin by donating one of their electrons to the free radical so it can no longer cause damage," writes Barr about what to eat to age healthfully. "Adding in foods rich in carotenoid plant compounds like lycopene (tomatoes, watermelon, and guava), lutein (pumpkin, pistachio, dark leafy greens), and zeaxanthin (parsley, kale, egg yolk) will give you an anti-inflammatory and antioxidant jolt. Foods rich in zinc, selenium, and copper like lentils, eggs, dark chocolate, and almonds are also vital to the formation of collagen and elastin and help decrease inflammation."