Cozy Holiday Décor Ideas We Can All Steal From Scandinavia
Our editors have independently chosen the products listed on this page. If you purchase something mentioned in this article, we may
earn a small commission
.
There's just something about Scandinavia. Encompassing Denmark, Norway, and Sweden, the region is known for its famously happy people and sought-after exports like IKEA, smorgasbords, and the viral hygge philosophy. Scandi interior design, characterized by simple, well-made products in clean lines and muted tones, has reached a similarly cultish status over the years. Here, Scandi stylist and writer Dorothea Gundtoft, author of New Nordic Design, gives her top tips for implementing some of her home region's cozy and bright design sensibility into your space this holiday season.
What kind of holiday décor is common in Scandinavian homes?
We generally tend to use a lot from nature, such as real pine cones, spruce branches, and holly. People tend to find a lot of décor in the forest—things that have fallen on the ground so they don't need to be cut down. I know a lot of families with children love this part of Christmas, where they go to the forest to forage for fallen pine branches and cones, then go home and decorate them with glitter.
I'm Danish, but due to my father's job, I spent my teenage years in the south of Spain, where they always use plastic trees and plastic decorations. This is not common in Scandinavia at all; there are always fresh pine and pine cones in all the supermarkets and stores. We also have this great, sustainable initiative regarding Christmas trees in which you can rent them and they get replanted after Christmas. Elves are actually quite a big thing in Scandinavia too, and when I was a little girl, I used to place a bowl of rice pudding with cinnamon and butter (a Danish Christmas dish) in the attic for the Christmas elves.
What are some other ways that people in the region make their homes cozy in the wintertime?
Since it gets dark up here in the North pretty early, we decorate our houses with lanterns, garlands, and Christmas lights. But we don't have the tradition, like in America, of using colored lights, and we don't go all in on the decorations on our houses because I think we are generally brought up with a mentality to live very sustainably and always turn off anything that doesn't serve a purpose.
In Scandinavia, we never have harsh lighting. Instead, we are very concerned with creating a calm and nice atmosphere with things like candles because we spend so much time in our home due to the cold weather. Everything in Scandinavia is also quite expensive, but I think this fosters an atmosphere of idea creation, where you have to get a little creative when it comes to decorating.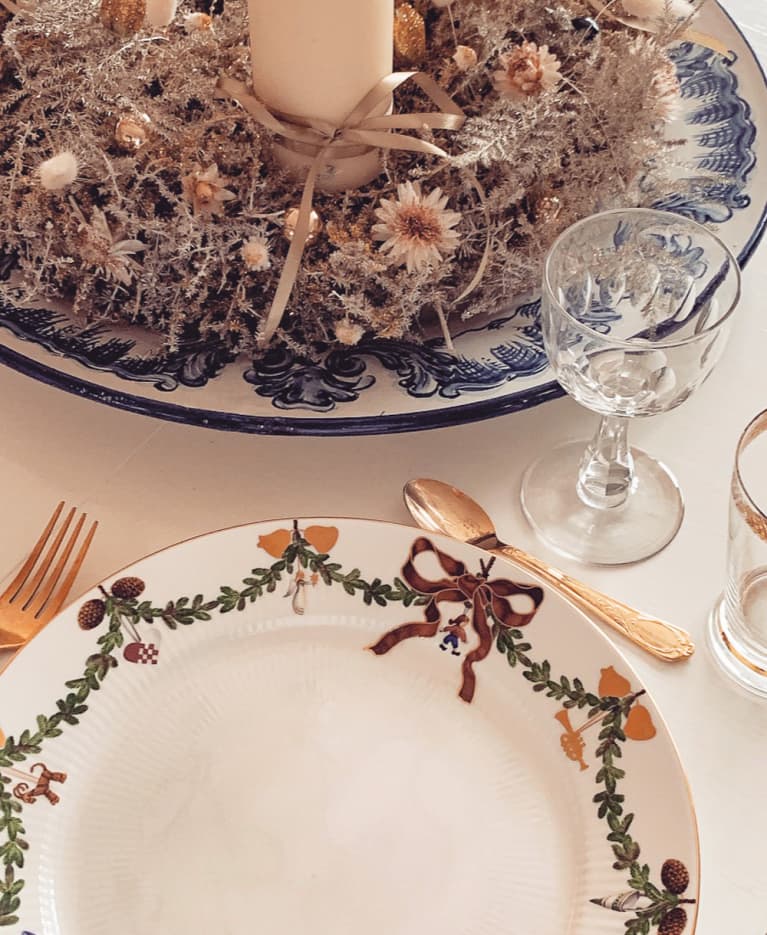 How do you decorate your own home for the holidays?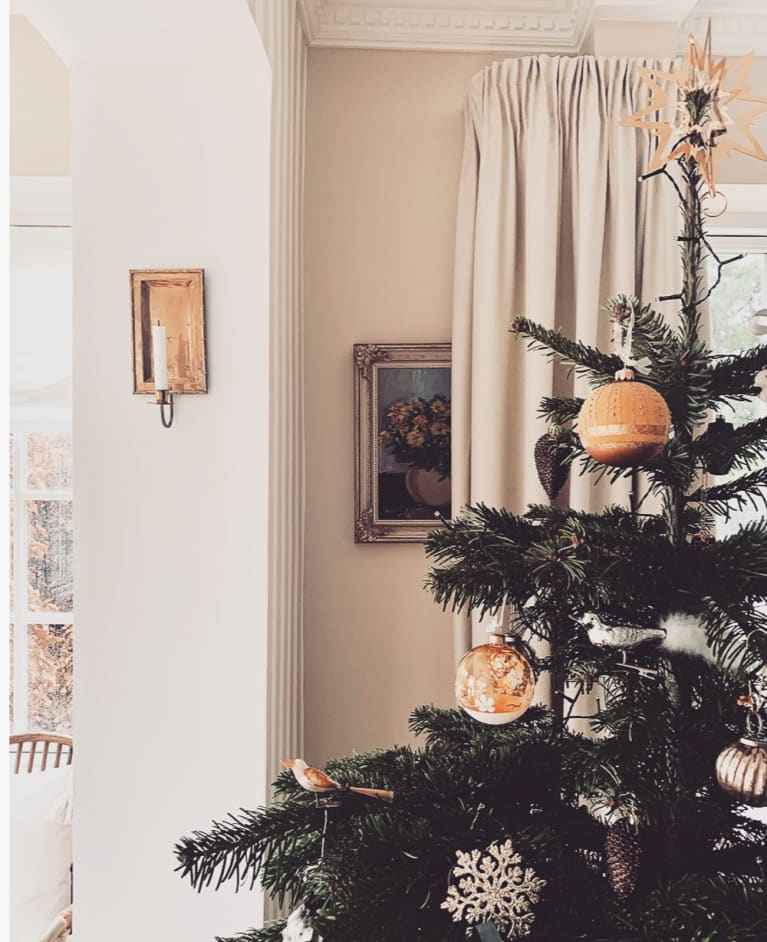 I actually collect old Scandinavian Christmas decorations and have several antique ornaments that I've either inherited or bought at various markets. In general, I've always loved gold and silver decorations, but since I have several living rooms (I live in the countryside), I decorate them according to the wall paint. As an example, I have a library that's dark blue, with one wall decorated with William Morris wallpaper and mustard velvet curtains. It's full of old furniture, such as an Ole Wanscher sofa, a Danish midcentury furniture maker, with turquoise fabric, so I try to match it with an advent wreath with dried flowers such as blue hydrangea, sprayed with gold. Since I have some Georg Jensen pieces by Ilse Crawford, I also tend to go for gold or silver Christmas ornaments that match. Our dining room is quite colorful, so again I stick with metallic ornaments on fresh pine branches and calendar decorations that match.
What is it about Nordic design that you think has such universal appeal?
I think that it's the way we use materials and prize simplicity. If you buy a chair by Hans Wegner, for example, you want to cherish it and keep it for generations. It doesn't go out of fashion, because it's so well-made and timeless. I think it's lovely that there's still such a focus on craftsmanship in Scandinavia, and there are constantly new furniture makers making their way onto the design scene.
Another aspect is the fact that our furniture also has to be comfortable. We don't only focus on great design. I've explored this in all of my books because I find it fascinating and motivating: New designers today are keener than ever to produce products that are thoughtful and sustainable but still look absolutely beautiful. What more could you want?