mbg Gift Guides: 12 Better Basics For Everyone On Your List (And We Mean Everyone)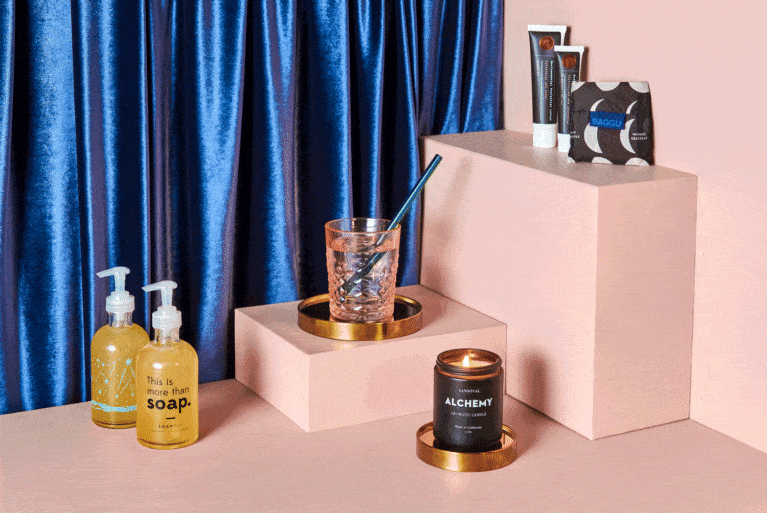 Our editors have independently chosen the products listed on this page. If you purchase something mentioned in this article, we may
earn a small commission
.
The holidays are usually a time of excess, but this year we're proposing a new way to gift. Stay tuned for a curated list of products that epitomize the principles of mindbodygreen: environmental responsibility, community connection, and health benefits to boot. Check out the rest of our gift guides as they publish throughout the month here.
With today's gift guide, we're proving that practical doesn't have to mean boring.
When we asked psychologist and happiness expert Elizabeth Dunn for the secret to giving an awesome gift, she said that buying something you know the other person needs is the best option. It sounds obvious, but it can actually be pretty difficult. Since we're not mind-readers, why not gift something that's universally useful?
From shampoo and soap to coffee and lip balm, these are the products that we reach for every single day—but they all have a twist. These basics are better for the planet and better for your body, making them the best for literally anyone on your list this year:
1. Soapply hand soap
Soapply is on a mission to elevate that bottle of soap sitting on your bathroom counter. Proceeds from every bottle of this natural, organic hand wash go to fund water, sanitation, and hygiene initiatives in the developing world. Gift a single bottle or subscription to their basic set, or treat someone to Soapply's artist series—a collection of six bottles shipped every other month, decorated with the work of a featured artist (the first one is a beautiful starscape by New York Times best-selling author Oliver Jeffers). It's a limited-edition series though, so don't wait until Christmas Eve to place the order.
Soapply Liquid Hand Wash ($25)
2. A Bluestone Lane coffee subscription
What could be more thoughtful than funding someone's caffeine fix for months on end? Bluestone Lane is a buzzy Aussie café in New York City, and they offer one of the only coffee subscriptions certified by the Rainforest Alliance. The coffee industry has historically been a contributor to deforestation and dangerous working conditions, and by choosing certified coffee, you're ensuring your brew was made in a socially and environmentally responsible way. Bluestone lets you choose between espresso and drip coffee blends, and you can get your beans whole or ground.
Bluestone Lane Coffee Subscription ($12/bag)
3. Earth's Bees lip balm
Burt's Bees is undergoing a temporary makeover for the sake of their namesake critter: the honeybee. The company recently teamed up with The Half Earth Project to map out 6,000 species of bees in the hopes of protecting them from colony collapse disorder—a mysterious disease that is killing bee populations around the world. They're calling attention to this important research partnership with new "Earth's Bees" balms that come in vanilla and cucumber mint scents and make for a great stocking stuffer.
Burt's Bees Earth's Bees Lip Balm ($3.29)
4. Saint Olio surface cleaner
Deep-cleaning your home doesn't exactly scream holiday fun, but this nontoxic cleaner honestly smells so amazing that you'll forget using it is supposed to be a chore. It's nontoxic and formulated with uplifting essential oils like grapefruit, tangerine, and orange. Plus, the bottle is beautiful enough to put on display.
Saint Olio Nº1 Aromatic Cleaner ($20)
5. Simply Straws reusable straw and Livari case
This year, we were bombarded with some pretty distressing news about where our environment is headed if global warming continues, but we had some important wins too. Namely, we watched as single-use plastic straws were dethroned by reusable options. Have a friend who still hasn't hopped on the reusable straw bandwagon? Gift them a glass one from Simply Straws that's housed in a case designed by zero-waste fashion label Livari. The case will keep your straw clean when you throw it in your purse, and proceeds go to ocean advocacy group Lonely Whale. Throw in a Baggu reusable bag, some bamboo cutlery, and you have the perfect on-the-go eco arsenal. We're freaked out by where the planet is going—so let's do a little something about it.
Livari Straw Set ($20/straw, cleaner, and holder)
6. Sandoval candles
Candles instantly up the cozy factor of cold winter nights, and these ones from California-based brand Sandoval Aromatics are clean-burning, so you don't have to worry about weird (and potentially toxic) chemicals filling your space. They're on the pricey side, but you're paying for high-quality ingredients like bergamot, vetiver, lavender, and spicy black pepper. You'll also find a special surprise at the bottom of each jar: a crystal that has been charged with good vibes under the full moon. We'll take it.
Sandoval Alchemy Aromatic Candle ($60)
7. Oura sleep tracking ring
Given the popularity of smart watches, it was only a matter of time until the next type of wellness wearable hit the market. A new company Oura literally puts your health data at the tip of your finger with a sleek ring that measures markers like sleep quality, activity levels, and resting heart rate. You can pair the ring with Apple Health to access its feedback on your phone at any time.
Oura Balance Ring ($299)
8. Ethique shampoo bars
Switching over from liquid soaps and scrubs to bars is a quick way to reduce the environmental impact of your personal care routine. The carbon footprint of bars is about 25 percent lower on average, since they are lightweight, easy to ship, and don't come packaged in plastic. Ethique has found a way to put everything from face cleansers to moisturizers to laundry products to pet shampoos into bar form, and the company is committed to sourcing ingredients in a sustainable way on top of it.
Ethique Hair Sampler ($16)
9. Mother Erth bag
To create every tote bag, Mother Erth collects discarded plastic that would have otherwise gone to landfill. The company estimates it keeps 1 to 2 pounds of material—the equivalent of up to 38 water bottles—out of the environment with each one. Female artisans are paid a living wage to stitch this material together into a product anyone can feel proud about toting around.
Mother Erth White Woven Tote ($70)
10. The Lost Explorer lotion
Founded by environmentalist David de Rothschild, The Lost Explorer is a brand that wants you to go wild. Each product is designed with a certain landscape in mind—be it the mountain, jungle, or desert—and made to prep the body for adventure. Touting a mission to "create products in partnership with Nature," the company is obsessive about sourcing, and all the ingredients are responsibly extracted from the world around us. Its Environmental Protection Lotion is a wonderful all-around starter product for anyone—whether they're heading out on a cross-country hike or just needing a little more goodness in their life.
The Lost Explorer Environmental Protection Lotion ($28)
11. Pela phone case
These plant-based cases are totally biodegradable, so you can compost them with your next phone upgrade. They're also super durable yet flexible and come in tons of colors and patterns. Let's all text our way to a plastic-free future, shall we?
Pela Phone Case ($39)
12. MIRROR interactive mirror
The future of fitness is all about never leaving home. The success of Peloton has paved the way for boutique studies like Flywheel and Rumble to start their own at-home packages, and MIRROR is the latest and greatest innovation in the at-home gym market. The mirror makes for an expensive gift—but the ability to follow along with strength, yoga, barre, Pilates, boxing, and HIIT classes streamed on your own wall? That's pretty priceless.
MIRROR Smart Mirror ($1,495)