The Hobby To Try While Quarantined, Based On Your Enneagram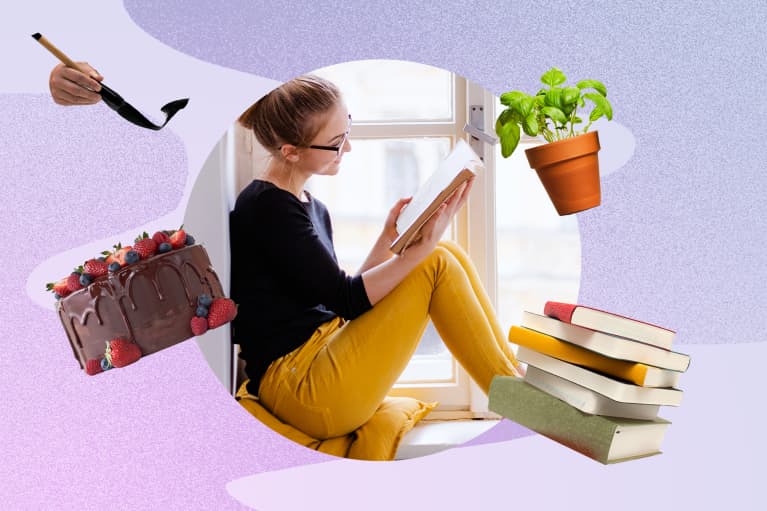 If you're spending a lot more time at home than usual these days, picking up a new hobby can be a great way to get a new dose of energy and freshness in your life while also practicing some needed self-care. No idea where to start? Below are ideas for new hobbies based on your Enneagram type to help you choose something that's well suited to your personality and values. Any of these hobbies could apply to everyone, of course, so if you see one that pops out at you that doesn't happen to be correlated to your Enneagram type, go for it anyway!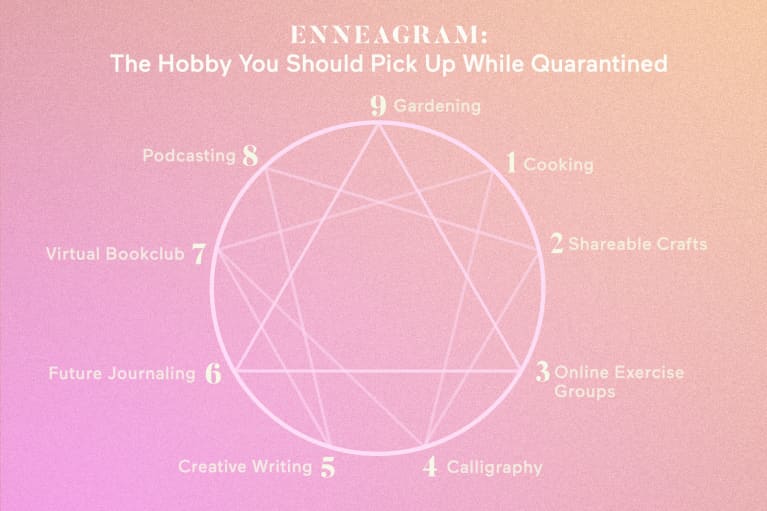 Ones value order, perfecting their creations, and being of service to others. This is a great opportunity for them to learn new recipes from the comfort of their home, which they can later use to serve guests. They could learn and follow the recipe from an online source, or they themselves can video chat and teach their friends and family.
Type Twos: Shareable crafts
Twos value connection, relationships, and spreading love. Crafting their own greeting cards will allow them to get creative and send some love via snail mail. They could also create a crafting hour online to share ideas with a group of friends.
Type Threes: Online exercise groups
Threes value energetic vibes, creating goals for themselves, and some competitiveness. They would most likely enjoy joining an online exercise group of their choosing. This will increase their endorphins, get their body moving, and also feed their competitive spirit!
Fours value creativity, beauty, and aesthetics. They would enjoy learning calligraphy. This could be a skill they eventually use to express themselves in other ways like art projects, bullet journaling, or integrating it into their personal brand.
Type Fives: Creative writing
Fives value introspection, mastering skills, and intellectual challenges. Signing up for a creative writing class would allow them to research and write about topics that they want to learn more about. They enjoy working independently, but they could also connect to others in the class—giving them a bit of social time if they wanted it.
Type Sixes: Future journaling
Sixes value clarity, loyalty, and optimism. Starting a "Future-Self Journal" could bring them a sense of grounding, and it would allow them to create the opportunity to stay committed to themselves. They could also bring a sense of community to their hobby by working on it with a tight-knit group of friends.
Type Sevens: Virtual book club
Sevens value good times, sharing ideas, and having variety. Starting a book club will have them scheduling in weekly social gatherings online to connect with friends and chat about the parts that lit them up the most. They might even enjoy getting creative and hosting themed Zoom hangouts that relate to the book!
Eights value passion, action, and leadership. They can take their expertise and causes to the masses by starting their own podcast. By sharing their points of view with others and empowering them through their own experiences, Eights will definitely feel like they're leaning into their passions with this platform.