Here's How To Upcycle Your Christmas Tree After The Holidays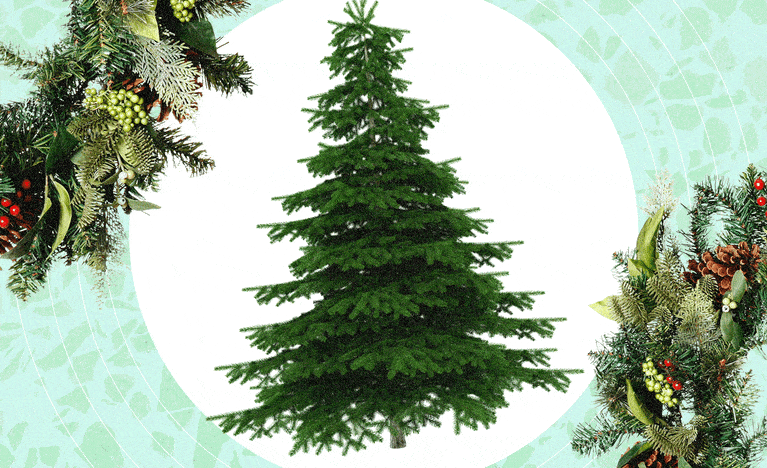 Many of our living rooms may bear a similar scene soon: a Christmas tree, sans ornaments and lights, ready to be disposed of. But may we suggest upcycling (or recycling)? That's right—there are actually a ton of ways to get the most out of your tree before you scrap it.
From crafts to gardening, here are some fun and environmentally friendly ways to use your tree post-Christmas.
The National Christmas Tree Association has a bunch of sustainable ideas for recycling trees. According to them, old trees make a nice feeding area and refuge for fish when sunken in private ponds. And if you've got pet fish at home, you could even break off small branches for a little fish tank décor.
Similarly, they make good feeders for birds too. You can stand the tree up in your yard and string fruit or popcorn for birds to munch on (just be sure all the tinsel and ornament hooks are off). There's something extra rewarding about giving a piece of nature directly back to the environment for animals' benefit!
If you've got a garden that needs some sprucing (pun intended), Christmas trees make for great mulch! Once chipped, the branches can be used to enrich and insulate your garden's soil. A thin layer of branches can also serve as the base of a fresh compost pile.
Stump slices are great, too, for laying a path throughout your garden or lining the border of a garden bed.
And for future reference, Christmas trees can also be replanted! Next year when out shopping for your tree, consider buying one that's rooted in some sort of container. Of course, this option is dependent on your yard space and climate (they survive best in mild climates), but if you're into the idea, it's recommended to dig the hole in late fall to be ready for planting after Christmas.
There are so many ways to get crafty and creative with your tree. Like, so many. The width of Christmas tree trunks makes them a great size for art projects like coasters, ornaments, and more. You can color them with paint or markers, or get fancy and try your hand at wood burning.
Additionally, a few full branches are all you need for a DIY wreath or window lining. Branches and stump pieces can also be repurposed to make these cute twiggy gnomes or adorably stumpy Santas.
And lastly, if you came here hoping for simple recycling guidelines, here you go:
Most waste departments will take your trees on garbage days, given you meet their guidelines like removing ornaments, lights, etc. Similarly, some nonprofits will pick up your tree for you for a small fee. (Check with your local Boy Scout troop!) You can also drop off your tree at nearby recycling centers.
And lastly, get in touch with your local department of public works to see if they have tree recycling programs. Some will come and chip the tree for you, and you can keep the mulch for your garden!
We're all for making holiday traditions more sustainable, so we hope these ideas inspired you to try something new with your Christmas tree this year. You might just get some cute decorations out of it!