How To Actually Become A Morning Workout Person, According To Science
mbg Contributor
By Leigh Weingus
mbg Contributor
Leigh Weingus is a New York City based freelance journalist writing about health, wellness, feminism, entertainment, personal finance, and more. She received her bachelor's in English and Communication from the University of California, Davis.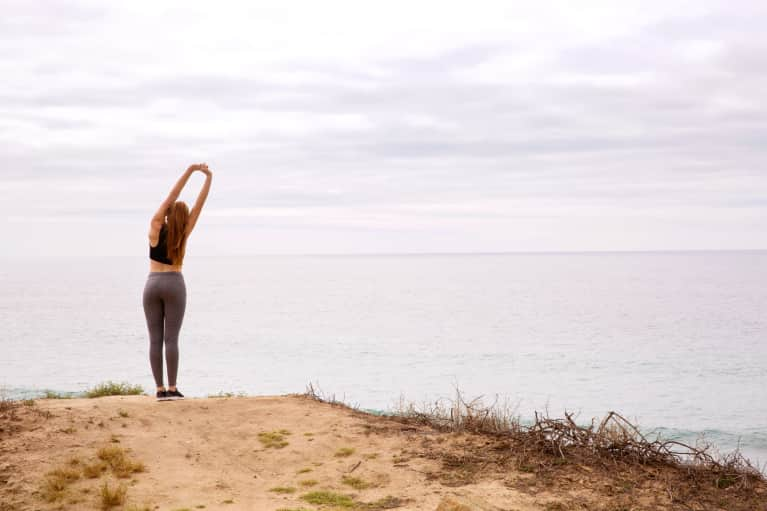 October 27, 2017 — 9:20 AM
Ever feel like health news is too overwhelming, fast-paced, or hard to decipher? Us too. Here, we filter through the latest in integrative health, wellness trends, and nutrition advice, reporting on the most exciting and meaningful breakthroughs. We'll tell you exactly what you need to know—and how it might help you become a healthier and happier human.
According to recent research, it takes 66 days to form a new habit. While that exact timeline is still up for debate, a new study published in the journal Health Psychology found that there's one simple way to speed up this formation: Do the thing you're trying to turn into a habit first thing in the morning.
For the study, researchers asked 48 college students to do a 15-second hip flexor stretch for back pain prevention either first thing in the morning or right before bed. The experiment lasted 90 days, and every day a smartphone app would prompt the subjects, asking if they had completed their stretch and whether or not they had to think about it before they did it.
Interestingly, the participants who were instructed to do their stretch first thing in the morning not only had an easier time remembering to do it, but the researchers concluded that they would automatically remember to do it by the 105th consecutive day, while it would take the late-night group until the 154th day to start doing it automatically.
While the success of the morning group could have to do with the fact that they did their stretch before getting distracted by work, family, friends, and more, in this case the researchers think it has to do with the fact that our cortisol levels are elevated first thing in the morning, and when our cortisol levels are high, it's easier to learn new things.
Long story short, if you want to form a difficult new habit—like exercising regularly—do it in the morning. You won't regret it.
Interested in kicking your bad habits? Here's a three-step guide to only eating when you're hungry.