Here's How Plant-Based Diets Can Make You Less Susceptible To Food Poisoning
mbg Editorial Assistant
By Christina Coughlin
mbg Editorial Assistant
Christina Coughlin is an editorial assistant at mindbodygreen. She graduated from Georgetown University in 2019 with a degree in psychology and music.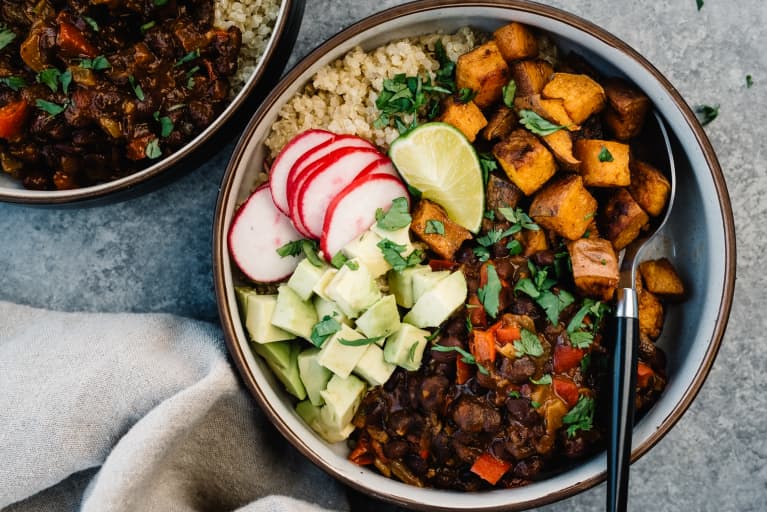 December 24, 2019 — 2:00 AM
Food poisoning. At best, it leaves you on the bathroom floor for a few hours after some bad sushi. At worst, it can lead to serious complications and possibly even death, especially in those with compromised immune systems. Either way, we all want to avoid food poisoning at all costs.
One thing that might help? A plant-based diet. New research shows those who eat plant-based may be at a lower risk for food poisoning. Researchers at U.T. Southwestern Medical Center used mice to study how plant-based diets affect intestinal health and found that mice on this diet were less susceptible to foodborne illness.
Foodborne illness in mice.
Researchers focused on a specific strain of E. coli for this study, known as EHEC. If that sounds familiar, it's because EHEC is the one tied to the current outbreak of illness associated with romaine lettuce.
For the experiment, the scientists compared mice who were fed a pectin-heavy diet filled with fruits and vegetables with a "chow diet," which follows a more grain-based meal plan. Researchers found that mice on the pectin diet for a week were better able to withstand a GI infection commonly associated with the E. coli strain, while mice on the chow diet were more likely to develop the infection.
"This is relevant to public health because EHEC outbreaks lead to hemorrhagic colitis, which is debilitating and sometimes causes death, particularly in the very young and the elderly," says lead researcher Vanessa Sperandio, Ph.D.
How pectin is the key to fighting the virus.
As Sperandio explains, plant-based diets are high in pectin, a gel-like substance found in many fruits and vegetables. This substance is digested by the gut and converted into galacturonic acid, which is one of the keys to fighting EHEC and keeping that bacteria from becoming viral and spreading throughout the body.
The reason EHEC can be so harmful is because of its ability to use certain pathways to become more viral in the intestine, so the ability pectin has to stop this pathway is essential.
Because it was only done on mice, however, more studies need to be completed before these scientists can draw any concrete conclusions about how this research translates to humans, but if it gives us one more reason to load up our plates with veggies, we're game.