Yes, You Can Eat Gluten & These 3 Tips Will Help You Do So In A Healthy Way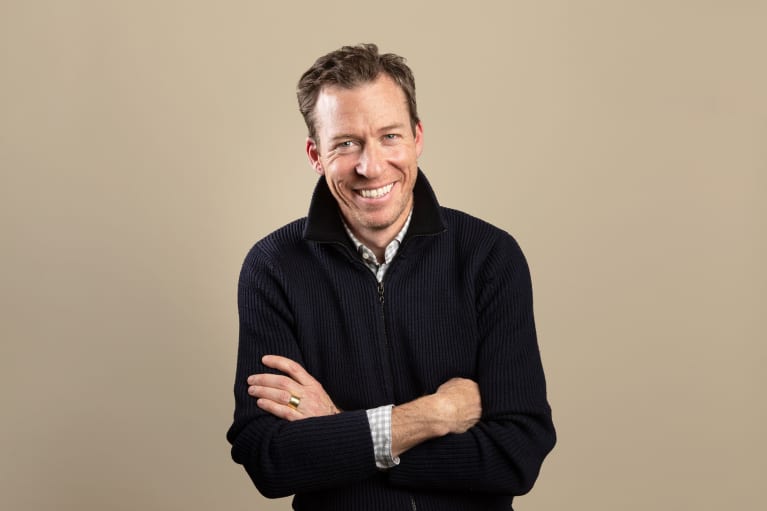 Executive chef and partner of the Delicious Hospitality Group Ryan Hardy is a luminary in the food industry. With an impressive resume of culinary gold mines (Charlie Bird, Pasquale Jones, and Legacy Records, to name a few), Hardy certainly knows how to curate a meaningful eating experience.
While he places an emphasis on the importance of a vegetable-heavy diet ("Vegetables are always great," he tells me on the mindbodygreen podcast), he also believes that we shouldn't shy away from gluten for optimal health. In fact, he was even able to change Frank Lipman, M.D.'s mind on the matter, as they chatted gluten and gliadin over dinner.
"We talked for an hour about bread," Hardy laughs.
He acknowledges that people can have some serious digestive issues with gluten, but he also believes there's a right way for some people to eat bread again without experiencing harmful symptoms. Here's Hardy's guide to eating gluten, with three tips on how you can sneak in some sourdough:
1.
First and foremost, bake your own bread (or find a bakery who does).
According to Hardy, baking bread in-house is key. Whether you make your own at home or opt for goods at a local bakery, make sure that whatever you're eating is fresh. When you eat bread without knowing when and where it was made, that's when most issues with gluten start to arise.
"Sometimes you don't know when they're baking it or when they're delivering it," he says. "You can churn out 75 different types of bread simply by using flour, yeast, water, and salt in different ways."
In order to ensure that his customers are eating the freshest ingredients, Hardy includes upstairs bakeries at each of his restaurants. "We want to control the quality of what we're serving," he says.
Another reason baking your own bread is important is because then you can tweak the recipe to your personal digestive symptoms and flavor profile. Feeling sick or bloated after munching on a piece of homemade ciabatta? Next time, give it a couple of more days for the dough to ferment, says Hardy.
"Even if you don't think it's doing anything, it is. So, put the dough away for a couple of days. The texture will change as it proofs, as it bakes..." he explains.
When you make your own bread, it gives you the freedom to experiment with different methods and fermentation periods. According to Hardy, bread sure counts as a fermented food (more on that later).
2.
Start with a good type of flour.
When you are making your own bread, choosing the right flour is key. Because there are so few ingredients in bread (four, to be exact), you want to ensure you're getting the highest quality items with no chemicals or additives.
"Flour is the most important part of bread making. You have to have great flour," Hardy says.
He's partial to a whole wheat, organic flour—just make sure it's truly whole wheat and not stone-ground. Ground wheat flour is a little more processed than whole wheat flour, so it can lack certain fiber and nutrients.
That said, Hardy believes even this tiny change can be significant for gluten sensitivities, so we have to look out for sneaky chemicals on our labels. "Most of the flour out there is treated with a lot of nasty stuff," he notes.
3.
The longer the fermentation period, the better the bread.
Finally, Hardy suggests you pay attention to how long the fermentation process is. Most breads have a fermentation period of six hours, sometimes a full 24 if you're lucky. To put that number into context, Hardy recommends eating bread that's been fermented for around 72 hours.
Through countless trials and errors, he found that the molecules and proteins in bread actually transform the longer the dough ferments.
"I don't necessarily suffer from GI issues, but I feel terrible after eating gluten sometimes," Hardy admits. "A longer fermentation period changed it dramatically."
This fermentation process not only changed the microbial activity of the gluten, but it also can change how long the dough cooks and tastes. Hardy specifically found that a longer fermentation yielded much chewier pizza dough.
So, if you're trying to incorporate gluten back into your life, you may want to start with Hardy's three tips. Of course, you should consult your primary care doctor before you experiment with your digestion, but taking food advice from a renowned star chef doesn't seem like too bad of an idea.
"It's basic: long fermentation and great ingredients. But it's revolutionary in a way because the product is so much better than the commercially available standard," Hardy concludes. Simple and to the point—just like our gluten should be.