A Climate Hero On 2 Things Everyone Should Know About Our Planet
mbg Sustainability Editor
By Emma Loewe
mbg Sustainability Editor
Emma is the Sustainability Editor at mindbodygreen and the author of "The Spirit Almanac: A Modern Guide To Ancient Self Care."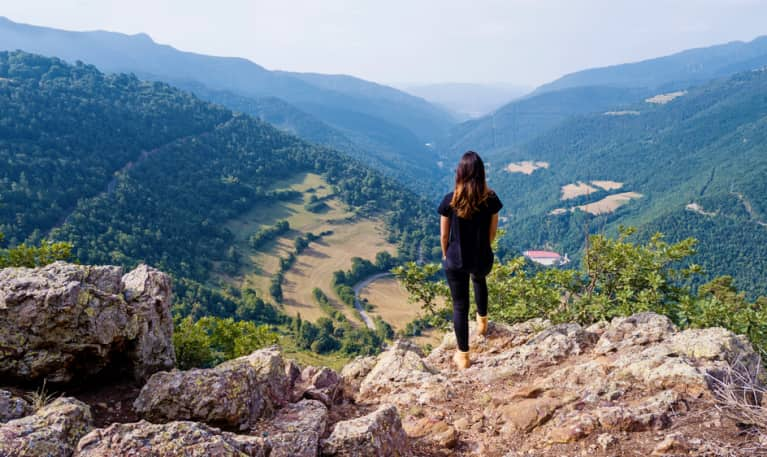 Previously the executive director of the Environmental Working Group and deputy director of women's outreach for the Al Gore campaign, Heather White now sits at the helm of Yellowstone Forever—the nonprofit partner of Yellowstone National Park that implements educational programming and fundraising to connect park visitors with nature on a deeper, more meaningful level. Over the years, she's set up her office everywhere from the trenches of Capitol Hill to the pristine wilderness of Montana. White's diverse background has given her an understanding of many different aspects of environmentalism—from the nature that inspires it to the policies that protect it.
We recently caught up with White during revitalize, mindbodygreen's annual summit, to pick her brain on the state of our planet today. Interestingly enough, she drew many parallels between the wellness world and the realm of environmental conservation, explaining that maintaining external balance is key to internal bliss.
Outer peace breeds inner peace.
"Part of wellness is thinking about our external environment," she said. "There is a responsibility for us to support each other and to support the world around us." Overhead, smoke from wildfires across California and the Pacific Northwest (thought to be intensified by this year's above-average temperatures) tinged the Arizona air, its slight smokiness serving as a reminder that a sick planet often means sick people too.
There were many more examples of nature informing wellness over the course of the three-day conference. Guests began exploring the surrounding nature as early as 6 a.m., with sunrise hikes that got our blood flowing and our eyes full of wonder for the desert's rich landscape. Most of the day's workouts and meditations were also held outdoors, with the sunny background serving as inspiration to push harder and relax deeper. Meanwhile, in a panel on mitochondria and the microbiome, functional medicine expert Frank Lipman, M.D., likened our bodies' systems to our external environment, drawing parallels between a rich microbiome and a diverse ecosystem. Mark Hyman, M.D., and Vincent Pedre, M.D., agreed, adding that the best way to promote healthy bacteria is by playing around in the earth every once in a while.
There's a need for positivity.
The most obvious connections between wellness and environmentalism were made by Paul Hawken—the accomplished environmentalist whose work ranking the top 100 solutions to climate change for his latest book, Drawdown, won him mbg's Lifetime Achievement Award this year. During his revitalize speech—a fan favorite—Hawken pointed to multiple statistics that got the wellness-centric audience excited. Namely, that eight of the 20 top solutions involve the food on our plates and that educating girls is one of the most effective ways to change the world.
"Paul Hawken was phenomenal," White said in reaction to his address. "I think it's important to talk about hope for the future. Because if it's just gloom and doom, it's hard for people to listen and take it in. It becomes overwhelming, and it's easy to shut down. We need to lift up stories on climate and conservation that show how we can really make a difference."
She's seen the importance of remaining positive in her work, highlighting the grandeur of Yellowstone, as well as in her personal life mothering a 12-year-old girl.
"I was talking to my daughter last night, and she's concerned about climate change," she recalled in the week following revitalize. "We've had a lot of fires in the West and the air quality in Montana is really bad. She said, 'Mom I don't think grown-ups get it.' When I asked what she meant, she said she was worried that these extreme weather events we're seeing could be what her life is like every day. And since a lot of folks aren't going to be here for them, she didn't think they understood the urgency. She got pretty emotional about it, and that's where I started talking about Paul's book. I said that there are solutions." After recounting the dozens of ways that all of us can create harmony in our outer and inner worlds, she asked her daughter to find one that resonated with her. "It's about what connects to you—because there are so many different opportunities."
Miss some of Hawken's inspiring talk? Check out the whole thing here, and read up on how you can get involved here.