The Healthy, Breezy Summer Dinner French Girls Are Obsessed With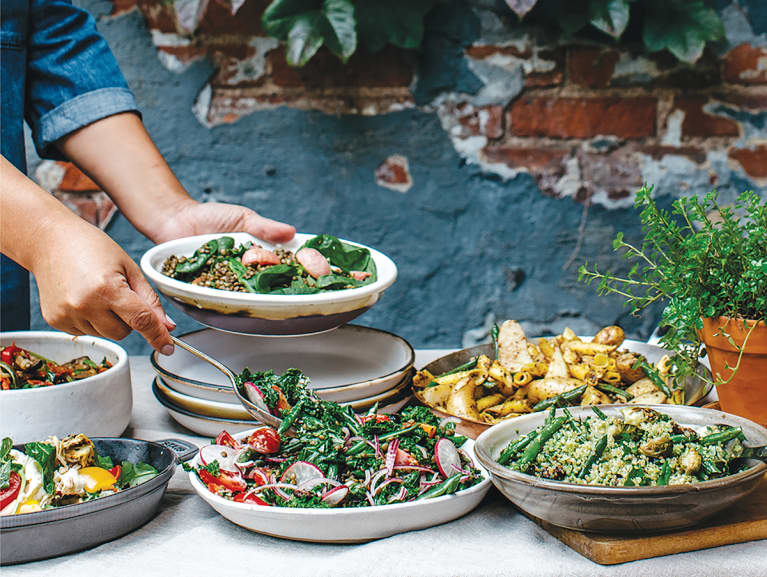 Our editors have independently chosen the products listed on this page. If you purchase something mentioned in this article, we may
earn a small commission
.
Hetty McKinnon is the cool girl of the food world, and everyone from Cup of Jo to Molly Yeh is crazy for her. In her new book, Neighborhood: Hearty Salads and Plant-Based Recipes from Home and Abroad, she shares creative plant-based dishes from her time spent living and traveling around the world. This grain salad is inspired by her time living in Provence, the land of lavender fields and sweet summer dreams. It's a breeze to throw together and quintessentially French: studded with fresh herbs and effortlessly elegant.
Provencal Salad With Green Beans and Lemon-Parsley Oil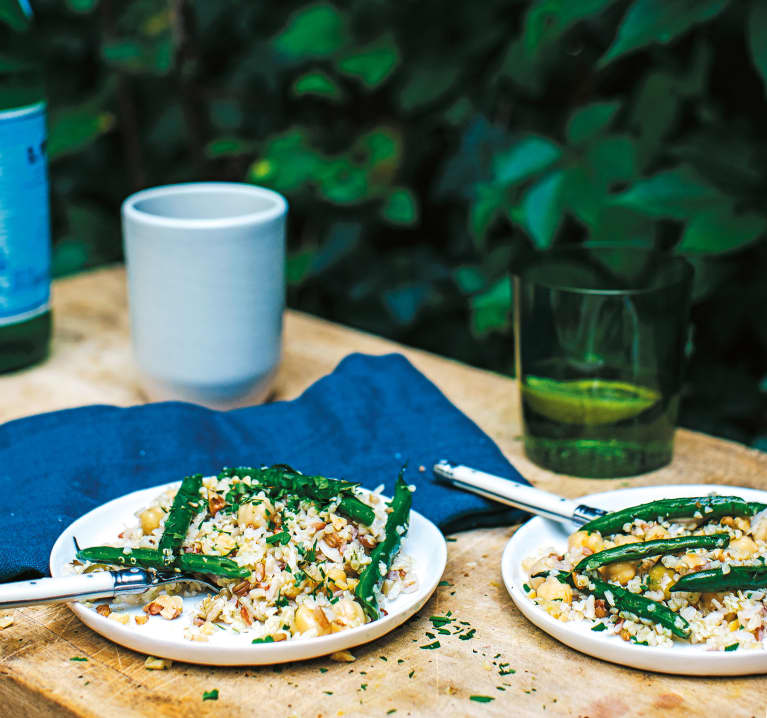 This is a salad I cooked regularly during our stay in Provence, using locally grown red rice from Camargue. This hearty grain salad can be enjoyed warm during the cooler months, but is also lovely served at room temperature for warm summer days. The lemon-parsley oil provides a beautiful citrus lift to the dish. Use other herbs for the oil if you wish—basil, oregano, tarragon, or chives also work well.
Serves 4 - 6
Ingredients
½ cup Camargue red rice (can sub wild rice or black rice)
1 cup brown rice
½ cup quinoa (white, red, or a mix), rinsed
½ cup coarse bulgur wheat (cracked wheat)
1 tablespoon extra-virgin olive oil
½ lb green beans, trimmed and cut into 1 in pieces
Half of 15 oz can chickpeas, drained and rinsed
12 pitted green olives
3 tablespoons finely sliced green onions
½ cup flat-leaf parsley leaves, finely chopped
3 tablespoons walnuts, toasted and crushed
Sea salt and black pepper
1 small garlic clove, very finely chopped
½ cup flat-leaf parsley leaves, chopped
3 tablespoons extra-virgin olive oil
1 tablespoon walnut oil (or other neutral oil like grapeseed)
Squeeze of lemon juice
Sea salt and black pepper
Add the red and brown rice to a saucepan with 6 cups of water and a big pinch of salt. Cover with a lid and bring to a boil over medium-high heat, then reduce the heat to a simmer and leave to cook for 15-20 minutes, until the grains are soft and all the water has been absorbed (if there is any water left at this point, simply drain it away). If you prefer, you can cook this in a rice cooker instead.
Combine the quinoa and bulgur wheat and cook them in 2 cups of salted water until soft, draining off any remaining water as before. Leave the mixture to sit in the hot saucepan for 5-10 minutes to dry out and fluff up.
Heat the olive oil in a small frying pan over a high heat, add the beans, and fry with a pinch of salt for 4-5 minutes until tender and starting to brown. Leave to cool.
To make the lemon-parsley oil, add the garlic and 1 teaspoon of salt to a mortar and pound together with a pestle to form a rough paste. Add the parsley and pound until the leaves are broken down and the paste is green, then stir in the oils and lemon juice, and season to taste with salt and pepper.
Combine the red rice, brown rice, quinoa, bulgur wheat, chickpeas, green beans, green olives, green onion, and parsley in a big bowl and stir well, then season with salt and pepper.
To serve, scatter over the walnuts and drizzle over the lemon-parsley oil.