This Rock Star's Nutritionist Has The Best Healthy Holiday Travel Tips
mbg Contributor
By Courtney Swan
mbg Contributor
Courtney Swan is an LA-based integrative nutritionist and traveling "real foodist" on a mission to change the way America eats. She received her master's of science in nutrition and integrative health from Maryland University of Integrative Health.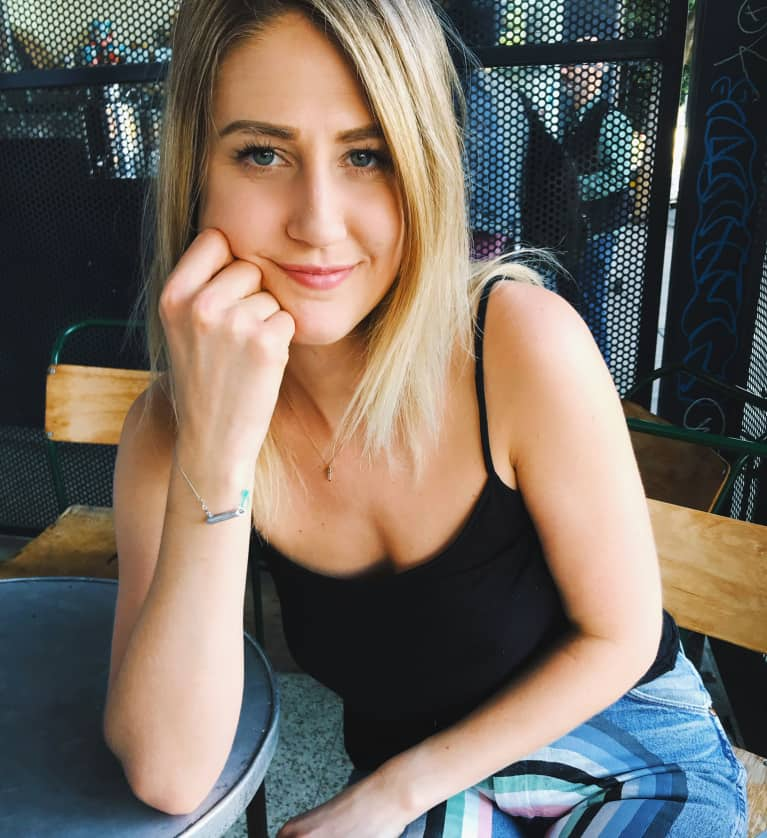 Our editors have independently chosen the products listed on this page. If you purchase something mentioned in this article, we may
earn a small commission
.
Healthy travel is absolutely doable, and I find that if you're committed, it's really not that hard! I spend anywhere from six to eight months on the road as Tove Lo's nutritionist and still keep up with my healthy regimen, so if I can do it, you can definitely do it! Whether you are traveling for work or for fun, these tips will help you stay on track with your healthy eating while still enjoying the local cuisine and sights!
While all health-conscious travelers know the Whole Foods trick (hit up the local Whole Foods salad bar for healthy eats), it's far harder to figure out what to eat when there are no healthy grocery stores in sight. Don't worry; I've got you. Here are my best tips:
1. Always travel with your essentials.
I travel with a separate carry-on bag that is strictly for my health essentials. It is part of my job on the road to keep the band and crew healthy, so I realize an entire carry-on suitcase may not be feasible for some, but you can still fit most of this stuff in your large suitcase if you can't bring a separate bag! You will most likely want to figure out the best essentials for your personal needs, but to help you get started, these are my favorites:
Gaia Quick Defense: Feel a cold or the flu coming on? This will knock it out in two days. Seriously.
Source Naturals Wellness Formula: When flying and moving around a lot, this helps boost your immune system and keep sickness at bay.
Probiotics: to keep that gut on its sh*t (pun intended, of course).
Charcoal: A deep detoxifier that's great if you eat something that doesn't agree with you, have a few too many slices of bread and cheese in Italy, are hung over, or get food poisoning.
Daily supplements: These will be different for everyone, depending on your needs.
Vital Proteins travel packs: for your skin, hair, nails, and a healthy gut.
Food bars: These are great for plane travel and to have on hand in general. Look for low-sugar, high-fat ones—my favorites are Bulletproof and Primal Kitchen.
Chia seeds: I always have these with me because you can easily whip up some chia-seed pudding in your hotel room; all you need is some nondairy milk, which you can generally ask room service for.
Amazing Grass Green SuperFood Detox & Digest: This is an easy way to get extra greens and probiotics in, and they come in convenient travel packets!
Cans of safe-catch tuna: People laugh at me for this one, but they have saved me many a time in a pinch! Pick up some gluten-free crackers and an avocado, and boom! Healthy meal on the go!
When I head overseas, I tend to stock up on certain items I know that I won't be able to find over there (like my beloved Bulletproof bars), so keep this in mind when you're traveling outside of your home country.
2. Stock your hotel fridge.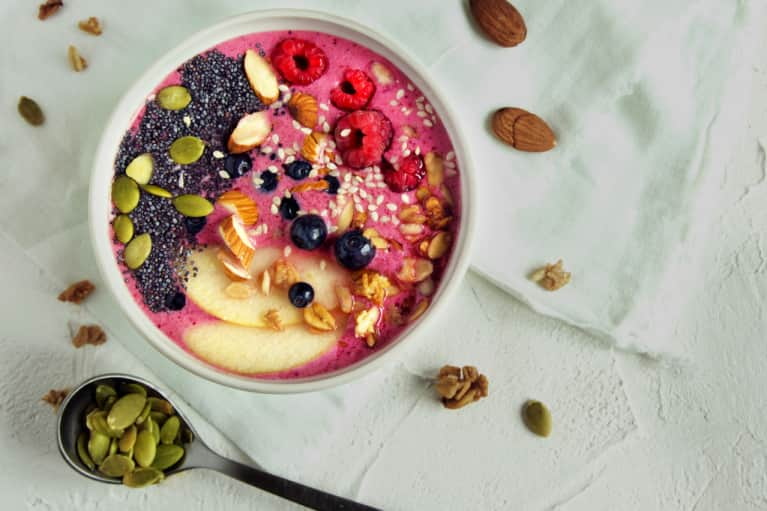 If I am in a place for longer than a night or two, I will walk to a local natural food store and stock up my fridge with a few essentials such as lemons (for lemon water in the morning), coconut milk, chia seeds, green juices, kombucha, coconut yogurt, apples, almond butter, and berries. You can make chia seed pudding so easily in a hotel room! All you need is chia seeds and nondairy milk or coconut yogurt. You measure out in a glass, mix together, and leave in the fridge overnight. Then in the morning just top it with berries or a banana and almond butter.
3. Use apps to find healthy options near you.
Yelp, Happy Cow, Google Maps, and Chrome (yes, the web browser) are my go-to travel apps. One of my favorite things about traveling is finding healthy spots everywhere I go. It's so cool to see so many places around the world offering healthy options, and it's awesome to get to experience the culture around it in every city! I've found when I seek out organic food, I end up at some really delicious, high-quality food spots while still getting offerings of the city's local fare. In my experience, organic food spots tend to offer higher-quality food, "food with a conscience," so I have had some of the most amazing meals in new cities by simply searching for "organic food." I also like to seek organic food places out to avoid exposure to pesticides.
Here's my step-by-step system: I open up Yelp and first search for "organic," "organic food," and "organic restaurant." Then I search "juice bar" and "vegetarian" or "plant-based." Even though I don't eat an entirely plant-based diet, these terms always pull up the best food spots! I also do a search around me in Happy Cow and see what comes up. From there, I read reviews and menus to assess which places look best and make a list. On rare occasions when Yelp and Happy Cow don't pull up anything good, I go to Google Maps and search similar terms as above to see if they pull up anything these apps missed. If you're in a city where they don't speak your language, then pull up the menu in Chrome and it will translate whatever language the site is in to your native language. This has been a huge help for me while overseas in Europe!