This Supplement Is Like A Mega-Watt Highlighter You Can Eat
mbg Beauty Director
By Alexandra Engler
mbg Beauty Director
Alexandra Engler is the Beauty Director. Previously she worked at Harper's Bazaar, Marie Claire, SELF, and Cosmopolitan; her byline has appeared in Esquire, Sports Illustrated, and Allure.com.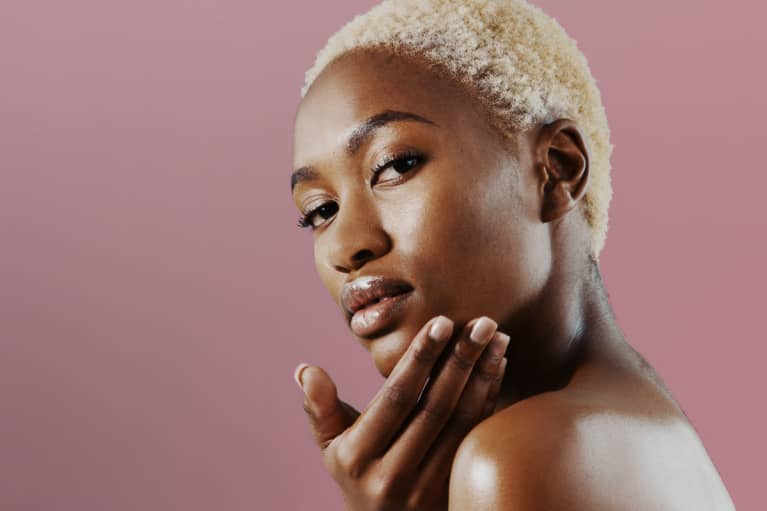 Last updated on April 15, 2021
Highlighters are beloved by both makeup and skin care enthusiasts equally, as they impart that dewy, refreshing sheen on skin. In fact, many are something of a makeup/skin care hybrid anyway: They come with healthy emollients and light-reflecting pigments to make you subtly glow. Essentially: It's that look you wish you could just wake up with.
And you just might be able to, too: mindbodygreen's nr+ formula is like a highlighter in a bottle, thanks to its good-for-skin ingredients. So much so that mere weeks after I started taking it, I remember being complimented on my "highlighter" by friends and strangers alike. The twist? I wasn't wearing any. (Read my full review of mbg's nr+ here.)
So if you're looking for a skin supplement to help you wake up refreshed, start here.
So how does this supplement turn your skin into its own highlighter?
Simple: Young, healthy, moisturized skin cells reflect light. When your stratum corneum is supple, it naturally appears more vibrant and reflective. This is exactly what highlighters are trying to do with their light-reflecting pigments, mica, and oils.
mindbodygreen's nr+ supports your skin cell's longevity and youthfulness.* Here's how. The supplement's eponym is the nicotinamide riboside (NR). It's an active ingredient that turns into another molecule called nicotinamide adenine dinucleotide (NAD) when absorbed by the body. NAD is a coenzyme that is needed for proper mitochondrial function. What does this mean? It means NR is able to support your energy at the cellular level—and more energetic cells means more youthful cells, long term.*
But it doesn't stop there. First up: Astaxanthin is a potent antioxidant that tempers inflammation, neutralizes free radicals, and manages photodamage.* It's a member of the carotenoid family of antioxidants, which have been shown to enhance the overall tone of your skin.* Rhodiola is an adaptogen that helps manage oxidative stress.* And finally, phytoceramides provide cells with hydration, enhancing moisture levels and smoothing texture.*
All of these enhance each other's performance; the end result is a supplement that works thoroughly to give your skin cells energy, moisture, and nutrients.*
If you're looking for ways to improve your skin health, a skin-smart supplement is an easy way to that. You'll get a refreshing, dewy glow from the inside out. And you know what? If you want to top it off with your favorite highlighter, you can, by all means. But healthy skin starts internally. Glow on.