A Girl, A Grill & The First Guy She Adored
Contributing Food Editor
By Liz Moody
Contributing Food Editor
Liz Moody is a food editor, recipe developer and green smoothie enthusiast. She received her creative writing and psychology degree from The University of California, Berkeley. Moody is the author of two cookbooks: Healthier Together and Glow Pops and the host of the Healthier Together podcast.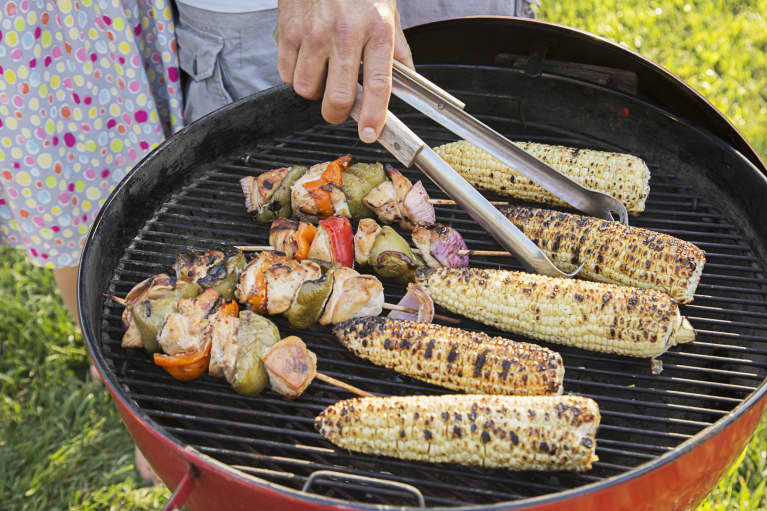 My father and I spent a lot of my childhood getting lost. A psychologist who worked 60-plus-hour weeks, he spent his weekends seeking respite in California's High Sierras and tried to instill the same love of wilderness in me from before I could walk, when he'd stuff my chubby, roll-filled baby legs into a backpack and strap me to his back, ready to hit the trail. I hiked Nevada Falls in Yosemite when I was 6 years old and tackled the peaks of Mount Lassen not long after. There were just two problems: My dad, despite the cumulative thousands of miles hiked, has a terrible sense of direction. We'd lose the trail and spend hours coming up against drop-off cliffs and trees that looked vaguely familiar. Once, parched after wandering for 15 miles with no sign of civilization, we drank water downstream from a pack station and contracted giardia. And—oh yeah—I hated hiking.
I hated nature. I hated the bugs and how far it was from my friends and how, when I would prattle on, my dad would shush me and tell me to listen to the wind swishing through the trees (boring) and the faint, whining hum of cicadas (seriously, why were there So. Many. Bugs?). I hated how hot it was in the sun and how cold it was in the shade and how my heavy backpack left stripes of sweat on my once-cute T-shirt.
I kept going, though, mile after mile, death-defying adventure after death-defying adventure, because of what happened at the end of the day. We'd pitch our tents, and I'd gather kindling. He'd chop peppers and onions and corn if I was lucky; we'd pull sausages from the cooler in our car and slip them onto sticks I'd carefully selected from the surrounding forest. The fire would crackle, and I'd lean back in my nylon chair, rubbing my tightly wound calves with tired, dirt-streaked hands. If I was lucky, my dad would even pour me a bit of scotch. The stars were bright overhead—so, so bright—and the smoke wound its way up through the pine silhouettes. They were the kinds of moments that I feel nostalgic for even as it's happening, I look around and try to turn up the dial on the colors and the sounds and the smells, and it still isn't enough to alleviate the lump that catches in my throat. It was the kind of moment I'd hike a thousand miles for.
I'm older now, and I live 3,000 miles away from my father, in a city where, in the summer, the heat turns the world into silvery waves as it rises off the omnipresent concrete. I work early in the morning and late at night and often on weekends, caught up in the notion that if I try harder and do more, I'll get to a destination not quite defined but revered nonetheless. My dad and I try to see each other as often as we can, but real life interferes, as it's wont to do. I spend a lot of time missing not just him but the simplicity of a childhood free from schedules and budgets and emails, when some bugs and being quiet for a few minutes felt like big problems. I miss the quiet.
But sometimes, on a day I can convince myself that I'm not so busy, I'll take the long way home. I'll walk along the waterfront of the East River, where the landscaped park cools the sticky summer air. There is shiny, hard New York City glimmering in the background, and there are grills, at least 10 of them, surrounded by picnic tables. A whiff of that primal scent—the fire, the food, the sizzle—will catch my nose, and I'll be instantly transported, and I'll remember how it felt to know that no matter how lost I was, my dad would always be able to bring me home.
Want to make your own food memories with your father or favorite father figure? Here are some of our best summer cooking tips: