New Research Shows This Cellular Pathway "Turns Off" The Process Of Weight Gain
Contributing Wellness & Beauty Editor
By Lindsay Kellner
Contributing Wellness & Beauty Editor
Lindsay is a freelance writer and certified yoga instructor based in Brooklyn, NY. She holds a journalism and psychology degree from New York University. Kellner is the co-author of "The Spirit Almanac: A Modern Guide to Ancient Self Care," with mbg Sustainability Editor Emma Loewe.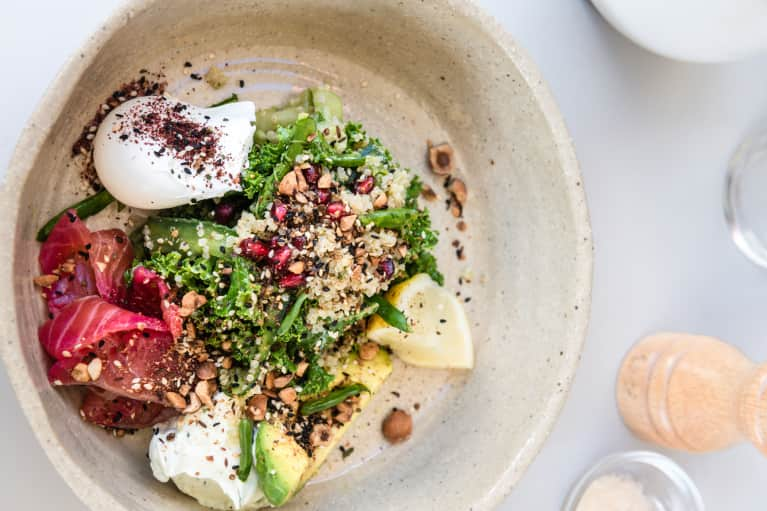 The obesity epidemic is real and continues to grow—some researchers project that more than half kids now will be obese by the time they're 35 years old. It continues to plague public health, costing an estimated $147 billion as of 2008. Naturally, researchers are trying to get to the bottom of it and figure out what measures can be taken to reverse the trend.
This new, cutting-edge research is part of those efforts. Lead scientist and professor of orthopedic surgery Fanxin Long, Ph.D. studied the effect that activating different protein pathways has on the ability to process food in mice. These pathways mirror the same ones we have as humans. Published in eLife earlier this month, Dr. Long and team put two groups of mice on a high fat diet for eight weeks and one group became obese while the other stayed trim and fit. It was not a difference in exercise, but rather the activation of a metabolic pathway called the Hedgehog signaling pathway. Mice who had this pathway activated didn't gain weight when fed a high fat diet, and ones who didn't have an activated Hedgehog pathway became obese.
The Hedgehog pathway is being studied in a number of capacities and plays a role in embryonic development, tissue repair and maintenance, and the development of cancer to name a few. Having an active pathway isn't always a good thing—too much activity can cause certain cancers, for example. In this study, Dr. Long postulated that the activated Hedgehog pathway inhibited fat cells from getting too large, which is one of the main causes of obesity. "More importantly, when we did metabolic studies, we found that the animals with the active Hedgehog pathway not only were leaner, they also had lower blood-glucose levels and were more sensitive to insulin," he said in the study.
This could have huge implications for how we treat obesity and the associated disease coupled with it.
For more on metabolic research, check out mbg's 2018 wellness report for the latest on intermittent fasting and the ketogenic diet.