7 Ways To Enjoy Halloween Treats & Not Throw Your Blood Sugar Out Of Whack
Contributing Food Editor
By Liz Moody
Contributing Food Editor
Liz Moody is a food editor, recipe developer and green smoothie enthusiast. She received her creative writing and psychology degree from The University of California, Berkeley. Moody is the author of two cookbooks: Healthier Together and Glow Pops and the host of the Healthier Together podcast.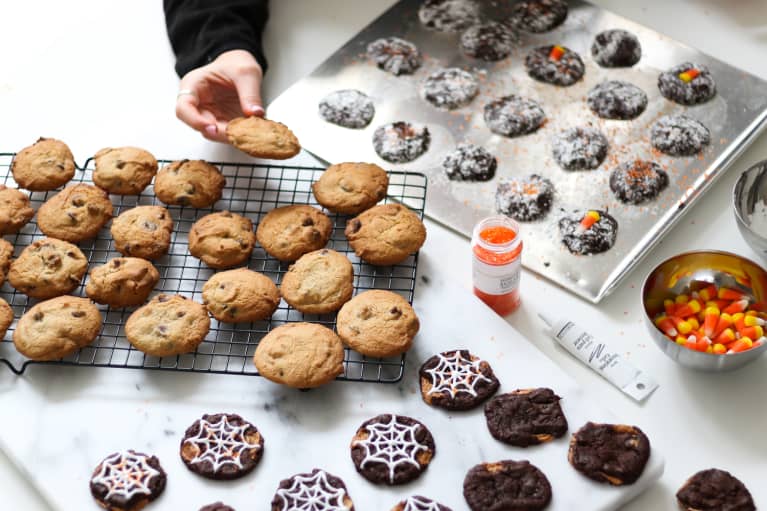 Our editors have independently chosen the products listed on this page. If you purchase something mentioned in this article, we may
earn a small commission
.
On Halloween, it can seem like you're surrounded by candy everywhere you turn. Want to have your spooky cake and eat it, too? We asked the country's best doctors and R.D.s how they enjoy an indulgent October 31—while keeping their blood sugar in check.
From making your own healthier candy to a very necessary attitude shift, these are their best tips.
Add nuts and seeds to your dark chocolate.
I'm such a purist when it comes to candy and such, so a good ol' dark-chocolate bar is still my favorite sweet treat I enjoy often, not just on Halloween! To get a little bit more festive, though, I like melting the dark chocolate and drizzling it on mixed nuts and seeds with a touch of salt—you get a little of the healthy fat and protein from the nuts and seeds along with the deliciousness that is chocolate, and sea salt just brings it all together.
—McKel Kooinega, R.D., founder of Nutrition Stripped and the 5x5 Framework
Have a hearty meal—then add Greek yogurt to your treats.
Growing up, my mom always made chili on Halloween—having a balanced meal in our system before we went trick-or-treating helped a lot with keeping crazy blood sugar spikes and crashes from ruining the night. I've carried on the tradition and always look forward to making chili and watching old favorite Halloween movies. When it comes to enjoying sweet Halloween treats without the sugar crash, I love crumbling up a fun-size chocolate bar into a plain Greek yogurt.
—Jessica Cording, R.D., mbg Collective member and author of The Little Book of Game Changers: 50 Healthy Habits for Managing Stress & Anxiety
Make your own nut butter cups.
Peanut butter cups are my absolute fave Halloween treat—I like that salty and sweet mix. They are super easy to make at home with unsweetened peanut butter and 90% dark chocolate, which cuts the sugar way down and adds a boost of protein and healthy fats to help keep your blood sugar balanced. Just melt the chocolate bar, place a teaspoonful into mini muffin cups, top with a small scoop of peanut butter, and then the rest of the chocolate, freezing the cups in between each step!
—Desiree Nielsen, R.D., author of Eat More Plants
Whip up some baked apples.
Around Halloween I love to bake apples and eat them cold. I know it sounds strange, but it tastes just like the filling of an apple pie, and there are only three ingredients! All you have to do is slice apples (really whichever kind you prefer), sprinkle some cinnamon and vanilla extract, and bake them at 350°F for about 35 to 40 minutes. Then simply let them cool, refrigerate them, and enjoy them plain! ... Or feel free to get creative with however you'd like to enjoy them, but they're naturally sweet and delicious, and I can guarantee you won't need to do too much!
—Leah Silberman, R.D., founder of Tovita Nutrition
Make your own healthier treats.
As someone who claims chocolate is one of her favorite foods, I love any excuse to consume it. Halloween is one of those holidays I celebrate by making and enjoying a healthier sweet treat. Traditional Halloween candy typically creates a blood sugar spike (and subsequent crash), so I make my own with real high-quality cacao. The upgraded "Snickers" and raw cacao cups are my favorite! These recipes might take a little bit more time than buying a bag of candy at the convenience store, but the benefits are so worth it.
—Sara McGlothlin, holistic nutritionist, founder of SaraMcGlothlin.com
Create some homemade fat bombs.
I'm a huge fan of anything chocolate and peanut or almond butter. For a healthy alternative that will keep me from crashing while also keeping cravings for all the candy at bay, I'll make homemade fat bombs with coconut oil, cocoa powder, a little stevia, and almond butter. Perfect clean, plant-based keto treat!
—Will Cole, D.C., mbg Collective member and author of The Inflammation Spectrum
Eat the candy—with a side of compassion and self-forgiveness.
I approach Halloween (and every holiday) as just another day. I eat a balanced breakfast, a hearty lunch, and a satiating dinner. I eat an afternoon snack, usually dark chocolate with almond butter or a full-fat yogurt with berries. Staying fed and fueled with plenty of protein, fat, and quality carbs helps regulate blood sugar, lower sugar cravings, and reduce the tendency to binge on those sweet Halloween treats. But guess what? I love a mini Twix and Snickers. They remind me of my Nonie, and I must admit—I get a little carried away sometimes. They're just so good! But instead of self-deprecating, I practice self-compassion and forgiveness. I don't hold on to food regret and, instead, wake up the next morning and go on about my normal routine. Life goes on, and the occasional sweetie won't demolish the diet.
—Tori Eaton, R.D., founder of Honestly Tori
ᐧ