This New Trend In Booze Might Eliminate Hangovers Forever
Contributing Food Editor
By Liz Moody
Contributing Food Editor
Liz Moody is a food editor, recipe developer and green smoothie enthusiast. She received her creative writing and psychology degree from The University of California, Berkeley. Moody is the author of two cookbooks: Healthier Together and Glow Pops and the host of the Healthier Together podcast.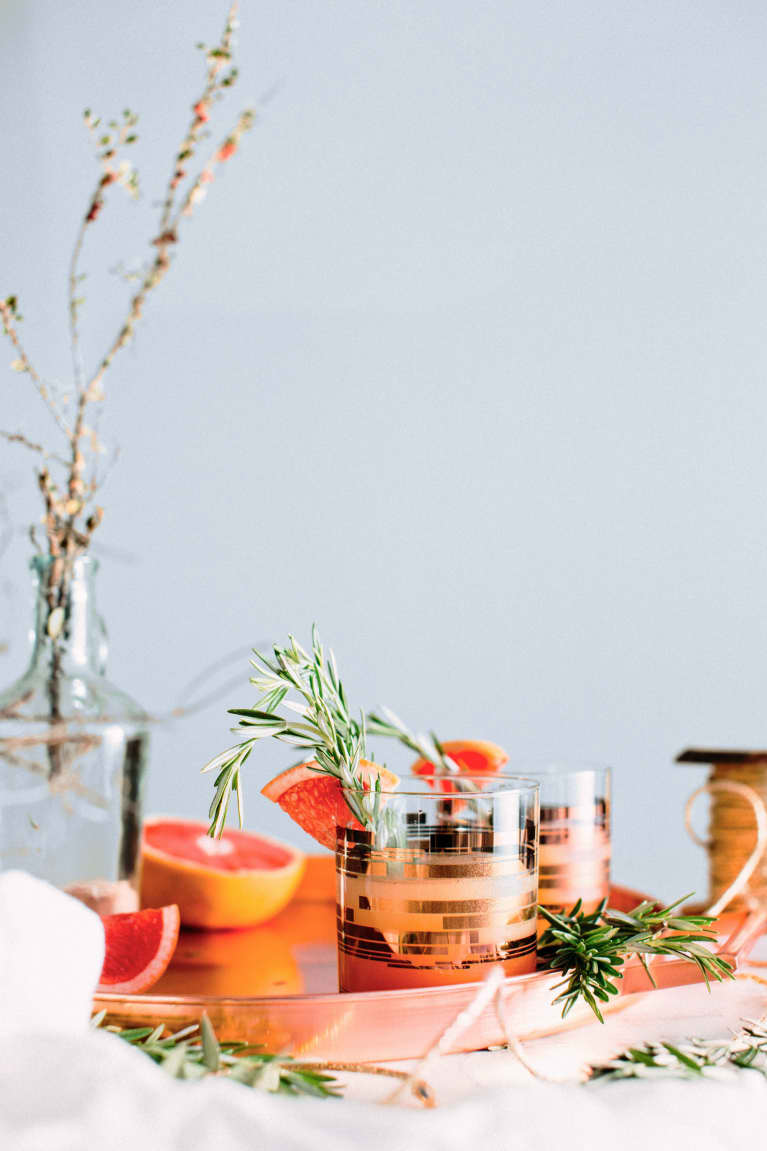 Our editors have independently chosen the products listed on this page. If you purchase something mentioned in this article, we may
earn a small commission
.
Often, when we post an article about alcohol here on mbg, we'll receive a number of messages on Instagram questioning whether, in fact, imbibing in any way can be part of a so-called wellness-centered diet. We've always answered with an emphatic yes. To us, wellness is a tool for living a happier, more fulfilling life and not an end unto itself, and sometimes that healthy life includes a few glasses of wine with friends at happy hour or dancing until your feet hurt at a tiny, sweaty club. Alcohol has long been a staple of socialization, a pillar of wellness—but these days, it's getting even more overtly healthy.
A new crop of companies has brought wellness to the fore with their products, eliminating the artificial flavors and colors that have long dominated wine and liquor and replacing them with organic ingredients, healing spices, herbal infusions, and more. Turmeric and rose are the top new flavors you'll find in cocktails. Superfoods like moringa, goji berries, pandan, fenugreek, genmaicha, or mate are also making their way into cocktails, according to the Kimpton Culinary + Cocktail Trends Forecast, which surveys over 100 Kimpton chefs, sommeliers, general managers, and bartenders from the United States, Europe, and the Caribbean. Superfoods like moringa, goji berries, pandan, fenugreek, genmaicha, or mate are also making their way into cocktails.
The floral trend pops up in a big way in Ketel One's new Botanical Infusions line, which was one of the hit drinks of summer (and fall, for that matter). The vodka features a naturally infused (meaning no artificial anything) Peach and Orange Blossom flavor along with a Grapefruit and Rose variety. LA-based Greenbar Distillery makes a Grand Poppy amaro, which evokes the spirit of the Golden State with its most notable flower, mingling with coastal herbs, berries, and citrus from local farms. Songbird Flora, from Cardinal Spirits, aims to capture "what hummingbirds taste when they drink nectar from flowers," with elderflower, jasmine, and hibiscus.
The hyper-locality that's permeated the food world has also made its way into beverages, with foraged ingredients and a focus on a sense of place. St. George, a Bay Area–based distillery, has distinctly Golden State–themed beverages, with a California Citrus Vodka and their famous Terroir gin, beloved by bartenders for its distinct, mossy, fir-forward flavor designed to "convey what [they] love about the monumental groves of trees, moist and misty glens, and sun-baked chaparral of [their] favorite local parklands." The Botanist includes 22 hand-foraged ingredients from a Scottish island to infuse every bottle with the flavor of Islay. All of these companies are infusing their flavors with natural processes, eschewing the sugary additive-filled flavors of yore that are often far more responsible for feeling terrible the next day than the drinks themselves.
Even classic beverages are approaching their products with a higher standard of quality, with an emphasis on quality farming to create quality product. Don Julio Tequila takes care to give their agave plants room to grow and time to reach full maturation, moves that result in a richer, more flavorful product that doesn't need artificial flavors to be sippable. Tito's, an Austin-based vodka brand, uses old-fashioned pot stills, a process more commonly seen in fine single malt scotches and high-end French cognacs. They also represent another element of trending business, alcohol or otherwise, with a sense of mission beyond commerce that's grown (in a very You. We. All. way) more pervasive: Through their Love, Titos initiative, they partnered with thousands of nonprofits to spay and neuter stray animals, heal with music therapy, empower youth through social entrepreneurship, and many, many more.
Wine, the classic Mediterranean diet drink that's noted as the choice of long-lived, Blue Zone residents, has also been cleaned up in recent years. While many wines are filled with chemicals (and not just in the form of pesticides on the grapes—we're talking chemicals injected into the wine itself to add tannins, mellow flavors, and more), new suppliers are taking pains to do the hard work of selecting for both flavor and quality for consumers. Dry Farm Wines is recommended by the who's who of the wellness world, with names like Dave Asprey, Chris Kresser, and Mark Sisson endorsing their products (they're also the wine of choice at many mbg events, including our annual revitalize weekend). Their wines are curated from small, sustainable farms and are lab-tested to ensure they're mold-free, additive-free, and low in sulfites, which drastically decreases your chances of a hangover—plus, they're really delicious. Thrive Market just debuted their wine category, and their master-sommelier-curated listed includes organic and biodynamic picks that they sell, like all of their products, for a fraction of retail price. Natural wines, one of this year's food trends, continue to surge in popularity, with the continued success of the RAW wine fairs, and bottles becoming more and more commonplace at local shops. Once you have a natural wine, you may never go back—the funky, fermented, complex flavor hardly compares to the single-noted Cabs and Chardonnays that abound.
All of which is to say—if you want to drink (in moderation, of course), this is a good time to do it. Cheers to the companies making it easier to give our bodies a little love at the same time as our souls.