These Might Be The Most Inexpensive Inflammation- & Bloat-Fighting Superfoods Around
Contributing Food Editor
By Liz Moody
Contributing Food Editor
Liz Moody is a food editor, recipe developer and green smoothie enthusiast. She received her creative writing and psychology degree from The University of California, Berkeley. Moody is the author of two cookbooks: Healthier Together and Glow Pops and the host of the Healthier Together podcast.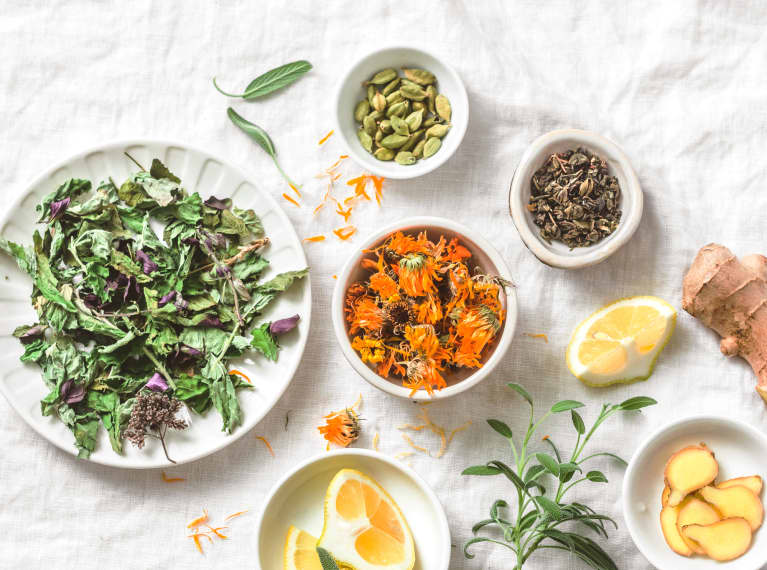 Our editors have independently chosen the products listed on this page. If you purchase something mentioned in this article, we may
earn a small commission
.
One of my core mantras as a health food editor and cookbook writer is that spices are the original superfoods. They've been used in ayurvedic and traditional Chinese medicine for thousands of years as potent healers and have hundreds of studies to back up their wide-ranging benefits (often far more than trendier, more exotic superfoods like maca or camu camu). The one caveat? You always want to use high-quality, organic spices to receive the most benefits (I tend to favor Simply Organic and Frontier Co-Op). Here are the three I always keep on hand, and how I use them for gastronomical and functional benefits:
1. Freshly ground black pepper
Black pepper seems fairly basic—most American dinner tables feature a salt and pepper shaker, after all—but its health benefits and wide-ranging uses are anything but. The core compound responsible for its signature, biting flavor is piperine. In the health food world, black pepper is famous for making turmeric more bioavailable, making it a staple in golden milk lattes. Piperine, however, increases the bioavailability of a number of different phytochemicals (the health-promoting compounds in fruits and vegetables), meaning that it helps you absorb even more goodness from any produce you're consuming. It also helps enhance digestion.
I like to use fresh-ground black pepper liberally in everything from my smoothies to my stir-fries (freshly ground pepper, specifically, has a stronger flavor and higher levels of piperine—this pepper grinder is expensive, but it's become one of my most-used kitchen tools). Its pungent bite also adds a note of balancing savoriness to sweet berry desserts—when I made some rose-raspberry jam for no-bake pistachio cardamom thumbprint cookies recently, they were almost too sweet, until a liberal dose of pepper grounded them, enhanced the meaty umami of the pistachios, and turned them into the perfect satisfying treat.
Cardamom is one of the more commonly used spices in Scandinavian cooking (if you haven't yet tried a Swedish cardamom roll, book thee a flight to Stockholm immediately), but it hasn't gained the same level of popularity in the United States yet. The reason escapes me, though, because cardamom is one of the most unique and versatile spices I've come across—both sweet and a little savory, it adds a can't-put-your-finger-on-it deliciousness to entrees and desserts.
I particularly love using cardamom when I would more traditionally reach for ginger or cinnamon in the fall: in an apple cider or crisp, or sprinkled on top of a warm, comforting bowl of oatmeal. It's also a great way to make any homemade nut butter taste instantly gourmet (pistachio cardamom butter is my absolute favorite and is made by simply processing pistachios, cardamom, a pinch of salt, and a drizzle of olive oil until it's very smooth, about 20 minutes in total). Cardamom is a powerful inflammation fighter and has a stabilizing effect on blood sugar levels. I also love to crush whole cardamom pods using the bottom of a jar or a mortar and pestle, and steep them in hot water for five to 10 minutes for a delicious post-dinner tea—it's just sweet enough to quell my dessert cravings.
Yeah, yeah, I know turmeric is the beloved staple of the health food world, but it really is a powerful inflammation fighter. I'm not a huge fan of golden milk lattes or other turmeric-bomb drinks or snacks—rather, I like to mix it into almost everything I eat, so I'm getting a small dose throughout the day. It does have an earthy, almost bitter flavor, but I use it in undetectable quantities—in my morning smoothies, in salads, in stir-fries, even in pasta sauce. If I didn't tell you, you wouldn't know it was there, but the small doses used regularly add up to something far more significant by the end of the day or week. Just remember to always combine it with black pepper (that piperine!) and fat of some sort (like coconut oil or milk, avocado or avocado oil, or any nut or seed of your choosing) for optimal absorption.
These are the 5 other pantry staples that ensure I can always make a healthy dinner, stat.