The Healthiest Foods At Wendy's, According to Nutritionists

Contributing Health & Nutrition Editor
By Stephanie Eckelkamp
Contributing Health & Nutrition Editor
Stephanie Eckelkamp is a writer and editor who has been working for leading health publications for the past 10 years. She received her B.S. in journalism from Syracuse University with a minor in nutrition.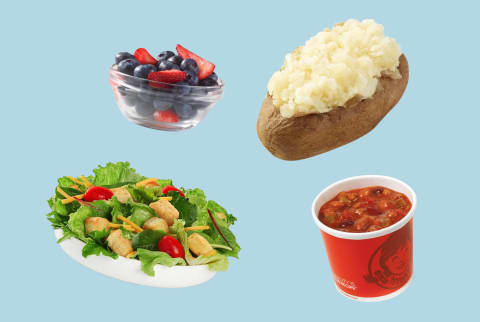 Image by mbg creative / Wendys
Our editors have independently chosen the products listed on this page. If you purchase something mentioned in this article, we may
earn a small commission
.
June 28, 2019
Summer means lazy beach days, family reunions, and road trips—most of which require at least a few hours in the car or hanging at the airport. And while we'd love to prep and pack enough healthy, homemade fare to last us the duration of our travel time, that's not always realistic. At some point your choices will inevitably be limited to whatever's available off the next highway exit. So, you just have to do the best you can—but we're here to offer some help. Each week this summer, we'll be polling top dietitians for their go-to healthy picks from fast-food and fast-casual restaurants so you're never caught off guard. Next up:
Wendy's
!
Advertisement
This ad is displayed using third party content and we do not control its accessibility features.
1.
Baked Potato, Chili & Side Salad
My top picks at Wendy's would be the Plain Baked Potato, and a small Chili to provide a balance of protein and carbs, plus lots of bloat-fighting potassium in the potato. The potato is also a good choice of side because it's low in sodium and high in fiber. A Garden Side Salad would be a decent option if you need to get some veggies into your day—just pick off the croutons and go easy on the dressing.
—Jess Cording, R.D., mbg Collective member
I order the Grilled Chicken Wrap when we go to Wendy's. It's the lightest of their wraps and sandwiches by far, with only 300 calories, 13 g fat, and 720 mg sodium. And it still offers up a decent 20 g of filling protein. It's great as a road-trip snack.
—Frances Largeman-Roth, RDN, author of Eating in Color
While this menu has a lot of salad options, be careful! Many are high in sodium, and some of them have trans-fats lurking in the dressing, which lower your good cholesterol while raising your bad cholesterol and contribute to heart disease. I would instead opt for the Grilled Chicken Wrap and ask for extra lettuce to up your fiber intake. This wrap is low in sugar and saturated fat, and by upping the fiber content, you're also helping to keep your heart health in check. Pro tip: Drink a lot of water to counter the bloat you may experience from the excess salt.
—Brigitte Zeitlin, R.D., owner of BZ Nutrition
Advertisement
This ad is displayed using third party content and we do not control its accessibility features.
3.
A variety of plant-based sides.
As with all fast-food chains, I personally think it's best to avoid the meat and animal-based products, as they're not high-quality. It can be tricky, though, because the Berry Burst Salad has 29 g of sugar, most of which is added sugar! The American Heart Association recommends that the maximum amount of added sugar we consume per day be 37.5 g for men and 25 g for women. The Berry Burst Salad with as little dressing as possible is an OK choice, but in my opinion, the Garden Side Salad is a better option. That may not be filling enough, though, so consider adding on some plant-based sides like a plain baked potato, apple bites, and fresh strawberries and blueberries.
—Abby Cannon, J.D., R.D., creator of Abby's Food Court
Advertisement
This ad is displayed using third party content and we do not control its accessibility features.
Reset Your Gut
Sign up for our FREE doctor-approved gut health guide featuring shopping lists, recipes, and tips