The Healthiest Foods At Subway, According To Nutritionists
Contributing Health & Nutrition Editor
By Stephanie Eckelkamp
Contributing Health & Nutrition Editor
Stephanie Eckelkamp is a writer and editor who has been working for leading health publications for the past 10 years. She received her B.S. in journalism from Syracuse University with a minor in nutrition.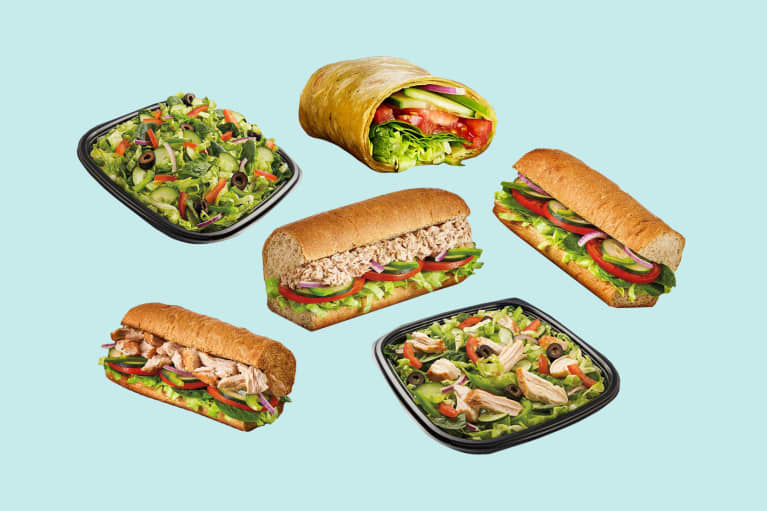 Our editors have independently chosen the products listed on this page. If you purchase something mentioned in this article, we may
earn a small commission
.
Summer means lazy beach days, family reunions, and road trips—most of which require at least a few hours in the car, or hanging in the airport. And while we'd love to prep and pack enough healthy, homemade fare to last us the duration of our travel time, that's not always realistic. At some point your choices will inevitably be limited to whatever's available off the next highway exit. So, you just have to do the best you can—but we're here to offer some help. Each week this summer, we'll be polling top dietitians for their go-to healthy picks from fast food and fast casual restaurants so you're never caught off guard. Next up:
Subway
!
1.
Rotisserie-Style or Oven Grilled Chicken Salad
I'm a salad kind of person. I would choose either the Rotisserie-Style Chicken Salad or the Oven Grilled Chicken Salad. Both options are going to be light, so I would add provolone cheese and avocado or guacamole to make this last for at least a few hours after eating it. For dressing, I'd opt for oil and vinegar or Subway Vinaigrette on the side.
If someone is in the mood for a sandwich or wrap, you're in for a surprise. While wraps get the rep for being a healthier and lighter option when it comes to carbohydrate content, Subway's 6-inch, 9-Grain Wheat has fewer carbohydrates that their spinach or tomato basil wraps! If you're trying to cut back on carbs, ask them to remove the fluffy inside of the sub. Subway has a nutrition calculator that allows you to see the nutrition breakdown of what you order so you can plan in advance.
One word of caution about Subway. Cross-contamination is very likely to happen as employees tend to use the same pair of gloves while making a few sandwiches in a row. If you have food sensitivities or allergies, ask them to change gloves before making your sandwich or salad. You can also ask them to use a fresh knife or fresh utensils if needed.
—Nour Zibdeh, RDN, functional and integrative dietitian
2.
Custom Veggie-Loaded Sub
My family has driven from New York to Boston more times than I can count. My mom lives there, so we go as often as we can. We usually pack food for the drive, and when we don't, Subway is the go-to of choice at the rest area. I usually customize a 6-inch sub on 9-Grain Honey Oat bread with spinach, lettuce, jalapeño, cucumber, green peppers, and tomatoes. If they have carrots and avocado, I add that too. This sandwich is loaded with veggies and the jalapeño provides an extra kick. When traveling, I prefer to have plant-based meals in place of deli meats that may have added salts.
—Maya Feller, R.D., founder of Maya Feller Nutrition
3.
Classic Tuna Sub on Wheat
On the rare occasion that we stop at a Subway on road trips, I order the 6-inch Tuna Sub on 9-Grain Wheat with cucumbers, lettuce, tomatoes, and avocado. That adds up to a tidy 500 calories, 30 g fat, 22 g protein, 570 mg sodium, and a decent 7 g fiber. It's tasty, healthy, and a great way to fit in some omega-3s on the road.
—Frances Largeman-Roth, RDN, author of Eating in Color
4.
Fresh Fit Rotisserie-Style Chicken Sub
Subway has a Fresh Fit section of their menu, which providers healthier menu options that are higher in protein, vegetables, and whole grains. I would order the 6-inch Rotisserie-Style Chicken or Veggie Delite sub with mustard. Both provide two servings of vegetables and are lower in sodium, saturated fat, and sugar compared to other sandwich options.
—Jessica Bouchard, R.D., founder of Wellness Provision
Subway is the OG of cleaner fast food options. And for me, Subway will always mean sandwich. So I go with the 6-inch 9-Grain Wheat (note: None of their breads are 100% whole grain) and the Rotisserie-Style Chicken. Like always, though, I ask for double (or triple) the lettuce and veggies on the sandwich.
—Brigitte Zeitlin, R.D., owner of BZ Nutrition
As with any fast food restaurant, I'm wary of the quality of the animal-based proteins and suggest ordering a veggie option. The Veggie Delite Wrap is filled with vegetables and has a decent amount of protein at 10 grams. I recommend adding avocado to make it even more satiating.
—Abby Cannon, J.D., R.D., creator of Abby's Food Court