The One Thing RDs Always Order At Happy Hour
Contributing Food Editor
By Liz Moody
Contributing Food Editor
Liz Moody is a food editor, recipe developer and green smoothie enthusiast. She received her creative writing and psychology degree from The University of California, Berkeley. Moody is the author of two cookbooks: Healthier Together and Glow Pops and the host of the Healthier Together podcast.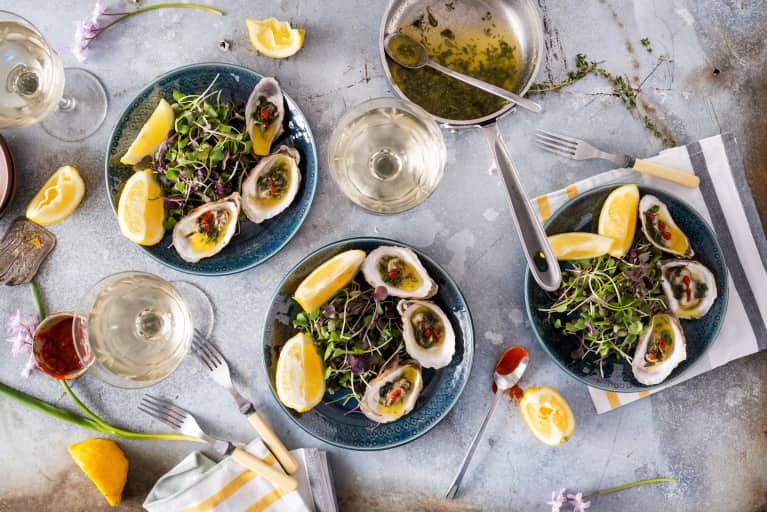 Our editors have independently chosen the products listed on this page. If you purchase something mentioned in this article, we may
earn a small commission
.
While R.D.s may have devoted their lives to the study of healthy food (and helping others consume as much of it as possible), they're not immune to the siren-like powers of a good happy hour. Still, there's a way to nosh and sip more healthfully.
When we asked some of the country's top RDs for their best-case-scenario happy-hour picks, we were surprised at how fishy the No. 1 response was.
"Oysters are low-calorie but packed with protein and immune-boosting zinc, and shrimp cocktail is another great high-protein, low-calorie option," says Jessica Cording, R.D. and founder of Jessica Cording Nutrition. Leah Silberman, R.D. and founder of Tovita Nutrition agrees. "Avoid the burger and fries and go for the raw bar! I'm talking shrimp cocktail, oysters, etc. Sounds fancy, but happy hour menus usually have raw bar specials (hellooo, $1 oysters)."
Oysters contain more zinc per serving than any other food, which helps boost immunity, and, assuming they're not fried, contain only heart-healthy fats. One 3-ounce serving of oysters contains more than 1 mg of omega-3s, which may be partially responsible for oysters' proven ability to increase HDL levels (the good cholesterol) and lower LDL levels (the bad cholesterol).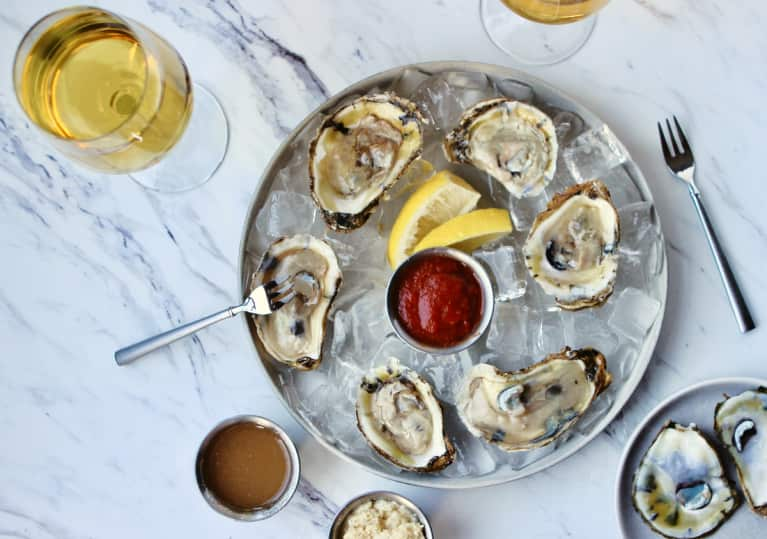 If you're not feeling the shellfish vibe, there are a few other great healthy picks. Kelly LeVeque, celebrity nutritionist and author of Body Love, recommends trying to fit as much healthy fat and fiber on the plate as possible. "I go for veggie crudités with fat-based dips like avocado hummus, romesco or pesto!" she says. Lisa Hayim, R.D. and founder of The Well Necessities, recommends staying away from anything fried and going for munchable food with some function. "Sometimes it's simple like popcorn to snack on, or if it's on the menu, guacamole or hummus, being mindful of the chips."
What are the RDs drinking while they nosh their oysters?
Most are sticking with a glass of wine or hard liquor with no mixers.
"Drinks on the lower-calorie, lower-sugar end include sparkling wine or Champagne; whiskey, neat or rocks (bourbon is my personal favorite); and gin, vodka, or tequila and club soda with lime," explains Jessica. Leah likes to let her clients' palates dictate their choices. "I usually tell clients to go for whatever type of alcohol they prefer (light beer, wine, or liquor) because they are all comparable in calories, and I believe that alcohol should be something you should enjoy." She adds this caveat to her leniency, though: "If you're not drinking your alcohol on the rocks, be sure to avoid sugary and high-calorie mixers like juices or syrupy sweeteners and opt for the seltzer water with lime."
Psst! Healthy cocktails do exist. Here's exactly what to order. Plus, these are the healthiest snacks of 2017 (so far).