Here's The Healthiest Food At McDonald's, According To Nutritionists
Contributing Health & Nutrition Editor
By Stephanie Eckelkamp
Contributing Health & Nutrition Editor
Stephanie Eckelkamp is a writer and editor who has been working for leading health publications for the past 10 years. She received her B.S. in journalism from Syracuse University with a minor in nutrition.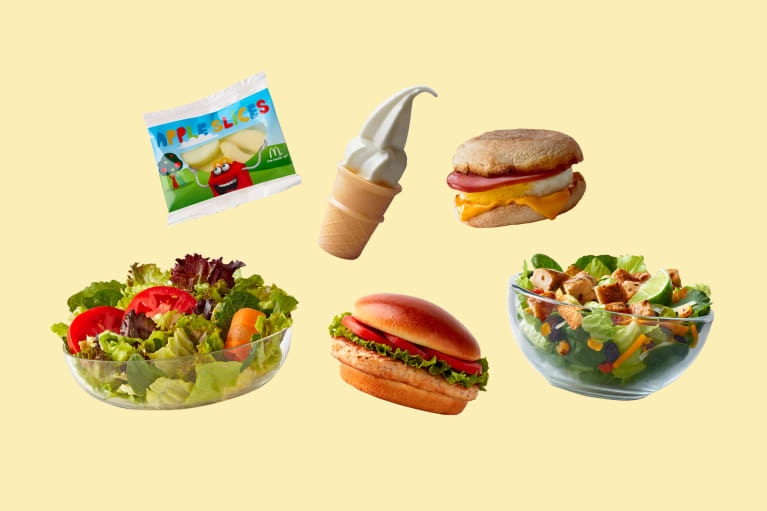 Our editors have independently chosen the products listed on this page. If you purchase something mentioned in this article, we may
earn a small commission
.
Summer means lazy beach days, family reunions, and road trips—most of which require at least a few hours in the car or hanging in the airport. And while we'd love to prep and pack enough healthy, homemade fare to last us the duration of our travel time, that's not always realistic. At some point your choices will inevitably be limited to whatever's available off the next highway exit. So, you just have to do the best you can—but we're here to offer some help. Each week this summer, we'll be polling top dietitians for their go-to healthy picks from fast-food and fast-casual restaurants so you're never caught off guard. Next up:
McDonald's
.
1.
Artisan Grilled Chicken Sandwich (with some modifications)
Full disclosure: I have not had McDonald's since college finals, which was a long time ago. Since then, I believe they've made some attempts at better options, but with all fast food, it's going to be high in salt and saturated fat. I'd choose the Artisan Grilled Chicken sandwich, but I'd make some tweaks. I'd ask for triple the lettuce and tomato, no dressing at all, and I'd eat it as an open-face sandwich (so I'd ditch the top half of the bun). Tripling up on the veg gives me some extra fiber, vitamins, and minerals; and ditching the dressing and half the bun cuts back on the sugar, refined carbs, and salt and makes it an overall leaner meal. I'd also be sure to drink plenty of water with it to help offset the excess salt from the sandwich.
—Brigitte Zeitlin, R.D., owner of BZ Nutrition
2.
Southwest Grilled Chicken Salad
This Southwest Grilled Chicken Salad includes sliced grilled chicken, a nice blend of romaine and baby kale, a veggie blend (corn, black beans, tomato, and poblano pepper), shredded cheese, and a cilantro-lime dressing. It's a pretty well-rounded meal, clocking in at 37 grams of protein, 27 grams of carbs, 11 grams of fat, and 6 grams of fiber—but it does pack a whopping 1,070 milligrams of sodium, which is high for a bowl of veggies with chicken. Some of it is coming from the dressing, so you could use half the amount, but it's also coming from all of the components, so there's no way to drop it down to a more reasonable 400 to 500 milligrams without removing a key component of the salad. Once in a while, this is fine; just make sure to follow it up with plenty of H2O!
—Frances Largeman-Roth, RDN, author of Eating in Color
If you need breakfast on the road at McDonald's, your best bet is to opt for the Egg McMuffin. It provides a combination of protein (17 grams), fat (12 grams), and carbs (30 grams) that will keep you fuller than most of the breakfast items. If you want to scale back on the sodium and processed ingredients, simply ask them to hold the cheese and Canadian bacon. Pair it with a black coffee, Americano, or some water.
—Jess Cording, R.D., mbg Collective member
4.
Double up on plant-based sides.
I personally think it's best to avoid the meat- and animal-based products, which are not high-quality. I would order two side salads or a Southwest Grilled Chicken salad (without the chicken, if possible). I'd also get a side (or two) of apple slices. Even though I typically tell my clients to have protein at every meal, I would say you should skip the protein here (since there are no plant-based options) and simply enjoy extra protein at your other meals to make up for it.
—Abby Cannon, J.D., R.D., creator of Abby's Food Court
5.
Treat yo'self to a Kiddie Cone.
Sometimes road trips and vacations mean consciously giving in to those cravings now and then. And if you want something sweet? Both Cording and Largeman-Roth recommend going for the soft-serve. A Kiddie Cone will satisfy that summer sweet craving while clocking in at only 6 grams of sugar.