You'll Want To Steal 'New Girl' Star Hannah Simone's Wellness Practices
Contributing Food Editor
By Liz Moody
Contributing Food Editor
Liz Moody is a food editor, recipe developer and green smoothie enthusiast. She received her creative writing and psychology degree from The University of California, Berkeley. Moody is the author of two cookbooks: Healthier Together and Glow Pops and the host of the Healthier Together podcast.
Our editors have independently chosen the products listed on this page. If you purchase something mentioned in this article, we may
earn a small commission
.
New Girl star Hannah Simone might have left the set when the series ended as a smoothie-drinking, sauna-loving wellness aficionado, but she certainly didn't start that way. "We grew up on that set," she said when we chatted over the phone about her new partnership with SmartyPants Vitamins. "We all became more adult about our healthy choices. It's like being in a family with your brothers and sisters, so we could share things that we learned."
The healthiest person on set? Renowned healthy eater Zooey Deschanel. "I learned from Zooey to be very transparent about what food I can and can't eat," Simone said. "We often try to compensate for that socially, but I loved how Zooey was always open and upfront about what works for her body."
Now, Simone's wellness practices start first thing in the morning, when she engages in a three-step morning routine. "I take my vitamins," she said. Her preference, of course, is SmartyPants, whom she's teamed up with for a series of Q&A videos. "I try to have a smoothie for breakfast, and I work out for an hour," she continued. "If I can do those three things, I know it will be a good day."
She follows the Fab 4 philosophy of best-selling author and mbg Collective member Kelly LeVeque, loading each smoothie with fat, fiber, protein, and greens. Her top picks? "Coconut oil, peanut butter or almond butter, veggies, the Primal Kitchen protein powder, and almond milk."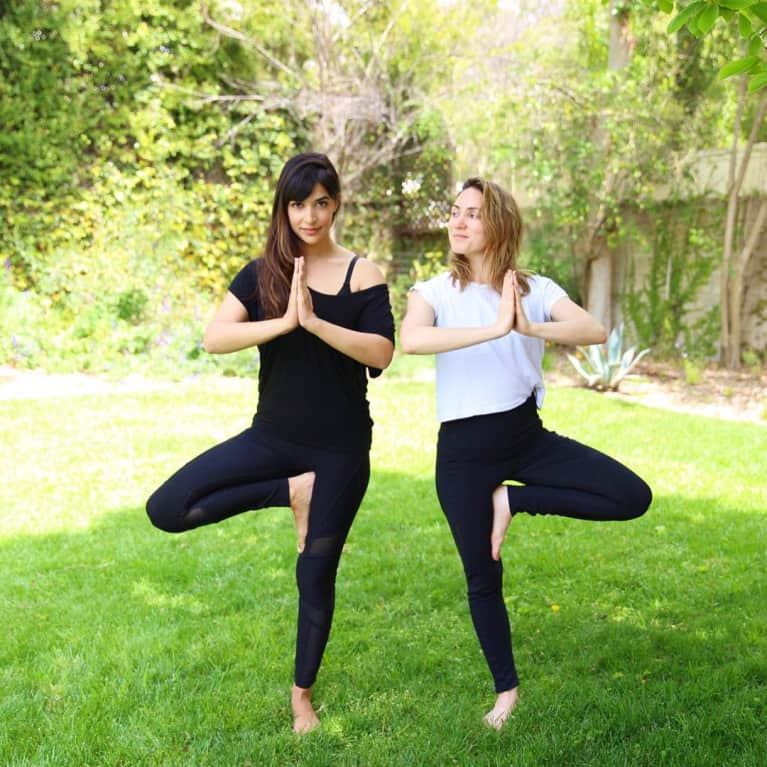 After that, it's off to an hourlong workout with trainer Amy Rosoff Davis. She likes working out not for her body but for the surprising way it benefits her mind. "I'm totally guilty of being addicted to my phone," she explained. "When I work out, I'm forced to put my phone down and really be in the moment. It's its own kind of meditation."
She's a regular at Shape House, a modern "sweat lodge," with infrared saunas, another form of meditation for her. "You're lying there, sweating, and you're so in tune with your own body," Simone said. "You're meditating basically." If you can't get to an infrared sauna, she recommends one of her favorite hacks: Turning on the shower and making a steam bath in your own bathroom.
Simone was born in London and has lived in India, Spain, Holland, Cyprus, and Canada. While she borrows wellness wisdom from each of the places she lives and travels, the most ingrained is the British love for tea. "I need to unwind at the end of the day," she explained. "Even if I come home from set at one in the morning, I make myself a cup of tea and watch a movie or a TV show to decompress."
And sure, most of us aren't needing to decompress from life as a TV star, but from her appreciation of sweat to how she looks for mindful moments throughout the day, Simone's wellness regimen is one we can all learn from.
Does your wellness routine need a reboot? Try this.