Hand-Picked Natural Beauty Products For Mature Skin
Contributing Wellness & Beauty Editor
By Lindsay Kellner
Contributing Wellness & Beauty Editor
Lindsay is a freelance writer and certified yoga instructor based in Brooklyn, NY. She holds a journalism and psychology degree from New York University. Kellner is the co-author of "The Spirit Almanac: A Modern Guide to Ancient Self Care," with mbg Sustainability Editor Emma Loewe.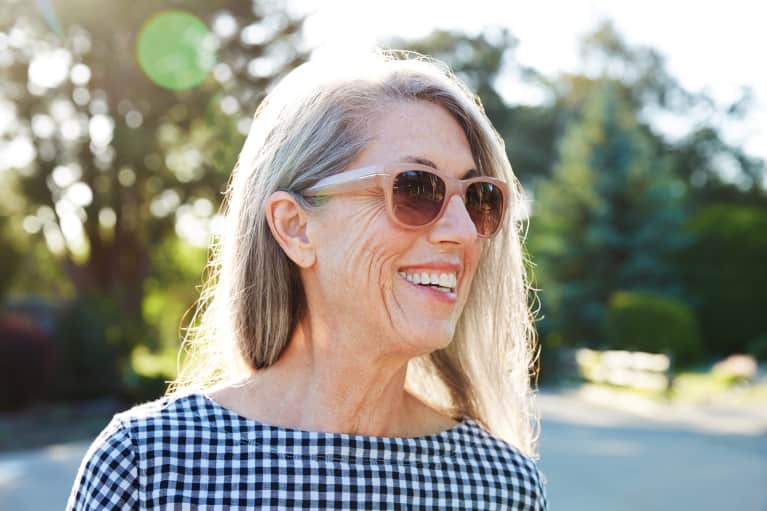 Our editors have independently chosen the products listed on this page. If you purchase something mentioned in this article, we may
earn a small commission
.
Getting older is a funny thing. We've been conditioned to fear physical changes, but with age comes so much good stuff: wisdom, comfort in your own skin, and the oh-so-coveted ability to give fewer sh*ts. If you ask us, that sounds pretty great.
When it comes to aging, we've entered a new age—one that embraces laugh lines as much as laughter and silver hair as much as precious metals. Instead of seeking the fountain of youth, we're celebrating the diversity of our lives in how they translate to our skin, hair, and bodies.
Still, who says embracing aging means giving up skin care? That wouldn't be fair. Mature skin has different needs and, more specifically, different tolerance levels than younger skin. "As women go through perimenopause/menopause, many will notice changes in their skin," said dermatologist Cybele Fishman, M.D.
Credo Beauty's in-house natural and holistic esthetician Hannah Brady recommends choosing products that supply adequate moisture and high levels of antioxidants, and avoiding products that marked "oil free," because they can be drying. Her picks include Neal's Yard Remedies Frankincense Intense Lift Serum, which stimulates elastin production and enhances cell recovery," she said. For a night treatment, she recommends Goldfaden MD Wake-Up Call Overnight Facial Treatment, which is a hydrating retinol-based treatment, and Maya Chia's The Super Couple Ultra-Luxe Anti-Aging Serum, which is potent but gentle.
"Less is more, really focusing on hydrating the skin with healing oils and balms—this is a perfect way to prep the skin for makeup. Using hydrating products will naturally plump skin so you don't have to rely on heavy, caked on foundation," said natural beauty expert Jessa Blades. She also recommends making sure you're eating enough healthy fats to keep the body lubricated from the inside out.
"While a light moisturizer was fine before, the skin will be dryer after menopause, necessitating a heavier moisturizer, or a nourishing facial oil like frankincense or rose hip seed," said Dr. Fishman.
3. Treat and prevent sun damage.
Most dermatologists will say that using a retinol in tandem with a sunscreen is one of the best preventive measures you can take for your skin. "Retinoids are still the foundation of good skin at this age, as it will tackle fine lines, lost elasticity, abnormal pigmentation," Dr. Fishman said. It's never too late, either—retinol works by constantly regenerating the surface of the skin (which is why it's important to use sunscreen when using a retinol). A gentle, hydrating retinol like the Ordinary's Granactive 2% Retinoid in Squalene is a good option.
Above all, "Practice gentleness," said Britta Plug, an esthetician and holistic health coach, referencing one of her tips for mature skin. Your skin is an organ, so treat it kindly.
On that note, here's a list of foods to eat for longevity, the best gentle natural exfoliators around, and how to be nice to your face.