2 Simple Moves That Will Feel Amazing Post-Abs Workout
Image by Hannah Schwob / mindbodygreen
Our editors have independently chosen the products listed on this page. If you purchase something mentioned in this article, we may
earn a small commission
.
May 10, 2020
For me, fitness and movement are about so much more than what you look like on the exterior. They also need to be meditative and restorative practices that help every part of your body—inside and out. That's why I created B The Method, my Pilates-based method, which focuses on turning our attention inward—mentally and physically and strengthening our bodies from the inside out.
While many of the exercises in my method target specific muscle groups—like the core or legs—I also like to incorporate moves that could assist with other elements of physical well-being, like gut health.
Advertisement
This ad is displayed using third party content and we do not control its accessibility features.
The two restorative moves I demonstrate below may be beneficial for your gut because the ball is placed in your pelvic region and massages the digestive tract. By moving forward and back, the ball rolls up to your stomach and back down to your pelvic floor, targeting the gut.
This type of self-massage or abdominal massage has roots in traditional Chinese medicine and ayurvedic practices. It's also been studied in a clinical setting. One study found that abdominal massage was effective in treating symptoms of bloating for cancer patients, and another study indicated it may help alleviate chronic constipation.
These moves are also very complementary to my method because they help massage the abdominal wall that has been worked very deeply during the abs exercises in my classes.
To get started, you'll need a Pilates ball and a mat. I recommend doing these exercises every day, either in the morning before you eat or right after completing my routines, for best results. (Note: If you're pregnant, don't attempt these exercises.)
1.
Child's Pose With Pilates Ball
How to: Start by kneeling on your mat, and hold a Pilates ball against your stomach. Pressing the ball in between your stomach and thighs, lower down and bring your seat to your heels. Stretch your arms away from your body and press your forehead to the floor. Hold this position, or move your torso in different directions to massage the ball around your belly.
Advertisement
This ad is displayed using third party content and we do not control its accessibility features.
2.
Plank With Pilates Ball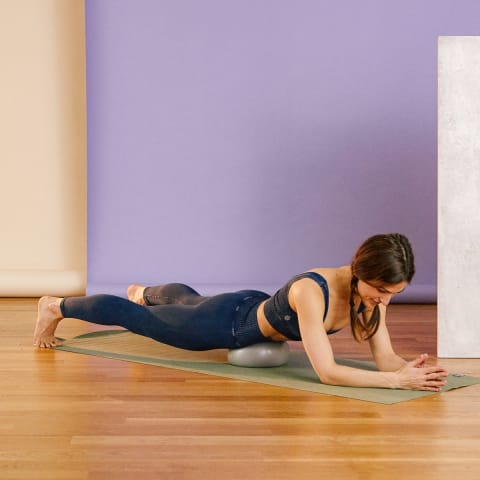 Image by Hannah Schwob / mindbodygreen
How to: Start in a forearm plank position, with your shoulders stacked over your elbows. Place a Pilates ball underneath your stomach. Allow your stomach to rest on the ball. Hold this position, or move your body forward and back, to roll the ball along your stomach.
Advertisement
This ad is displayed using third party content and we do not control its accessibility features.
Reset Your Gut
Sign up for our FREE doctor-approved gut health guide featuring shopping lists, recipes, and tips

Lia Bartha
mbg Contributor
Lia Bartha is a certified classically trained Pilates Instructor of over 10 years, based in New York City. Born in Hawaii with scoliosis, she was introduced to Pilates while working a corporate that took a major toll on her back. It didn't take long for her entire perspective on fitness to change forever, thanks to private Pilates instruction. And two kids later, she also started to understand the need for functional strength and a strong pelvic floor.
Bartha realized exercising needed to be more than just how it made you look on the outside. It needed to be meditative and releasing, while also lengthening and toning the body. She created and developed B The Method to help people look a little deeper inside themselves, mentally and physically, and tap into a deeper layer of the body to strengthen and lengthen, starting from the inside.