The Unexpected Practice That Helped Me Cope With Grief — When Nothing Else Could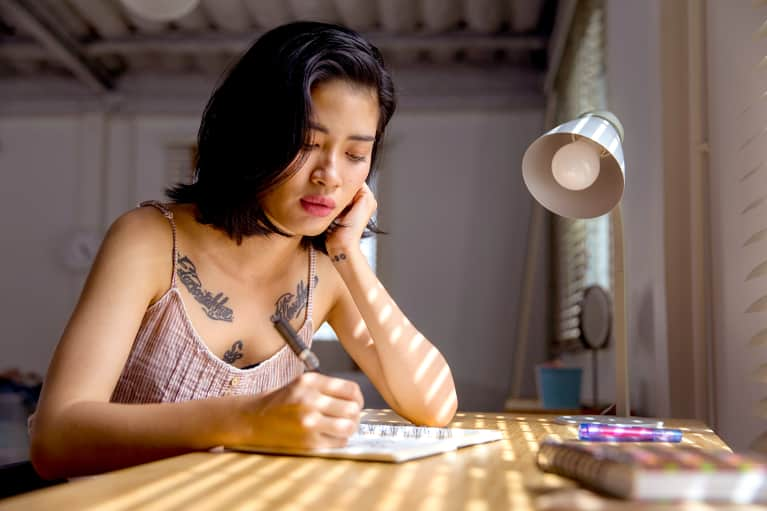 I've been a visual artist and a writer all my life. In my private practice, I used creative tools with my psychotherapy clients, drawing from Jungian traditions, global mythology, and creative arts of all kinds. We painted and wrote, mapping out the territory of their creative inner world.
And then my partner drowned in front of me on an otherwise ordinary day.
Because I had both art and writing as parts of my professional life before I became widowed, I heard several times how lucky I was: Lucky because I could write and make art from my experience. Lucky because I could turn this death around and make it a gift for others. As though this loss, my partner's sudden death, was redeemed somehow by the act of writing about it or by making art from it. As though our life, his life, was a fair trade for whatever work came out of it.
There's a deep cultural presumption that creating something out of grief somehow makes it all even out in the end: Creativity is a way to transform pain. The results of your creativity, if they're good enough, can help others transform their pain. It all works out. At the very least, art and writing will make you feel better, and you can get to the "acceptance" phase of this loss faster.
That presumption does such a disservice, both to the creative practice and to the person creating.
Art allowed me to tell the truth about what I was living.
Pain is not redeemed by art. After Matt died, I resented words and writing for a long time. I resented any creative process for a long time. I stabbed through journal pages, angry that words were all I had left. And still, I needed to write, needed to create. Sometimes drawing was the only way to quiet my mind. Sometimes hurling paint at a canvas allowed me to rage at the world instead of taking it out on other people or myself. In a sense, it did make me feel better, but it never made my grief go away. That simply wasn't its role. Separated from the need to transform pain into something glorious and "useful," art allowed me to tell the truth about what I was living.
The real role of the creative process.
Rather than forcing us to transform pain into art, we need the creative process to bear witness to our own reality—to reflect our own pain back to us. When we separate the creative process from a need to solve or fix things, it becomes an ally.
At its best, I think all the arts allow us to tell ourselves our own story. The canvas or the page or the theater is always willing, always open to receive, and to mirror back, that which needs to be said. It's a gesture from the inner world to the outer one. In a way, we let a thing be true when we express it in creative form. In telling ourselves a story, we give shape to something real. In sharing what we create, we give others a chance to enter our world, if even just for a moment.
Without that call to express great pain, we wouldn't have images from Käthe Kollwitz. We wouldn't have Picasso's Guernica. We wouldn't get to feel our own pain reflected in the words of C.S. Lewis, or Cheryl Strayed, or Claire Bidwell Smith, or Emily Rapp. We take comfort from the company of our own kind, the people living deep loss alongside us, throughout time. Those artists weren't miraculously healed by their art, but what they created allowed us to bear witness to their truth, and in turn, we feel witnessed in our own. Being seen inside the truth of your own story, being allowed to tell your own story—that's where healing lies.
The act of creation can make things better, even when they can't be made right.
A creative exercise to call on during grief.
You might find you need several different creative practices, depending on your mood, needs, and time available. Because there's so much pressure to make something "artistic," you might tend to overthink things. Don't worry about making something good. Experiment with different art forms and creative practices. If you're frustrated or angry, try wedging clay, or explore abstract painting. If words feel too small, try your hand at a graphic novel, or make a torn paper collage. Remember, this isn't about making sense of anything, or making something pretty. One particularly helpful exercise for me, which I have completed alongside many others, is as follows:
Find a magazine or newspaper (even one of those free dailies will work).
Open the paper to a full spread—one with lots of articles and words, not a bunch of photos.
Get yourself a highlighter or colored pen.
Close your eyes for a moment, take a good deep breath (as deep as you can). Exhale, and begin to lightly scan the paper, underlining random words from all over the page.
Then, build a found-word poem, or a short prose piece, by taking what you've highlighted from various sentences and joining them together.
Let the available words dictate what is written, but don't feel stuck to one article or column. You can ramble all over. Try it a few times: You'll be surprised by what you find.