Why The World's Leading Happiness Expert Doesn't Want You To Be A Minimalist
mbg Sustainability Editor
By Emma Loewe
mbg Sustainability Editor
Emma Loewe is the Sustainability Editor at mindbodygreen and the author of "The Spirit Almanac: A Modern Guide To Ancient Self Care."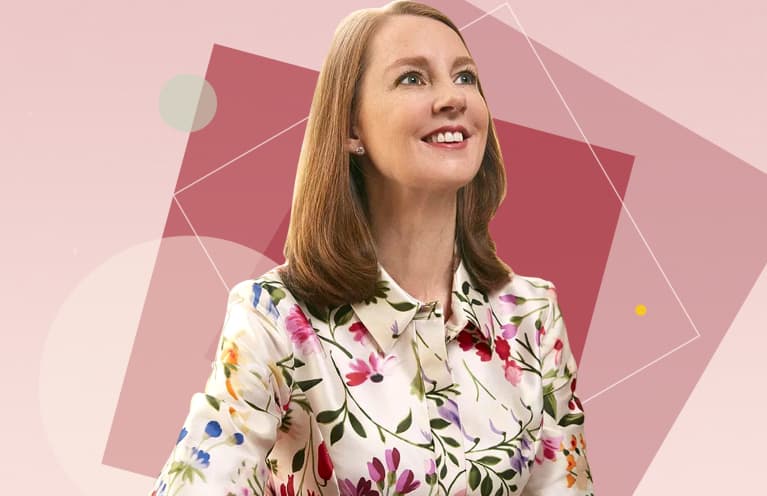 Our editors have independently chosen the products listed on this page. If you purchase something mentioned in this article, we may
earn a small commission
.
Author Gretchen Rubin spread some serious smiles in 2009 when she released The Happiness Project, a book detailing her yearlong pursuit of finding joy in the everyday.
In the years since, the New York Times best-selling author has shared with the masses countless nuggets of wisdom on how to be happier with books such as The Four Tendencies and Better Than Before and a podcast, Happier With Gretchen Rubin. Through years of studying habits and human nature, Rubin has found that nothing promotes well-being quite like a clean, orderly home.
"By getting rid of the things I don't use, don't need, or don't love, as well as the things that don't work, don't fit, or don't suit, I free my mind—and my shelves—for what I truly value. And that's true for most people," she writes in her latest book, Outer Order, Inner Calm, out March 5. This sweet, digestible decluttering handbook provides hundreds of tricks and tips for getting your home under control, written in Rubin's signature tone. (Think: "Mock Move," where you pretend you're packing for a move and get rid of anything in your home you wouldn't box up.) Flipping through it feels like getting a pep talk from an old friend who just wants you to finally get your shoe rack under control.
We chatted with Rubin to get her take on why Kondo mania is sweeping the world, how to tidy your whole home without going insane, and why minimalism might not be so great after all.
This book feels very different from some of your previous ones. What was the writing process like?
I've always admired the book Food Rules by Michael Pollan. It has these quick hits of information, it's accessible, and you can pick it up at any point. I'd always wanted to do something like that—and outer order was one subject where I had a million ideas for people to try.
I wanted it to be the kind of book where you wouldn't necessarily sit down to read the whole thing, but you'd get through a few pages and jump up, throw it over your shoulder, and go running to the medicine cabinet. It didn't need a lot of explanation the way my other books did. It was more about giving people ideas to try to see what struck a chord.
I think the world feels unusually noisy and crowded and overwhelming right now, so people are just trying to control what they know they can control.
I did do a lot of research for it, but I found that my own observations were the most useful. Ever since The Happiness Project came out, I've talked to people endlessly about this. It's fascinating to see how different people face different challenges when decluttering. They have to think about it in a way that makes sense for them.
How did you come to the realization that outer chaos contributes to inner chaos? Was there an ah-ha moment?
In the book I quote someone who said, "I finally cleaned out my fridge, and now I know I can switch careers." And I've experienced that feeling so many times! One of the things about having a blog and writing all the time is I hear back from people and get a sense of what strikes a chord. I see that this is something that many people powerfully feel, so it's worth thinking about.
Another thing that's nice about clutter is you can control right now. If you want to eat healthily, that's a long game. If you want to clean out your coat closet, you could do that today. It's instant gratification.
Is that why you think the Kondo method has had such a big year so far?
I think the world feels unusually noisy and crowded and overwhelming right now, so people are just trying to control what they know they can control. It's like, I can't change the world but I can clean out my basement.
In the book, you write that minimalism shouldn't be the goal of decluttering. Can you unpack that a bit?
A lot of people talk about minimalism like it's something that everybody wants. And the one thing I've learned in all my study of habits and human nature and happiness is that there isn't a magic one-size-fits-all solution. There is no best way, because people are different. There are simplicity lovers and abundance lovers. And abundance lovers don't want minimalism.
The idea that everyone would be happier with an empty shelf with one vase with one rosebud sticking out of it—no! Some people love collections and profusions. Different people thrive in different environments.
You also say that we shouldn't be "too organized." Why?
Everyone has a certain level of order they're after. Some people really do want to get to a place where everything is beautiful and matching and labeled—but that's not necessary. You don't have to go all the way there if you don't feel the benefit of it. I certainly don't! I don't have matching hangers—I'm not at that level. But I do like everything to be clutter-free.
Sometimes it's easy to get swept away by the idea of something like alphabetizing your spices. Be honest with yourself: Do you live the kind of life where you need alphabetized spices? And are you going to be able to maintain them? Or in a week are they all going to be mixed up again? Often when you get too organized, you're just making work for yourself. You're striving for something you don't need to.
What's the hardest part about decluttering to you?
It's hanging up clothes. I have a wardrobe where I toss stuff, and it quickly backs up on me. But what I've learned about myself is that I was always trying to do it at the end of the day because that makes sense, but I'm a real morning person, and I'm very tired at night, so for me it's better to make it part of my morning routine.
It's all about finding what works for you.
This interview has been edited and condensed.