Study Finds That The Greener The School, The Smarter The Kids
mbg Sustainability Editor
By Emma Loewe
mbg Sustainability Editor
Emma is the Sustainability Editor at mindbodygreen and the author of "The Spirit Almanac: A Modern Guide To Ancient Self Care."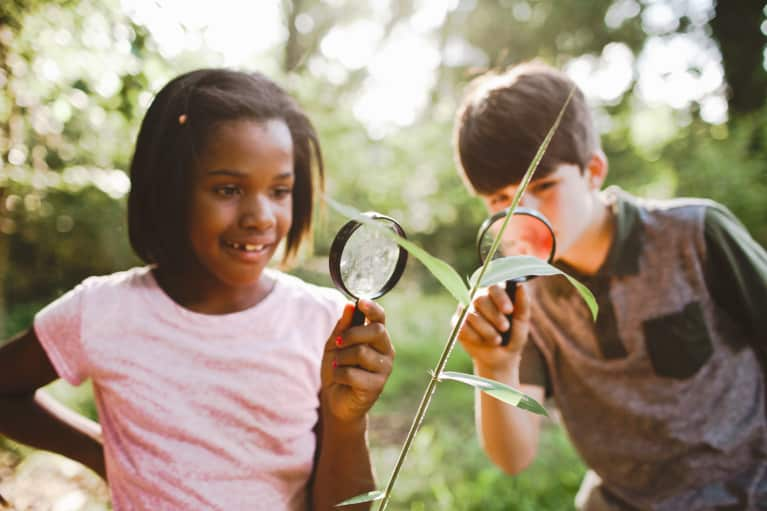 Eco-friendly schools are more conducive to learning, according to a new report by the World Green Building Council (WGBC).
The council, a nonprofit that pushes for more sustainable architecture, analyzed nearly 100 studies on how a school's built environment affects the children inside. In the process, they found that four key areas drive students' well-being:
lighting
indoor air quality
thermal air quality
acoustics
Interestingly enough, making these features more eco-friendly translates to healthier kids in most cases.
"The environment of a school building has a tremendous impact on how a student learns," WGBC CEO Terri Wills said in a press release. "It would seem obvious that if a student can't hear their teacher, or is too hot to concentrate, that their performance would suffer, but many don't realize that factors like CO2 levels and types of lighting, can also make a big difference in how students perform academically."
According to the WGBC, a greener, smarter school is one that has plenty of windows for ample light and natural ventilation, runs on renewable energy, and is filled with low or zero-VOC furniture. The advantages here are twofold: These conditions make for a brighter, cleaner classroom that promotes learning, and they lower the amount of CO2 in the atmosphere that can keep kids home sick.
For example, studies in the United States found that kids had a 36 percent increase in oral reading fluency when exposed to high-intensity light, while those in standard lighting conditions increased by only 16 percent. Another study out of the United Kingdom found that every 100 parts per million increase in CO2 was associated with roughly one-half day per year reduction in school attendance.
Considering that the average high school graduate spends over 1.5 years of their life—14,000 hours—inside a school building, it's disappointing that more than half of schools nationwide don't have a plan in place for keeping their air clean and fresh. The WGBC hopes that their research will encourage more schools to be built with these principles in mind, as well as spur more research on their effectiveness.
"There's not a lot of localized research on this—that's one of the problems," Colin Powell, a project manager behind the report, tells mbg. "Part of the hope is this report will at least lead to more awareness about these particular features and how they impact students, and hopefully a push for more case studies." Powell says that the World Green Building Council is always trying to move the needle on healthy building design—a field that is constantly evolving.
"We're always trying to show the outcomes of using specific building features. In this case, we hope that the next time a school district has a new building project going up, they will keep these ideas in mind. They won't say 'Let's build a school with no windows to save energy'—which was actually how they designed schools 50 years ago—now there's research reminding them that if students have more natural light, they'll perform much better."
Pssst...we peeked inside the ultimate healthy, green school. Check it out here.