7 Things You Need To Know Today (September 13, 2018)
Contributing Wellness & Beauty Editor
By Lindsay Kellner
Contributing Wellness & Beauty Editor
Lindsay is a freelance writer and certified yoga instructor based in Brooklyn, NY. She holds a journalism and psychology degree from New York University. Kellner is the co-author of "The Spirit Almanac: A Modern Guide to Ancient Self Care," with mbg Sustainability Editor Emma Loewe.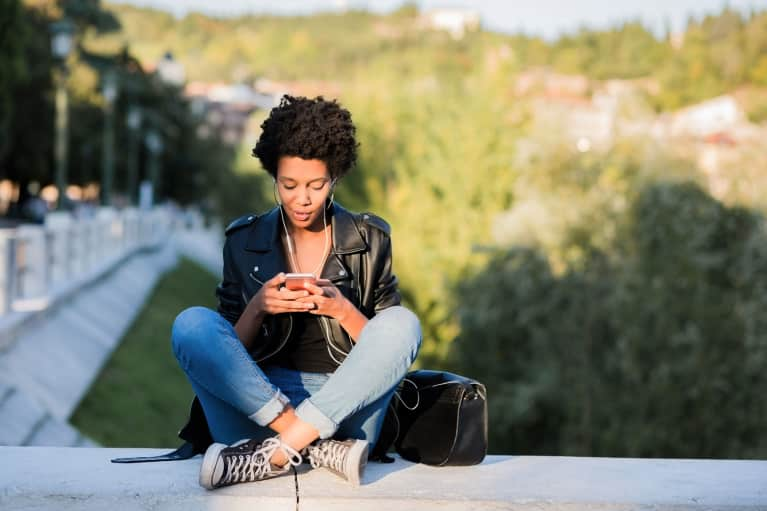 September 13, 2018 — 9:00 AM
1. Want to fight your phone addiction? Try going grayscale.
As part of its new iOS12, Apple is unveiling Screen Time this fall to help smartphone users spend less time scrolling. But another method that can help you? Change your display to grayscale. While it seems silly, removing all color from your screen makes it less appealing to look at so you get less dopamine from using it. (WSJ)
2. How many kids ages 9 to 10 self-identify as gay or transgender?
A team of researchers at San Diego University surveyed thousands of youths across the country and found that 1 percent of 9- and 10-year-olds surveyed self-identified as gay, bisexual, or transgender—it's the first insight into early identity development. "Social scientists have assumed [children] do not have the cognitive ability to understand" their sexual orientation, according to the co-author on the study. "It is important to have a baseline to understand how sexuality develops and how it may change over time." (EurekAlert)
3. Yet another reason to meal prep.
Earlier this summer, the American Academy of Pediatrics went on record saying that families should limit their use of plastic food containers since certain plastics have been shown to leach potentially harmful chemicals into food—especially when heated. New research continues to surface on the health impacts of plastic containers (not to mention, their environmental implications), so you're better off steering clear when you can. (Vox)
4. Outdoor Voices is going high-impact.
One of America's fastest-growing athleisure brands, Outdoor Voices, just announced that they'll release a line designed for higher-impact sports. Founder and CEO Ty Haney explained that "Many found it very hard to find a bra that was comfortable, supportive, and also attractive," and this new line aims to fix that. (Fast Company)
5. It's time to buy an air filter.
A new study, published in JAMA Internal Medicine, showed that the short-term use of a portable air filtration system reduced exposure to air pollution and fine particulate matter—PM2.5, to be exact—that is commonly found in the air around cities, especially. An added bonus: Using the device also lowered the systolic blood pressure of the participants in this clinical trial. (JAMA Internal Medicine)
6. This is why some people get colds while others don't.
Yale researchers found that when people were exposed to outside stressors and a cold, they were more likely to contract the cold because of the cellular response to the other stressors. "The airway does pretty well if it encounters one stressor at a time. But when there are two different stressors, there's a trade-off," the study's author explained. "What we found is that when your airway is trying to deal with another stress type, it can adapt but the cost is susceptibility to rhinovirus infection." (Science Daily)
7. Reading positive comments on Instagram can still make you miserable.
Even when everyone's being nice to one another, social media still has a way of getting us down. New research found that when young women looked at images of attractive women on Instagram, they felt less satisfied with their own bodies. But those who saw the photos and read the comments below complimenting the photographed woman's appearance felt even worse. (PsyPost)