What It's Like Giving Birth, Running A Company & Being A Single Mom During COVID-19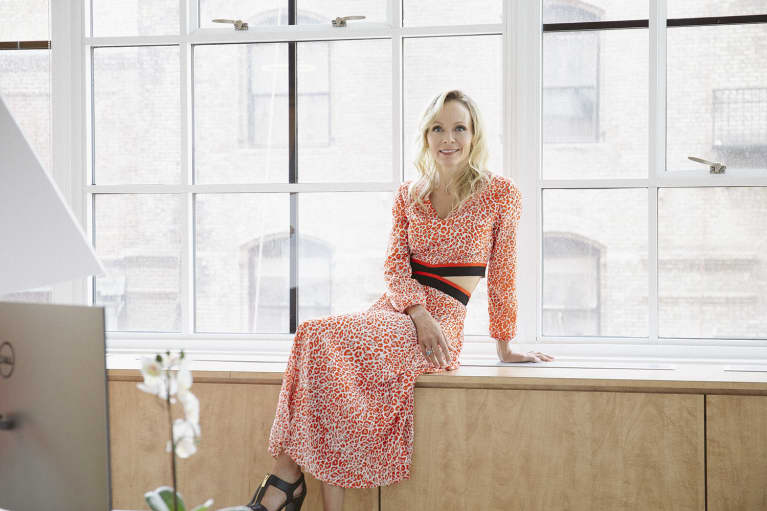 Our editors have independently chosen the products listed on this page. If you purchase something mentioned in this article, we may
earn a small commission
.
During COVID-19, parents have had to shoulder many burdens: Almost overnight they became teachers guiding their kids through homework, virtual classes, and lesson plans, full-time caretakers without the support of sitters, day care, or camps, playmates as their kids could no longer see friends, and (many) still remained full-time employees. It's an overwhelming bundle of responsibilities to take on, especially given a time when stress is at an all-time high.
Maria Molland, who has one child and was nearing full term when the lockdowns began, also had the responsibility of running the feminine hygiene company Thinx, known for selling period underwear and other essentials for those who menstruate. (Several years ago, she took the helm of Thinx after the founder stepped down.) Being a single mother of two and CEO, how is she navigating our "new normal"? We spoke with her to find out.
mindbodygreen: What was giving birth like during COVID-19 at one of the peaks of lockdown?
Maria Molland: As you can imagine, my birth plan went completely out the window. I was in my third trimester when it really hit New York. So I had been watching the COVID-19 stuff in the news since January, and we, as a company, started working from home very early, in early March basically. Around this time, I got an ear infection.
And I was asking my doctor a lot about like, "OK, what do you think is going to happen in New York? I feel very uncomfortable giving birth in New York, if we think COVID is going to really take off. And I think it is because of density, etc."
My parents live in California, and I wanted to go there to be with them during this, so I'd be around family and have a support system in place. My doctor assured me, "Oh no, you should stay here because California is actually going to be much worse off." But I just knew in my gut that I didn't feel comfortable staying in New York. One of my biggest lessons is trusting your gut and being your own health advocate.
So I ended up packing up my bags and moving out of my apartment literally in five hours. I rented a car, packed up my stuff, and got the car at 5 a.m. I put my daughter, my cat, and my pregnant belly in that car. Because I had an ear infection, I couldn't fly, so we went across the U.S. by car. And yeah, it was nutty and staying in hotels and Cloroxing everything down. My daughter and I were using my daughter's potty because we didn't want to use the public restrooms. It was definitely an experience that I'll hopefully one day find very funny, but that's how I got to California.
mbg: What was the birthing process like—not only is it during COVID-19, but you are in a new state without your doctors?
MM: I gave birth with a new doctor, and sorting that out was really hard. I used my network: My sister-in-law and a lot of her friends had used this woman, so luckily, I found a great one. I was Googling all the different hospitals to figure out which ones had not as many COVID patients so I'd be in one where I felt safer. I'm a single mom, so I planned on having my parents there. That obviously was impossible, so I was alone, which is not a big deal. It was just different.
The whole thing was just very different from what I expected. And since then has been very different because so much of the post-birth is around your family and sharing the love of this new life you brought to the world. And obviously, you couldn't do that as well. Listen, I'm so grateful to have had a second baby and then, secondly, to have the people in my life that have been supportive. It ended up being a healthy birth, but it was complex. And I think it has been for everyone.
mbg: What was the hardest part?
MM: Driving across the country. A lot of people were like, "The stats of you getting in a car accident are much higher than you actually contracting COVID and then dying or having your baby affected." I don't know. My gut told me that there was a right thing to do, and it will tell you 100% what is right, because then it became a lot worse, and New York became the epicenter of it. And I would have been alone without my parents or support system.
But I will tell you, I was very nervous as I was driving. I didn't get much sleep. I think, too, being so absorbed by the news and all the sadness that goes alongside COVID in those emotional stories, I was just soaking that up the entire drive, which was the last thing I should have been doing. I should have been trying to listen to a really inane podcast or something, just to keep myself somewhat sane. That was really heavy. And I called my brother numerous times, who I'm very close to and is a psychologist, because I was just like, "I'm feeling this heaviness and this sense of urgency. And I'm just scared for my kids most."
That was the hardest part. But I knew in my gut it was the right thing to do. It was just like I couldn't wait to drive into my parents' place where I felt like, "OK, we made the trip. I made it through the snowstorms and everything else. It's going to be OK."
mbg: What did you learn from this experience?
MM: I guess a few things. One would be trust your gut and be your own health advocate, as I mentioned before. That is such a key one. I had gone through years of IVF and some challenges. I've lost a baby. So I already knew how important it was to be your own advocate. But this just really confirmed it.
And then the other thing is—I think this is true for a lot of people, but maybe it's more so when you have a baby—really appreciate the moment. I'd say I appreciated the moment more this time around, meaning the moment of the birth. Because I was so worried, when it finally happens, a lot of that turns into being very grateful. I do think, for a lot of people too, it kind of resets your priorities in ways that I didn't know before.
And, finally, just to emphasize, is the time with my family. It is just wonderful that my kids have now had this opportunity to spend so much time with their grandparents, and grandparents with them. And I don't think I would have appreciated that as much had COVID not happened, of course, because that whole time wouldn't have happened just in general. You just become more appreciative of the things you have.
mbg: What would you tell pregnant women who are about to give birth right now?
MM: You have to be very proactive about the hospitals you want to go to and make sure you're looking at the data around how many COVID cases, etc. But I will say I was so impressed by the hospital that I gave birth in. From there I should note, don't worry as much as you are probably worrying about it, because the medical professionals are really taking every step to make sure you're safe in the hospital. I'd actually say my feeling on my health and how it was handled was better this time around than it was the first time because there's such an abundance of caution, especially for pregnant women.
mbg: And on top of it, you are running a company—during a pandemic and the economic fallout from it. Were you able to take maternity leave? How have you navigated that?
MM: We have 16 weeks of maternity, and I decided prior to leaving for maternity that I would split that up into eight weeks and eight weeks later. So I did come back early, and that was primarily driven by the fact that obviously there's a lot going on and feeling like the business potentially would be in real trouble. And so having a key person out would be really challenging.
I expected to be very, very engaged with work during my eight weeks off. And the reality, and again this goes to feeling very fortunate, the business has performed incredibly strongly during COVID. I think D to C businesses and online businesses were fine in accelerating online adoption. Plus, we are a business that a lot of people know about but were reluctant to try because of a feeling that there might be issues with the product or leaking. But when you're staying at home, there's less of that element. So we've had a lot of people try our product, and it's gone very well.
So I actually spent the first eight weeks, primarily not very engaged with the business. I would attend about three hours of calls a week—and I expected a lot more. I really felt I could enjoy my maternity leave. It has almost made me reframe how I think about coming back, how we structure the team to be, and how we operate given the current circumstances: How do we make sure we use it as the ability to grow from here or move to being even more strategic than we have been? So I would say it gave me that time to reflect and position myself and the company for the next phase of growth.
mbg: The idea of balance in general right now is vital, just because parents are expected to teach their kids, be the full-time caregivers, attend all these meetings, be present on video calls. And they're expected to take care of themselves so they don't get sick. I just think the idea of balance, it's never been more important and it's never been harder to do. Is that something that you're thinking about, especially going back full time? How are you navigating that discussion?
MM: So 100%, I think finding this balance—it's so hard. A lot of people are really struggling with when does work start, when does it end, how do you create a quiet space. I have no quiet space whatsoever. But I do think in some respects, it is making me more aware of that because I almost feel a lot of times we're just on this hamster wheel of move, move, move, move, move. Now, I think I'm more aware of it, and it actually is making me rethink how I create quiet time. It goes to the earlier statement, how do I become much more strategic with my time, my team, my support system, and my family? How do I make sure I can get my time to be much more strategic at the company but also self-care and be present for my kids? It has forced me to think about those things more so than I probably would have otherwise.
mbg: How is this going to work, do you think, now that the school year is starting again?
MM: I don't think there is an answer yet. I think that it's forcing the academic and educational system to redefine itself and reimagine itself, which was much-needed. So I think in the long term, it will be a huge benefit for everyone. It's just going to be a short-term real pain, and, unfortunately, is going to be amplified in particular economic segments of society.
mbg: How do you take care of your mental and physical health during this?
MM: I have been pretty adamant about my exercising. So I find it's less about body-wise; it's more mental. And I, no matter what, will exercise an hour every day. I've been doing high-intensity training because I feel that is so good for my mind. I feel so good afterward.
mbg: How do you think parenting, or how you act as a parent, will change because of this experience?
MM: It's the sense of having clear differentiation between your work life and your parent life. And I think it slows things down and you have this appreciation for nature in a way that probably will never go back. So I think that changes your parenting style. I think you start to emphasize being outdoors. You emphasize perhaps doing more of the home-schooling yourself, less of a focus on getting your kids into the right school or doing all the right things. I think it kind of resets your priorities and perhaps makes you a more chill parent.