Gisele Bündchen Shares The Secret To Making Her Relationship With Tom Brady Work
Contributing Food Editor
By Liz Moody
Contributing Food Editor
Liz Moody is a food editor, recipe developer and green smoothie enthusiast. She received her creative writing and psychology degree from The University of California, Berkeley. Moody is the author of two cookbooks: Healthier Together and Glow Pops and the host of the Healthier Together podcast.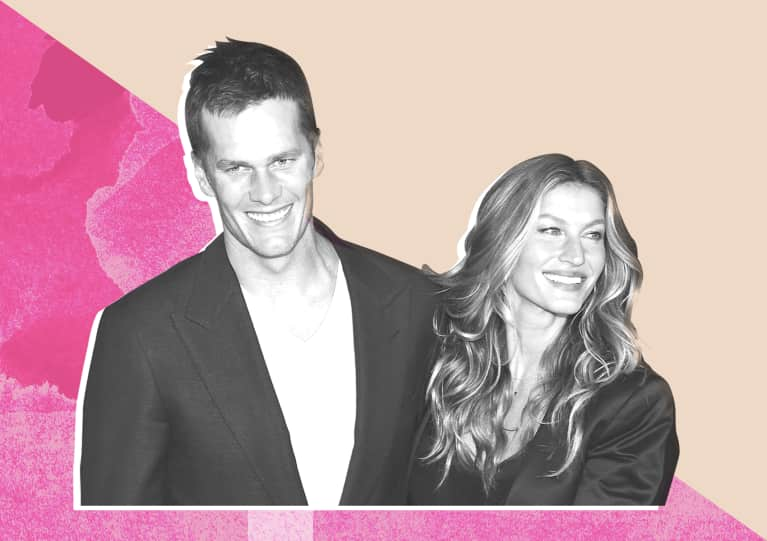 Our editors have independently chosen the products listed on this page. If you purchase something mentioned in this article, we may
earn a small commission
.
Gisele Bündchen and Tom Brady have been the living embodiment of #couplegoals since their blind date in 2006—although it hasn't always been smooth sailing. "Two months into our relationship, Tom told me his ex-girlfriend was pregnant," the 38-year-old supermodel and mbg Collective member writes in her new book, Lessons. "The very next day the news was everywhere, and I felt my world had been turned upside down."
The news changed the path of her relationship and life in a number of ways. She decided to have children sooner, so they could be closer in age to Brady and ex Bridget Moynahan's son, Jack. Shifts also happened on a deeper level. "[My stepson Jack] opened my heart in ways I didn't even know my heart could expand," she writes in Lessons. "I fell in love with him."
Happy endings, of course, don't mean the journey was easy. "It wasn't the ideal situation for anyone—there's no manual to prepare you for that," Bündchen told People magazine. On the mindbodygreen podcast, she opened up with rare candor about the secrets to her and Brady's long-term success.
"We accept each other for who we are," she told mindbodygreen founder & CEO Jason Wachob. "We're not trying to change one another." She notes that the two have very different energies. "Opposites attract in so many ways. Tom is very grounded. His energy is very cool and collected. He brings that energy of a safe port. I'm more emotional and spontaneous. I bring some of that to his life, and he brings some of that grounding to my life—it feels like a really good dance."
Acceptance is vital to every aspect of Bündchen's life, perfected through a number of yogic and spiritual practices that she developed during a period of intense anxiety. "To accept each other and fully see the other for who we are, that's huge," she told mbg. "When there is acceptance, there is no pain. The only time there is pain is when there is resistance to what is... You cannot change what is. If you resist that, it brings suffering. But when there is an acceptance for what is, there is forgiveness and love."