Getting Rhabdo Nearly Ruined My Entire Life. Here's What I Wish Everyone Knew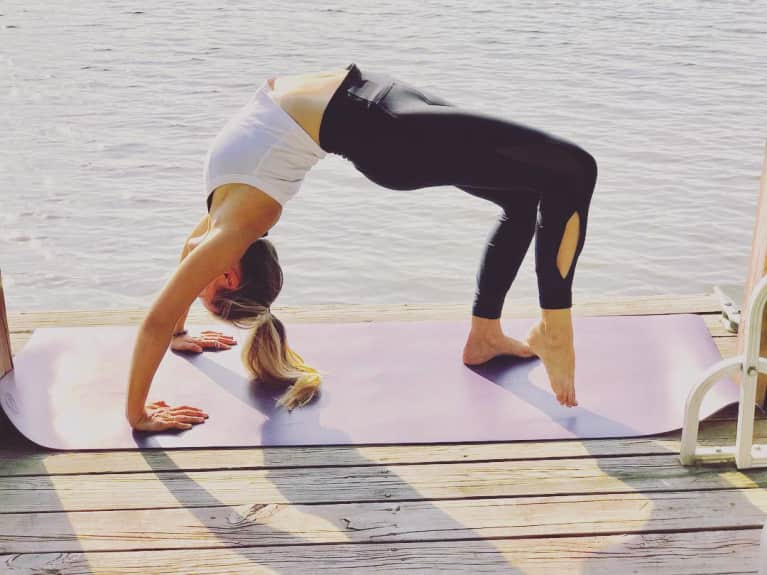 Our editors have independently chosen the products listed on this page. If you purchase something mentioned in this article, we may
earn a small commission
.
One year later, after a traumatizing workout experience, I am doing more with my body than I ever thought imaginable. From being in the hospital for a week with rhabdomyolysis to teaching multiple indoor cycling classes a week and embarking on my first 200-hour yoga teacher training, I am in a better place now than I was before my sudden injury.
The progression from ER to fitness instructor required a commitment to wellness, strengthening my mind before my body, and opening my heart to new possibilities.
1. I made a commitment to myself by not comparing to others.
I was diagnosed with rhabdomyolysis after overworking my muscles in a strength class, and naturally, I was afraid to return to the gym or even pick up a dumbbell long after leaving the hospital—and to be honest, most days I still struggle with that fear. The first step to overcoming my fear of working out again began with a commitment to my well-being. I knew that the majority of my injuries—rhabdomyolysis, plantar fasciitis, and shin splints—were a result of me not listening to my body. I read Jason Wachob's book Wellth in the hospital, and I made a commitment to prioritize my well-being in the same way Jason did despite his busy schedule. Upon leaving the hospital, I started meditating seven to 10 minutes each morning and doing yoga for about 20 minutes each day after work. I did this in the comfort of my own home, and the results were amazing. I wasn't looking around a group class comparing myself to others, and I wasn't ashamed for only moving my body 20 minutes a day.
2. I prioritized my mental well-being.
I stand by the belief that meditation is what saved my life. While meditation provides stress-relief and an increase in awareness, I found myself also benefiting from a boost in confidence and self-worth and a deeper connection to my authentic self. I decided to dive deeper into meditation by taking Charlie Knoles' 200-hour meditation teacher training with mindbodygreen. As I worked up to two 20-minute sessions of meditation per day, I had many realizations, including my dissatisfaction with my full-time job, my desire to pursue a career in wellness, and my need for helping others discover the benefits of practicing meditation and breathwork.
3. I kept my heart open to new possibilities.
I have yet to jump back into a strength class, and I'm not sure yet if I ever will. I had a second rhabdo scare about six months after leaving the hospital, and I learned that once you have rhabdo, you are more susceptible to getting it again. I know I feel so much better when I move my body, so I began to look for ways to exercise that are easier on the muscles. I took up indoor cycling (with lots of coconut water and bananas per the doctor's orders), and I look forward to beginning yoga teacher training. I guide all of my cycling students through meditation during class to bring more awareness to how their bodies feel. My goal is to help others learn how to listen to their bodies' limits while also doing something that makes their bodies feel amazing.
It's so important to share our stories of wellness. Here's how one woman's sneaky vitamin deficiency nearly ruined her health.