This Mom Just Came Up With A Genius Way To Make Her Kids Take Screen Time Seriously
Contributing Sex & Relationships Editor
By Kelly Gonsalves
Contributing Sex & Relationships Editor
Kelly Gonsalves is a sex writer and editor. She received her journalism degree from Northwestern University, and her writings on sex, relationships, identity, and wellness have appeared at The Washington Post, Vice, Teen Vogue, Cosmopolitan, and elsewhere.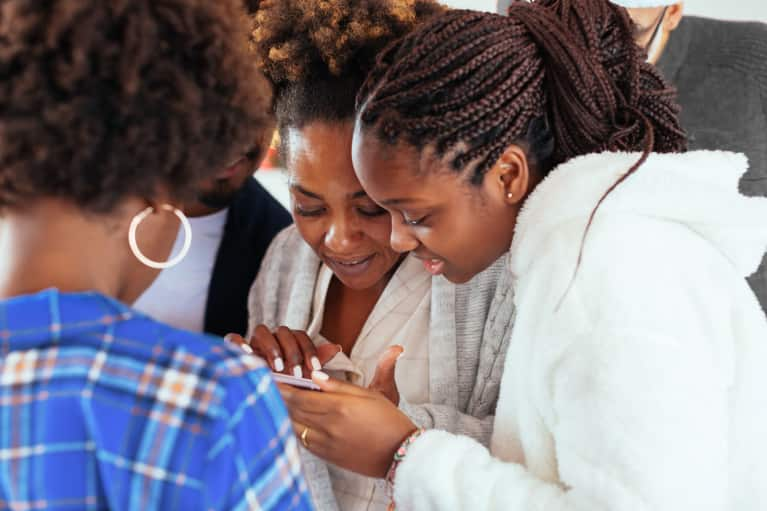 December 6, 2018 — 7:30 AM
Not to be dramatic about it, but screen time is basically swallowing whole children alive. Recent studies show 95 percent of teens own a smartphone or tablet now, 45 percent say they're online "almost constantly," 80 percent text daily, and more than half readily admit they spend too much time on their phones. Meanwhile, we know that teens' increasing smartphone usage is correlated with more depression, less sleep, less social connection, worse decision-making, and more experience of bullying and harassment.
Has that stopped kids from readily embracing their screens? Nah. The usage numbers just keep going up, and teens today are more likely to say social media positively affects them. And as any parent of young kids and teens knows, simply banning the phones is not as simple as it sounds (nor does research suggest it's necessarily the most effective route).
But one tech-savvy mother has figured out one way to get her kid to take their own time online—and their digital privacy—more seriously:
Ding, ding, ding!
Natasha Vianna, herself a communications and PR professional, points out a big piece of the puzzle when it comes to adolescents' addiction to smart devices: the role of the companies designing this technology.
With few exceptions, many of the companies developing these services don't exactly have kids' best interests at heart. Despite the well-documented dangers associated with overusing them, many social media apps and youth-targeted games are, in fact, specifically designed to be addicting to its young users with the hopes of turning those endless hours of scrolling and tapping into in-app purchases, advertising dollars, or creepy banks of personal data to be sold off to the highest bidder. (Remember when we found out Facebook might be targeting ads specifically at vulnerable teens feeling "worthless" and "anxious"? Or that a viral Facebook-owned app had been purposefully employing cleverly calculated "psychological tricks" meant to target teens? Yuck.)
While none of this should be surprising to most adults, it's the people who are actually being targeted by these predatory services that need to be aware—that is, the kids themselves. Vianna's idea was pretty well-received over on Twitter but, most importantly, by her daughter too:
We'd consider that a lesson learned.