Can This Clever Beauty Trick Actually Reduce Stress? Our Editor Tested It
Contributing Wellness & Beauty Editor
By Lindsay Kellner
Contributing Wellness & Beauty Editor
Lindsay is a freelance writer and certified yoga instructor based in Brooklyn, NY. She holds a journalism and psychology degree from New York University. Kellner is the co-author of "The Spirit Almanac: A Modern Guide to Ancient Self Care," with mbg Sustainability Editor Emma Loewe.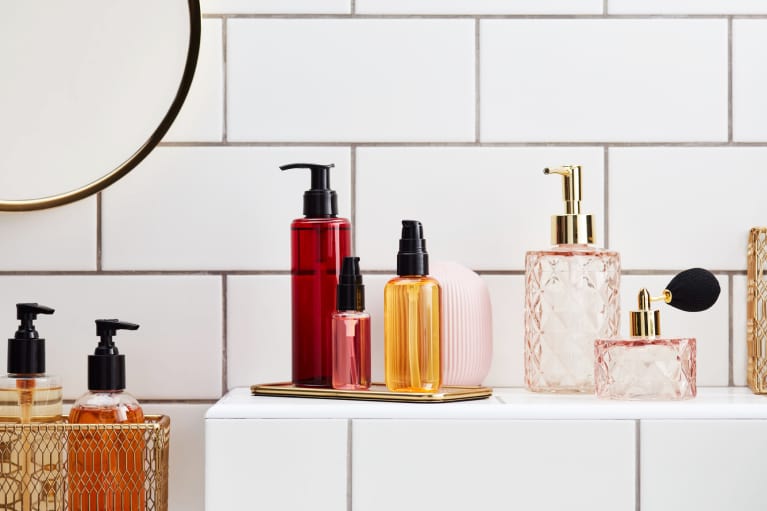 The Nue Co., a beauty and supplement company, has released one of the industry's first functional fragrances—or at least one that's marketed as such.
While several wearable scents have ventured into "functional" territory over the years, none have posted a stake in the space as clearly and squarely as the Nue Co. For example, creators of decades-old pheromone perfumes purport they boost attractiveness and outgoingness of the wearer, both to the self and others. Molecule 01 blends with your biochemistry to create a unique-to-you scent, which has produced a cult following. But Nue Co. has designed a nontoxic fragrance to, evidently, calm the nervous system during stress and intensity—its launch is brilliantly synced with a famously chaotic time, the holiday season.
Evidence is mounting that the "functional fragrance" will become a trend in natural beauty. Valeur Absolute, another fragrance company, has predicated its entire line on the therapeutic properties of scent. S.W. Basics has a line of functional essential oils diluted for wearing on the skin for years—it's only a matter of time before more brands take note.
The making of a "functional fragrance."
Though it does contain alcohol, Nue Co.'s formula is made without phthalates, parabens, and hexane and is vegan, cruelty-free, and nontoxic. "We worked with data from the University of Geneva's Brain & Behavior Laboratory," on assembling a fragrance with therapeutic properties, Nue Co. founder Jules Miller told mindbodygreen. "There's a powerful connection between cognitive function and the olfactory system," she said. "Put simply, certain scents can elicit certain reactions with the body, both physically and psychologically." Using findings from the Geneva Emotion and Odor Scale (GEOS), a study that mapped feelings and emotions to specific scents, Miller and her team formulated a fragrance so modern, clean, and wearable, you'd never know it was "functional."
Designed by the same perfumer who created Le Labo's ubiquitous Santal 33 and Glossier's You, it's a new (and familiar) variation on the now archetypical unisex scent: In the bottle it smells floral and woody, almost approaching sweetness, but the dry down has an overtone of musk and astringent wood.
My question: How are functional fragrances different from essential oils (which theoretically do the same thing)?
Trusty essential oils have been integral in taking a natural approach in the ongoing battle against stress and anxiety, with increasing awareness in the last few years. So how are the therapeutic qualities of functional fragrances different from those of essential oils? Technically, they're not—plant extracts and oils are a part of the Nue Co.'s fragrance. But the blend is unique and proprietary, and you won't find special ingredients like cardamome verte in essential oil lines. Sourced from a small community farm in Guatemala, supercritical CO2 extraction is used to change cardamom from a solid to a liquid. "The extraction carried out at a low temperature preserves the natural profile of the raw material and has a lower environmental impact," Miller said. In fact, each and every ingredient in the fragrance has been sustainably sourced by working directly with farmers, and several of the components have also been extracted with the eco-friendly CO2 method.
So, did it lower your stress levels?
Fair question. I love the scent. Cardamom, bergamot, cilantro, and myhrr are complemented by florals—iris, violet, and jasmine—and it's all grounded in the earthy foundation of cedarwood, musk, palo santo, ambrox, and guaiacwood. Personally, it's a scent I'd wear daytime and/or evening and is one that I could absolutely share with my husband. Did it work to pacify feelings of stress and anxiety? Possibly. It may have been the clever breathwork exercise that comes with the bottle or the formula itself, but when I took a moment out of my day to indulge in the ritual of scent, I was, for a moment, transported. It's hard to say whether the effects lasted the entire time I was wearing it, but the intention of applying it ceremoniously certainly made a difference.