For Those With Chronically Dry Skin, Here's How To Use Ceramides
mbg Beauty Director
By Alexandra Engler
mbg Beauty Director
Alexandra Engler is the Beauty Director. Previously she worked at Harper's Bazaar, Marie Claire, SELF, and Cosmopolitan; her byline has appeared in Esquire, Sports Illustrated, and Allure.com.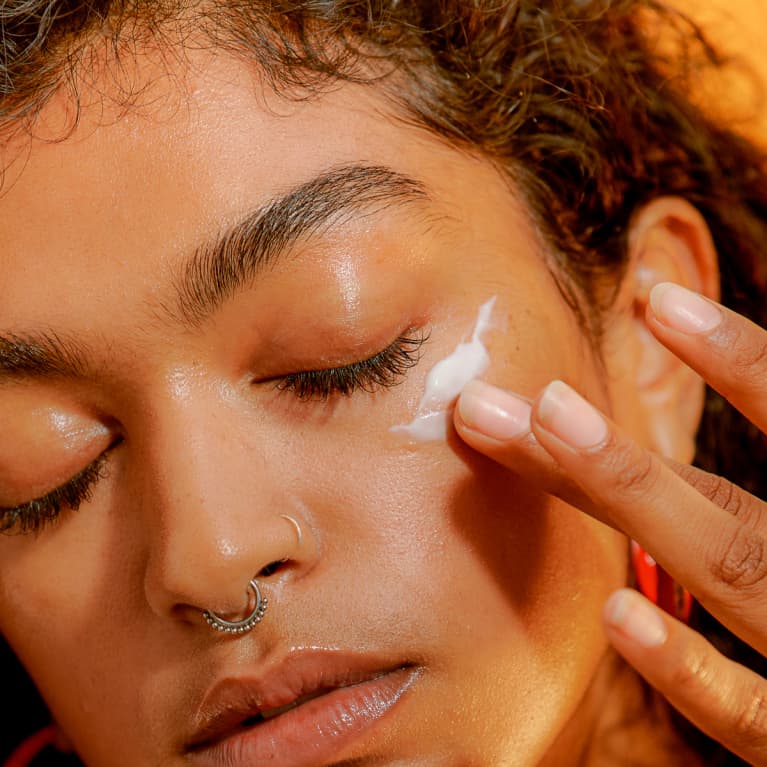 This article was produced to support the mindbodygreen supplements+ line. Our supplements adhere to the highest standards of ingredients and quality. We hope you enjoy these products, for more information
click here
.
There are a few things commonly found in skin care items that are also naturally produced in the body: collagen, hyaluronic acid, squalene, ceramides, as well as several types of antioxidants. These all serve a unique function in the skin, working together to keep us healthy with glowing complexions.
However, all these things start to decline with age—as well as from environmental or internal aggressors—so often, people try to replenish the natural reserve, ideally resulting in more youthful-acting skin. There are several routes to do this in the holistic space, via treatments, topicals, and supplementation. This raises the question: Which route is more effective? Well, there's no easy answer, as each component of the skin has a different delivery method that is most suited for it.
How you should really use ceramides in skin care. 
We've chatted before about how collagen is better taken via supplementation (when formulated in creams, it isn't able to penetrate the skin; you're better off using other topical actives like vitamin C or retinol as far as products go). But ceramides are a different story. Allow us to explain.
As noted above, ceramides are a natural part of our skin structure. Specifically, they are polar lipids that make up the barrier between the outside environment and our body, locking in moisture and protecting our skin from damage. Yeah, they're pretty important. As these are damaged or depleted, skin issues like inflammation and chronic dryness happen.
One way to deal with ceramide loss is through topical agents: "Ceramides have been used topically for a long time," says Robert Rountree, M.D. Using topical ceramides has hydration benefits; that's for sure: In one small study, women who applied phytoceramides to their legs for three weeks saw improved skin hydration. So when looking at topical creams, ceramides are a worthwhile addition to formulas. (Read: Unlike collagen creams, ceramide lotions aren't just hype.) But are they the best way?
When we think of long-term skin health, as well as structural integrity as we age, going internal is going to be your most effective option. "Research shows that when you take these things by mouth—and you don't need many milligrams of them—your body actually incorporates them into the skin," says Rountree.* In fact, science shows that ingesting them orally can offer those same skin-healing benefits as a prescription topical.* In another study, participants with clinically dry skin who took a phytoceramide-rich wheat extract oil for three months saw up to a 35% improvement in skin hydration.* And finally, another notes that participants saw improved skin hydration after just 15 days.*
Think of it this way: You can provide a more continuous stream of ceramides, naturally supporting stores from the inside out.
See, supplementing your natural ceramide levels will support the structural integrity of the skin, so you're proactively keeping your skin hydrated and managing inflammation.* This way, you're not having to play catchup with your dry skin later.