Food, Community & Wellness Advice From Last Night's mbg revitalize Supper Series
mbg Chief Content Officer
By Olessa Pindak
mbg Chief Content Officer
Olessa Pindak is the chief content officer at mindbodygreen and one of the hosts of the mindbodygreen podcast. Formerly the executive editor at Prevention, she's worked at Condé Nast, Rodale, and Martha Stewart Living Omnimedia.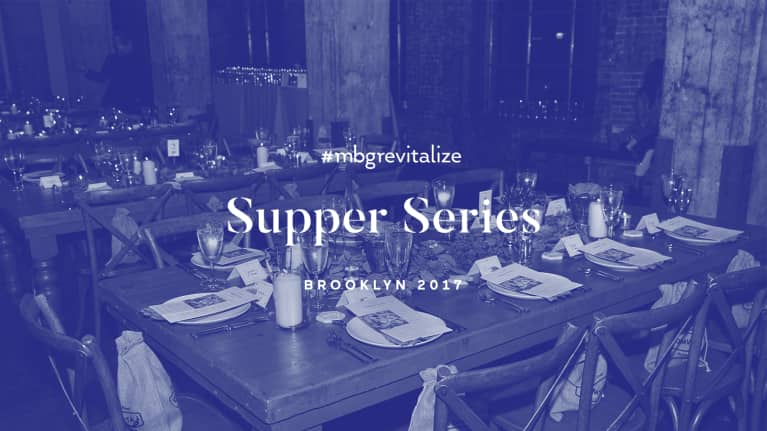 November 10, 2017 — 21:38 PM
Last night at Smack Mellon Gallery in Dumbo, Brooklyn, the most exciting thought leaders in wellness came together to talk about positivity. It was mindbodygreen's inaugural revitalize Supper Series, a continuation of the groundbreaking conversations we host at our annual wellness summit, revitalize. Hosted by positive psychiatrist Samantha Boardman, M.D. and actress Kelly Rutherford, the theme of the evening was a meditation on positivity and its power to heal, strengthen, and deepen our wellness practice.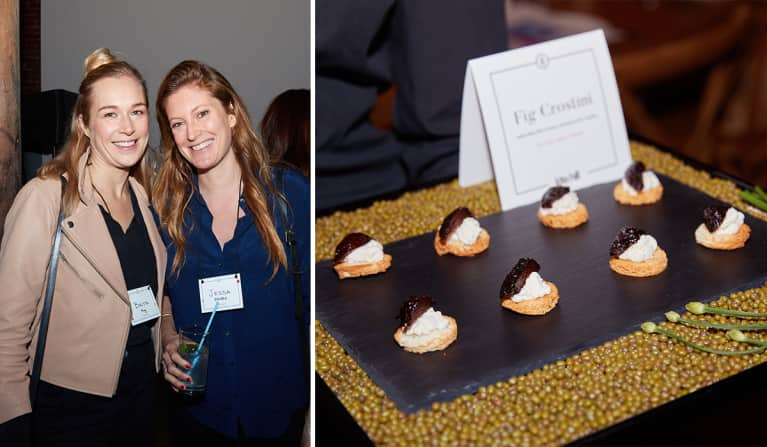 Guests clinked Dry Farm natural wines while eating fig & ricotta crostini made with Kite Hill dairy-free ricotta and lemon zest. While sipping on Kevita sparkling probiotic refreshments, we talked to yogi Tara Stiles about positivity, "One valuable lesson I continue to learn is we give others the experience of how we feel about ourselves. If I feel wonky, it's impossible to be positive. Knowing this, it focuses me on taking care of myself first and then simply showing up to every situation with my whole self available." We caught up with Beth Cooke of Sky Ting Yoga, who said she brings positivity into her class by "showing up, staying present, and sticking with gratitude. I focus on my students and what's in front of me in the moment. It helps me get out of my own way, and then that translates to everybody in the space."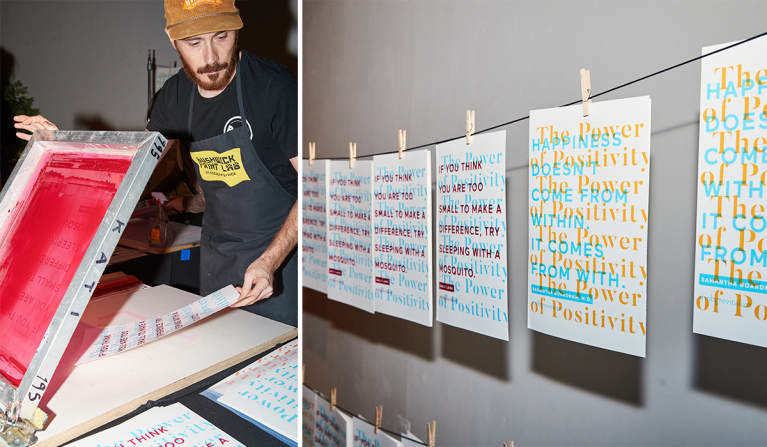 Artists at Bushwick Print Lab collaborated with mbg's creative team to design custom silk-screen posters with quotes that captured the essence of the evening: "Happiness doesn't come from within; it comes from with." Words from Samantha Boardman, M.D. And "We realize the importance of light when we see darkness," as said by Malala Yousafzai. Bethany Meyers, fitness instructor and founder of be.come, told us that positivity is sometimes in recognizing the small things: "I think there are ways where it is OK to say thank you to people for making a change. When you're speaking from a positive angle, no one can argue with it."
As cocktail hour wrapped up, CJ Frogozo, beloved teacher of The Class by Taryn Toomey, led the room in The Class Relieve, a brand-new 20-minute, no-sweat experience designed to clear the mind, stimulate endorphins, and flush heaviness from the body. With gentle movements and loud "ha's!" the group was encouraged to seize their power within. "I think the notion of The Class is about changing your vibration and the energetic level you're on," explained CJ. "If we could be positive all the time, we wouldn't go to The Class or to yoga. You can only bring it to yourself through moving your body, breathing, and that's all within us. By integrating breath, movement, meditation, and sound, we can change the way we feel."
With the crowd energized and open, mbg founder and CEO Jason Wachob took the stage to introduce Samantha Boardman, M.D.. They talked about reframing positivity and about looking at anger as information that allows us to understand ourselves more deeply. Gratitude, too, was reexamined through the lens of You. We. All., mbg's new mantra: "I'm a big believer in gratitude, but recently it's become all about me, myself, and I sometimes. But instead of focusing on gratitude, a lot of studies show that you should focus instead on where you've added value, where you've contributed. Because gratitude can become too self-oriented," she said. Dr. Boardman reminded us the easiest way to cultivate happiness in our own lives is through others: "It's so tempting in our daily lives to retreat into me and my...to be human is to connect to a fabric much larger than ourselves...the longest studies on happiness show it's about showing up; it's being there for your friends."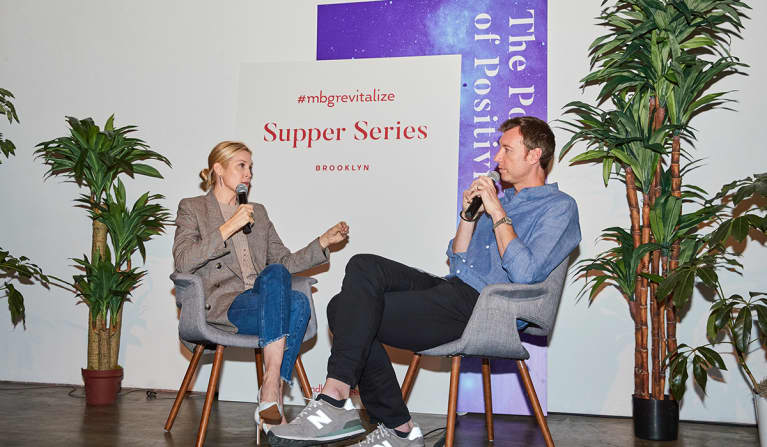 Kelly Rutherford dove right into a discussion of the rampant sexism that's being unearthed in Hollywood—and everywhere. Instead of being discouraged about it, though, she's optimistic: "It's an old system that's falling and it's difficult to watch, but the important thing to know is that it's important that it's happening, and what's emerging is modern and it's new, and it will be a better way of being for us and the planet."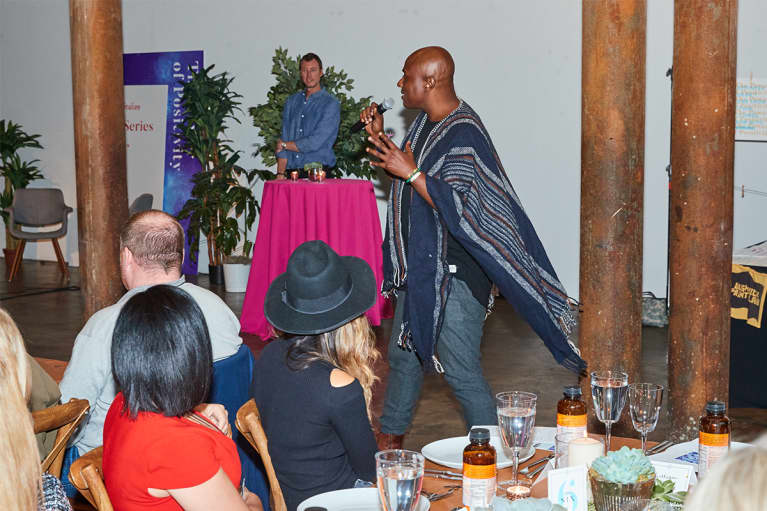 Before the meal, Shaman Durek offered up a blessing, saying what became perhaps the most quoted phrase of the night: "Nurturing is the new sexy." He encouraged us to take care of ourselves and especially others and asked the question: "Is what you created supporting all or just supporting you?"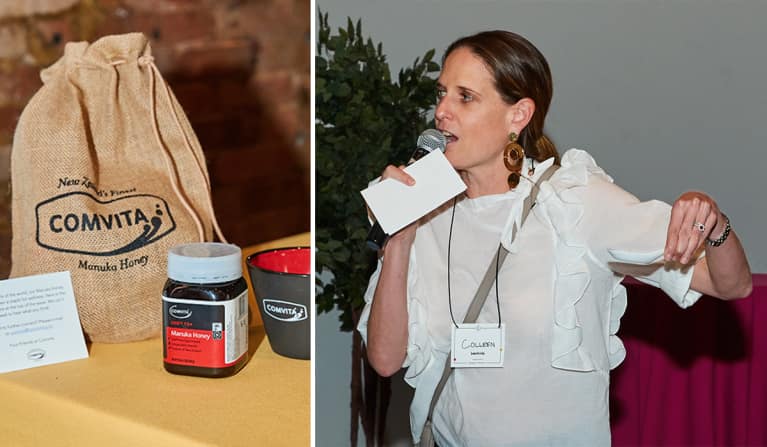 Between nourishing courses, mbg co-founder and chief brand officer Colleen Wachob talked about the healing power of Manuka honey as guests took a healing spoonful of golden Comvita. Refreshed, stimulated, and revitalized guests bundled up at the end of the evening to slip into the chilly Brooklyn night. Shaman Durek's words echoed in our ears: "At the end of the day, what really matters is how many lives have you touched, how authentic can you be with someone, how many walls and barriers can you get through? That's where the magic happens."
There was a lot to learn last night, but it's just the start of an ongoing discussion. See more photos and stay updated by following #mbgrevitalize Supper Series—let's keep the conversation going!