How Fitness Instructors Shape Women's Body Image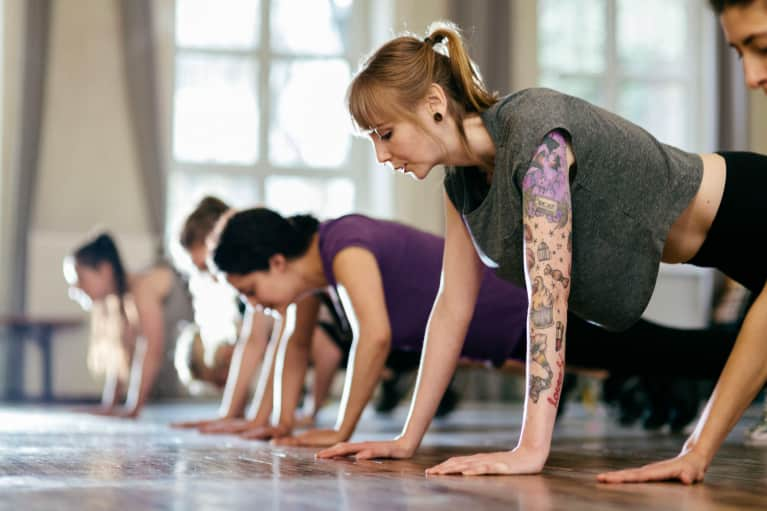 December 18, 2018 — 7:00 AM
The words you hear during your fitness class are more than just motivational fluff: New research suggests the way an instructor speaks to their students can actually affect how they feel about themselves. The study, recently published in the Journal of Clinical Sport Psychology, looked at how the words women heard from the instructor during class made them think about their body, strength, and overall health.
Researchers observed two groups of women in a 16-minute conditioning class. One class was run by instructors who made motivational comments based on health, not appearance. These instructors used empowering phrases telling the women how specific moves could make them stronger. For example: "This exercise is crucial to developing strength in the legs; these are the muscles that truly help you run, jump, sprint like a superhero!" The other class of women heard comments aimed at how their bodies looked: "This exercise blasts fat in the legs; no more thunder thighs for us! Get rid of that cellulite!"
After both classes ended, class participants reported an improvement in mood and body satisfaction—but the effect was significantly more pronounced for those who received only strength-based comments during the workout. When asked to write down three words that described how they felt, the women who heard comments about their appearance jotted down things like "disgusted with myself" or "ashamed." In contrast, women who heard health-focused phrases wrote down words that showed a sense of empowerment, like "strong" or "accomplished."
The study ensured that the women had the same experiences during class, even having the groups in the same rooms, doing the same exercises, and listening to the same music.
"Just modifying the script the fitness instructor used had a meaningful impact on the way they felt about themselves afterward," psychology professor and lead study author Renee Engeln said in a news release. "If we want people to stick with exercise, we need to remove shame from the equation. This study points to an easy and cost-free step that fitness instructors can take to make their classrooms healthier, more inclusive, and more inspiring."
The take-away is simple—the guidance you get while working out can be just as important as the moves you do. These results are an excellent reminder that the words we use and are exposed to matter. You've probably attended a class or two where you were silently shocked by the negativity coming out of the instructor's mouth, from comments about flabby arms to fat butts. This study might finally be the motivation you need to say enough is enough.
"These messages perpetuate an objectifying, eating-disordered culture where we continue to base our unstable self-worth on appearance; where we feel inadequate as long as any part of us jiggles when we run; where we work out from a place of fear and shame rather than a place of experience and health. Must we view exercise as merely a calorie-burning activity?" psychotherapist Megan Bruneau tells mbg. "Let's move together, out of love and inspiration, not out of shame."
The fact is, positive self-talk and affirmations make you feel stronger and healthier. Research has even proved that using body-love affirmations can help you achieve your fitness goals. If the person running the class points out every wiggle or jiggle they see, it's not doing anybody any favors.
So before you sign up for your next class to crush your fitness goals, be sure to meet the instructor first. Schedule time to observe a class and pay attention to the words coming out of their mouth. If it's not something you would say to your best friend, then it's not something you need to hear during a class that's supposed to build you up physically and emotionally.