The Bacteria In Fish Slime May Lead To New Antibiotics For Humans
Written by
Caroline Muggia
Leigh Weingus is a New York City based freelance journalist writing about health, wellness, feminism, entertainment, personal finance, and more. She received her bachelor's in English and Communication from the University of California, Davis.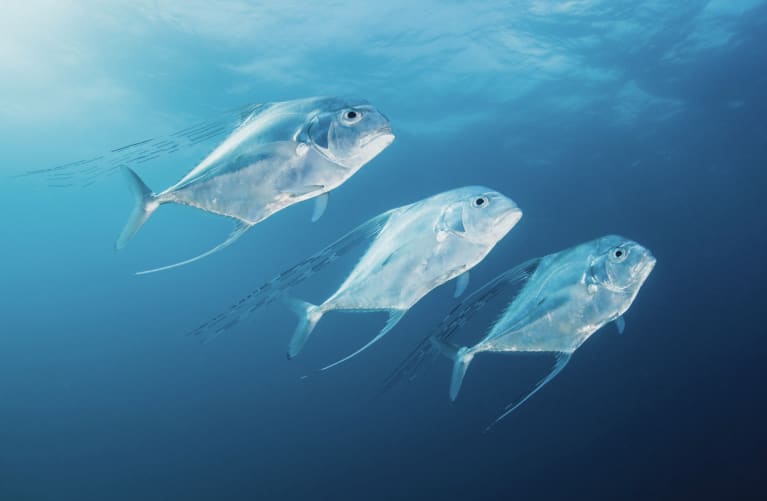 If you've touched a fish, you may be familiar with the slimy, mucus coating, but you may not be aware that this mucus layer, while it may seem icky, is actually an antibacterial protective coating that contains bacteria strains that could combat antibiotic-resistant infections in humans.
Two million people or more get some sort of antibiotic-resistant infection each year, according to the CDC. These infections, which range from tuberculosis to C. diff, have nearly doubled since 2002, forcing researchers to find alternatives to unresponsive to diseases. To do this, scientists have gotten creative—like, really creative.
While there has been a lot of research about the human microbiome, less has been done on the bacteria in the oceans, explained Sandra Loesgen, Ph.D., in a statement. Her team turned their sights to fish mucus, which is essential for fish survival as it wards off any dangerous bacteria or viruses they come in contact with. The researchers out of Oregon State University were interested in understanding whether the substance had any properties that could be beneficial to humans, and it just might.
They decided to collect samples from young fish as they have weaker immune systems and need more of the protective substance, which allows for the opportunity to find more bacteria. After examining 47 strains of bacteria, they found strains that were resistant to MSRA, a staph-related infection that is resistant to many common antibiotics, plus strains resistant to Candida albicans, a fungal pathogen that can lead to things like vaginitis.
These findings may inform the development of a new type of antibiotic for humans down the line, and it could also help limit the number of antibiotics needed in fish farming. Two things that don't sound fishy to us at all.