This Interactive Personality Map Could Help You Find Your Dream Job
mbg Editorial Assistant
By Eliza Sullivan
mbg Editorial Assistant
Eliza Sullivan is an Editorial Assistant at mindbodygreen. She has bachelor's degrees in journalism and english literature from Boston University.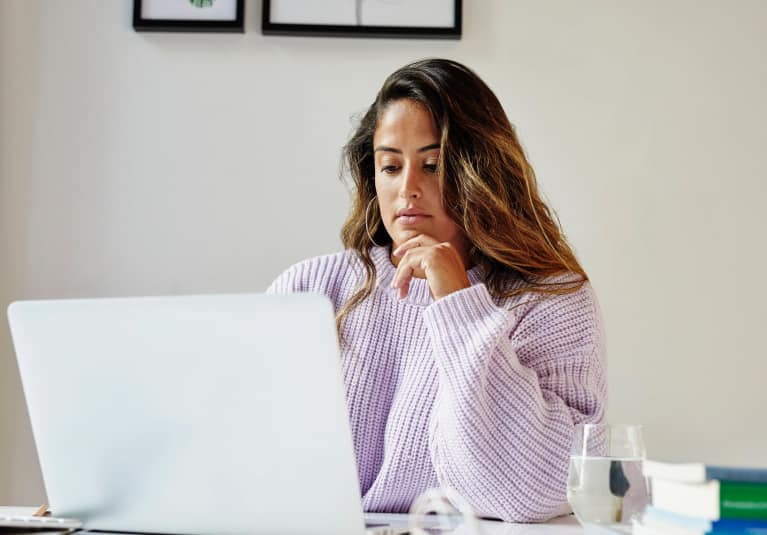 December 17, 2019 — 2:37 AM
Do you remember how you chose your job? There are many factors that go into picking a path for our career, but a new study from the University of Melbourne suggests adding another factor to your list of things to consider: your personality profile.
The study, published Monday in the Proceedings of the National Academy of Sciences, considered how personality and career aligned based on data collected from Twitter profiles. Based on 128,279 Twitter users representing 3,513 occupations, they found that similar occupations grouped together when compared to personality.
According to the study, "'Personality' refers to the biopsychosocial characteristics that distinguish a person," which they pulled from a previous study. Researchers tracked what they call "digital fingerprints" to establish personality traits based on social media profiles.
They found that different types of careers coincided with distinct differences in personality. Where software programmers were generally more open to experience, elite tennis players were conscientious and agreeable.
This study went beyond previous research, which has largely focused on careers suited for generalized personality groups like introverts or extroverts in the workplace. While the correlation between career and personality was already believed to be true, "studies have been small-scale in nature," said Peggy Kern, Ph.D., a professor working with the University of Melbourne's Centre for Positive Psychology who led the project. "Never before has there been such large-scale evidence of the distinctive personality profiles that occur across occupations."
Not only did they find that jobs attracted users with similar personalities, but they also found that similar careers grouped together "based solely on the personality characteristics of users in those roles." For example, surrounding the job title concert manager you can find promotions manager, music agent, concert promoter, and booking agent.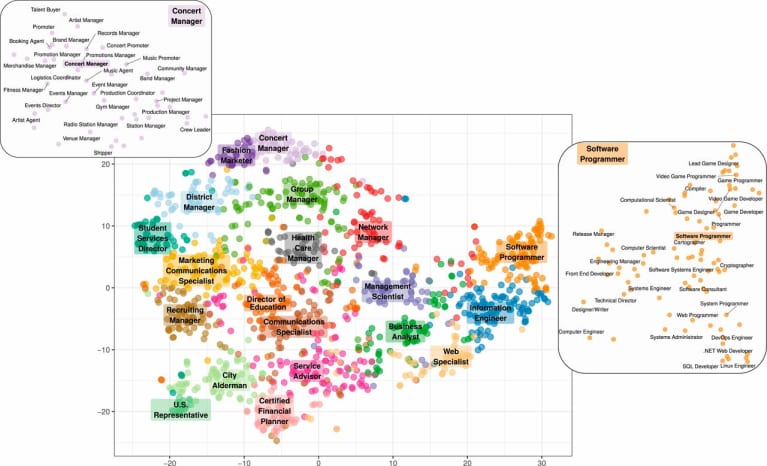 How can this help us find better career matches?
Many students on the cusp of declaring majors and choosing career paths are subjected to aptitude tests or select career options based on what they've been "good at" in school before. The results of studies such as this one suggest we're taking the wrong tack when it comes to planning our futures.
"At the moment we have an overly simplified view of careers," said Paul X. McCarthy, co-author of the study from the University of New South Wales. "What if instead—as our new vocation map shows—the truth was closer to dating, where there are in fact a number of roles ideally suited for everyone?"
Following the collection of data, the project compiled results, machine learning, and analytics to develop what they call a "vocational compass." Though in this study they pulled data from Twitter, the researchers say their vocation map, which is an interactive map worth poking around on, could be used to match people based on other types of personality tests.
Marian-Andrei Rizoui, Ph.D., a co-author of the study, explained that this program was able to "recommend an occupation aligned to people's personality traits with over 70 percent accuracy." In cases where it recommended incorrectly based on personality, it still hit upon the same career cluster: "For instance, it might suggest a poet becomes a fictional writer, not a petrochemical engineer," Rizoui said.
The data may also offer potential answers for people who have embarked on their career but are feeling lost and like they need a change. Mindfulness and introspection can help with finding the right options, but this data may suggest options that people had never thought to pursue until their personality said they should.
The connection between work and well-being.
Considering we spend on average a third of our adult lives at work, finding a job we love can help improve the quality of our day-to-day life as much as any other aspect of our daily routines. Considering our personality in our career plans may allow more alignment in our lives and improve everything from well-being to productivity in the workplace.
Our happiness at work is about more than just, well, our happiness. It also affects productivity and output, making it a topic worth investing in for brands. Even with more brands and companies adding corporate health and wellness programs, happiness and satisfaction at work can start with finding a job that fits you in terms of more than just your skill set.
The adage goes, "Find a job you love, and you'll never work a day in your life," but maybe it should be updated to "Find a job that fits your personality, and you'll never work a day in your life."