How To Drop The Fear Around Money & Negotiate For What You're Worth, According To Shauna Harrison, Ph.D.
mbg Sustainability Editor
By Emma Loewe
mbg Sustainability Editor
Emma is the Sustainability Editor at mindbodygreen and the author of "The Spirit Almanac: A Modern Guide To Ancient Self Care."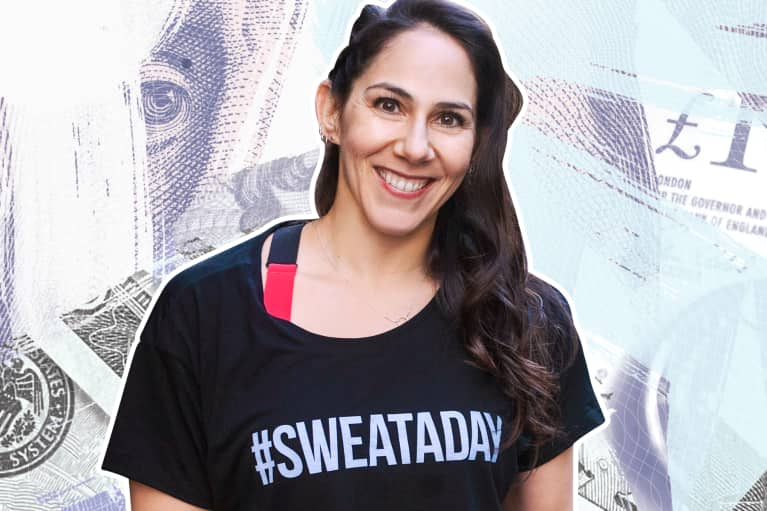 With an estimated 67 percent of Americans at least a little anxious about paying the bills, and 58 percent worried they won't have enough money for retirement, it's becoming increasingly clear that being financially well is an integral part of overall wellness. Of course, money management isn't one-size-fits-all, so we're talking to people from all walks of life to find out how they achieved a healthy relationship with their finances. We hope it empowers you to live a life Well Spent.
Shauna Harrison is a fitness superstar with a Ph.D. in public health. Her blend of intense HIIT exercises with soothing yoga flows has made her a go-to instructor in her Bay Area home base and across the rest of the country. Here, the mbg Collective member and class instructor shares one part of wellness she's still working on: financial well-being. Along the way, she lends her top tips for dropping fear around money, saving on your fitness routine, and sticking up for what you're worth.
What does financial well-being mean to you?
Everything is a balance. To me, it's a balance of not being run by money, but it's not the opposite, either—where you don't pay attention to money and things fall through the cracks. We talk about balance in fitness, yoga, wellness, and health a lot, and I think it applies to finances as well.
What has your financial journey looked like?
Honestly, money still scares the crap out of me sometimes! Having it scares me; not having it scares me. I'm working on disentangling my emotion from it. I think a lot of people can relate. It's such a taboo topic, but it's something that we all struggle with.
What strategies do you use to help you detach from money and make it less emotionally charged?
I've lived in areas in the US and abroad where there were huge economic disparities and I spent most of my academic career working with disadvantaged and minority populations. I think having this perspective along with just openly talking to people helped me. Since it is such a taboo topic, the more that you can talk to people about it, the better off you'll be.
Do you have any tips on asking for what you're worth?
That's one thing I would say about people in the wellness world: We tend to feel like we don't necessarily need to be getting paid for what we do. I've definitely taken a lot less money than I probably should have for many things because of this mentality. But, at the end of the day, it's still a job!
I've been really thinking about the time that goes into something before I agree on the price.
Especially these days, where now you can make money off of posts on Instagram, it's all about practicing vocalizing what you're worth. Sometimes people will ask me for my price on something and I'll tell them and they'll say, "Oh that's no problem at all!" like it's nothing. And then I'm like, "Damnit, clearly, I'm not valuing myself." And sometimes I'll put out a price and they're like, "There's no way." It's all just a practice and really thinking about what your time is worth.
This is what I've been trying to focus on lately, actually. It's taken me a long time to get to this point, but I've been really thinking about the time that goes into something before I agree on the price. For an Instagram post, for example, I have to shoot the photos, potentially pay the photographer, come up with captions, pass it off to the brand, and they have to approve it. There's so much time involved, and I think time is so much more valuable than money.
But it's just a matter of what is most valuable to you. Time is not something that I'm wiling to give up very easily.
Which wellness practices do you think are worth the money, and which ones aren't?
Chiropractic and acupuncture, hands down, to me, are worth every dollar. Those are the two things I do on a regular basis because of how much I do with my body.
To me, it's all protecting your body and taking care of your body, so if that means paying extra money for really good food, I'll do it. If it's going to acupuncture appointments, I'll do it. There are a lot of other recovery practices that I do, but again, that's based on my lifestyle, and my lifestyle is very active. If I don't take care of my body, I'm going to be screwed. It's preventive and curative.
I also think it's worth spending money to try new things. If you try it once and you don't notice any benefit, then maybe don't spend your money there.
Do you have any tips for people who want to practice self-care by moving their body on a budget?
Any kind of recovery stuff, like taking a bath, foam rolling—all of that can be done at home for less money. Sometimes, massage, chiropractic, and acupuncture places also have community days or sessions where it's cheaper. You can go to massage schools where the practitioners are still learning—they may not be quite as experienced, but they can still give you some good body work.
What was the best money you ever spent?
Last year I gave away a $10,000 scholarship to a high school senior. That was some of the best money I've ever spent because I know how much it could change her trajectory and how she might carry that forward in the world. I also think traveling is always, always, always the best money because the wellness for your soul that happens when you explore the world (or even your own city) is just ridiculous. I should say buying my house, too, because it was a huge purchase but I am so in love with it!