One Of The Biggest Struggles For Female Athletes? Getting Their Periods Back
mbg Contributor
By Leigh Weingus
mbg Contributor
Leigh Weingus is a New York City based freelance journalist writing about health, wellness, feminism, entertainment, personal finance, and more. She received her bachelor's in English and Communication from the University of California, Davis.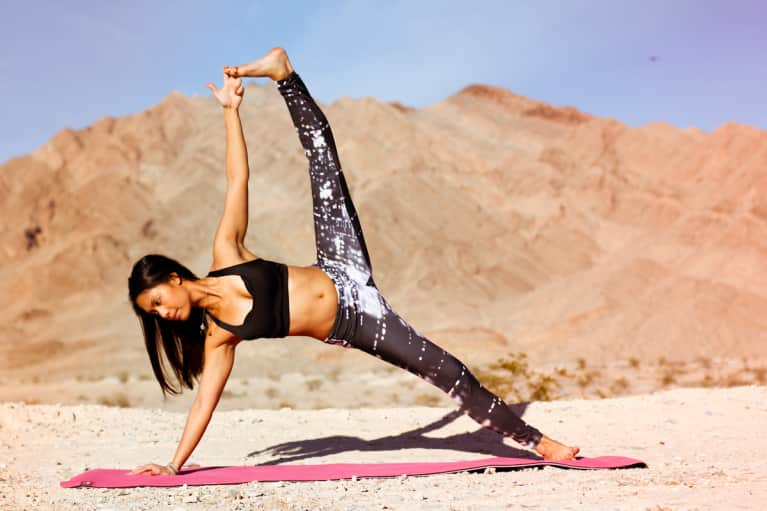 In July, Ironman champion Meredith Kessler talked to mbg about something she'd been wrestling with her entire life: her period. As a high school cross-country star, Meredith's radiant vibes made her seem like the happiest teenager in the world. And for the most part, she was—but when she discovered that a lack of body fat had led to an inability to get her period and extremely brittle bones, she was devastated.
And so Meredith's quest to get her period every 28 days began. And in a world that celebrates the woman who runs a marathon without a tampon to fight period-shaming and where some teenage athletes actually use the different phases of their cycle to optimize their training, what about the woman who struggles to get her period at all?
What you need to know about female athlete triad.
While there are no specific numbers on it, female athlete triad is a relatively common condition among high school and college-age athletes. Female athlete triad is characterized by an energy deficiency that results in bone loss or osteoporosis and irregular menstruation. While doctors and coaches can be quick to label it an eating disorder, some young women simply have a hard time taking in as much energy as they're expending on a daily basis.
Even if women aren't "officially" struggling with female athlete triad syndrome, having a low percentage of body fat often leads to difficulty menstruating. "There are a number of reasons why a young woman might not get her period when her friends do. In general, women with a low percentage of fat get their periods late, sometimes not at all," says Alice Domar, Ph.D. and executive director of The Domar Center for mind/body health. "Excessive exercise tends to halt ovulation. If you aren't ovulating, you won't get a period."
Meredith first got her period when she began taking oral birth control. Because she didn't like the way the hormones interacted with her body, Meredith stopped taking the pill when she was 26 and was pleased to find that she got her period naturally and didn't have a hard time getting it going forward. But for some athletes that isn't the case, and this can be frustrating and scary.
"This can happen because of caloric restriction—women suffering from anorexia often lose their periods when their weight falls below a certain level—excessive exercise, or sometimes polycystic ovarian syndrome, although that's more common in overweight women."
For athletes with amenorrhea—defined as no menstrual period for three months or more—it's important to consult a medical professional to figure out what's going on.
How to "get your period back."
There's no tried-and-true method for "getting your period back" (or getting in it in the first place), but one productive way to start is by eating more. After struggling to conceive for nearly a decade, Meredith told mbg that she'll eat an entire jar of peanut butter if that's what it takes to get her period on a monthly basis.
Dr. Domar agrees that increasing calorie intake is important, but practicing regular meditation, yoga, and getting enough sleep can also help with regular menstruation. "Try to take the intensity of exercise down a notch," she advises. "Stress reduction can help as well."
It isn't easy, but with enough tinkering, most athletes can figure out ways to get their periods regularly like Meredith did and go on to have healthy bones and eventually a healthy, happy pregnancy. It just takes time.
Need advice on how to heal your own body? Here's everything you need to know about active recovery, and this is exactly what you should do on rest days.