Your Weekly Horoscope Is Here: What's In The Stars For You?
Astrologers & Best-Selling Authors
By The AstroTwins
Astrologers & Best-Selling Authors
Dubbed the "astrologers to the stars," identical twin sisters Ophira and Tali Edut, known as the AstroTwins, are professional astrologers who reach millions worldwide. The AstroTwins have been featured by The New York Times, Good Morning America, the Today Show, and People Magazine, and have read charts for celebrities including Beyoncé, Stevie Wonder, Karlie Kloss, and Emma Roberts.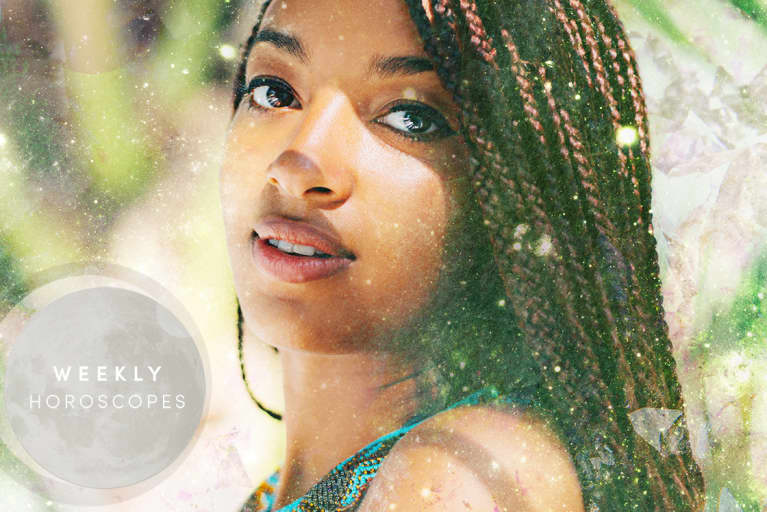 On Wednesday, a quarter moon in Scorpio could spice up your love life.
Valentine's Day is but a week away. Have you been rolling your eyes at the Hallmark holiday or busily confirming all the reservations you made in, like, November? No matter where you fall on Cupid's spectrum, a quarter moon in Scorpio this Wednesday, February 7 will heap on some spice.
Even the most die-hard cynic may start assembling a few essentials: pillar candles, artisanal chocolates, whisper-thin teddies. A date is not required to enjoy St. Valentine's offerings, but waiting until the last minute to get tickets can be a recipe for FOMO. Scour the listings! Is a museum hosting a special exhibit? Could you dress up for a chef's tasting menu? How about an ironic anti-Valentine's Day party?
Couples: Let this lunar lift steer your plans in a sexier direction. Has your self-love pilot light dimmed? This quarter moon helps reignite that inner fire. Seduction is an art form—and a sacred one at that. And it begins with feeling like a total siren in your own skin. We're not talking about starting some punishing diet or boot camp program. The magic of a Scorpio quarter moon comes from a deep and soulful place; the erotic rather than the erogenous. Little things, like wearing deliciously soft fabrics, breathing in aromatic essential oils, dancing, singing, and observing beautiful works of art and fashion, can stimulate your senses.
Scorpio is the supersleuth of the skies. If certain facts aren't adding up, don't ignore the discrepancies! You may need to go Nancy Drew on the situation in order to crack the case. Think: slick, subtle, but unrelenting. Since this is an even-keeled quarter moon, the fix might be more of a tweak than an overhaul. Get the facts and figures straightened out. It will be a huge relief! Of course, digging beneath the surface might reveal MORE problems. If you're worried about stepping into a complex hive of issues, this might be your cue to completely remove yourself from the troubling scenario—before you become an accidental accomplice.
On Saturday, Venus moves into Pisces.
On Saturday, February 10, ardent Venus floats into Pisces and joins dreamy Neptune there until March 6. Cupid could wing in on an early flight—and good luck resisting his "bomb cyclone" of charms! Rose-colored glasses are the essential accessory of this Venus cycle. And if you squint a little, you'll see poetry in, well, everything. This enchanted cycle may spur a romantic AND artistic renaissance, but you'll have to slow down if you want to fully experience it. Make time to meditate, daydream, and court the muse. Relaxing will put you in a receptive state, ideal for heart-opening moments.
The downside of Venus in Pisces is that it can make people rather gullible. Pisces is the master of illusions—and while this might work well for, say, composing sonnets, it can be dodgy when it comes to screening amorous candidates. Run the background searches (and take your time!) to avoid falling head over Stan Smiths for someone who isn't 100 percent available or reliable. Everyday routines can become magical rituals while enchanted Venus hovers here. Start your mornings with journaling and a mug of loose-leaf tea instead of going from bed to coffeepot to computer.
And February is just getting started! Check out what's in store for the rest of the month here.