7 Things You Need To Know Today (February 27, 2018)
Contributing Food Editor
By Liz Moody
Contributing Food Editor
Liz Moody is a food editor, recipe developer and green smoothie enthusiast. She received her creative writing and psychology degree from The University of California, Berkeley. Moody is the author of two cookbooks: Healthier Together and Glow Pops and the host of the Healthier Together podcast.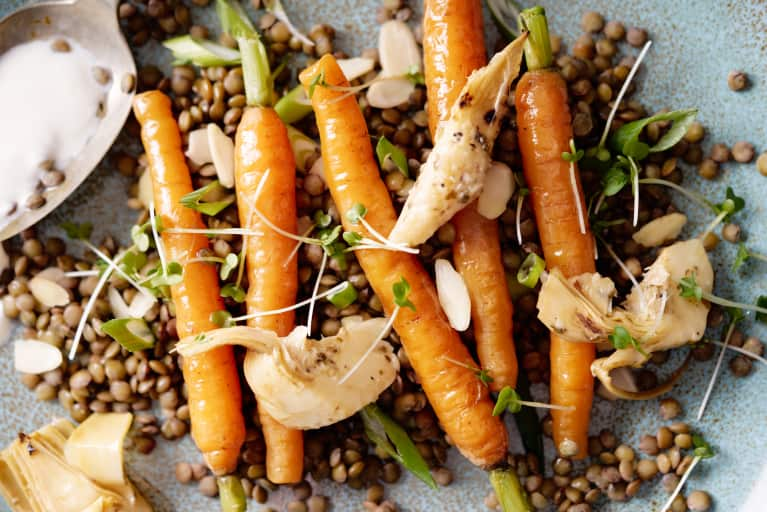 1. Plant-based diets can be therapeutic, according to a new study.
After tracking the diets of 1,000 older adults over six years, the study found that people who avoided red meat, saturated fats, and sugar and instead ate vegetables, fruit, and whole grains, were 11 percent less likely to exhibit depression. How's that for food as medicine? (The Telegraph)
2. How often are millennials REALLY brushing their teeth?
According to new data collected by the oral care startup Hello Products, only 30 percent of millennials brush their teeth once a day, and 22 percent don't even get a regular cleaning because they don't love the taste of the product. Better-tasting toothpaste, anyone? (Daily Mail)
3. Childhood obesity is becoming a bigger problem every day.
A new study, published in the journal Pediatrics, shined a light on the major obesity problem in America. Results showed that the highest increase in obesity occurs between 2 and 5 years old and as many as half of all Hispanic children are obese or overweight. (Pediatrics)
4. This new therapy might help "turn off" celiac disease.
Researchers have long been looking for a way to combat celiac disease, a disease that affects about one in 100 people. They've recently identified an enzyme that modifies gluten in the digestive tract, leading to the actual autoimmune response, which might improve treatment options in the future. (Science Daily)
5. The Wing's new workspace is all about wellness—and it's right next to mbg HQ!
This morning, mbg welcomed a new wellness hot spot to our Brooklyn neighborhood, the women-only co-working space The Wing. Thoughtful touches throughout the two-story warehouse encourage members to take a moment for self-care. They're taking workplace wellness to the next level. (mindbodygreen)
6. Have a great memory? You may have to thank your anxiety for that.
A new study released finds that a "manageable" level of anxiety can not only mitigate memory loss but, in fact, boost memory capabilities. The research also concluded that when anxiety levels are too high or descend into fear, individuals can reach a tipping point that can ultimately affect one's ability to recall certain details or events. (Science Daily)
7. Organic beer is about be a lot easier to find.
The world's largest brewer, Anheuser-Busch InBev, has announced a new type of beer: Michelob ULTRA Pure Gold, which is made with organic grains and is free of artificial colors and flavorings. It's part of a larger move many mainstream companies are making toward providing consumers with healthier options, which we'll always applaud. (Fox Business)