Monthly Horoscope: Why You Might Want To Put Your Valentine's Day Plans On Hold This Year
mbg Contributors
By The AstroTwins
mbg Contributors
Ophira and Tali Edut, known as the AstroTwins, are professional astrologers based out of New York and Seattle. Their work has been featured in The New York Times, Elle Magazine, Vogue and Good Morning America and they are the authors AstroStyle, Love Zodiac, Shoestrology, and Momstrology.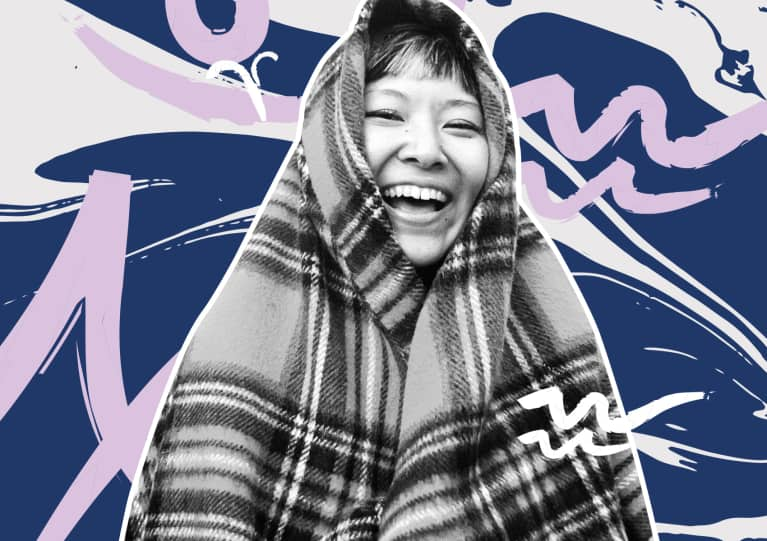 The shortest month of 2019 is one of its most action-packed. Just when we all figured out how to say "super blood Wolf Moon lunar eclipse" without tying our tongues, February sweeps in with its own kind of intensity. We're all being pushed to make uncomfortable but crucial changes.
This IS the month of love, and amorous Mars is making good on that by stealing the show. Not only is the red planet in his home sign of Aries from January 1 to February 14, but he'll make two combustible connections to outer planets that will wake us, shake us, and rouse a power struggle or two.
Cupid's been sharpening his arrows, thanks to warrior Mars, and he might even sling a few poison-tipped ones. On the very first day of the month, Mars forms a combustible square with calculating Pluto in authoritarian Capricorn. You'll feel a high-strung pressure in the air that will be impossible to ignore. Rules weren't just made to be broken—there's an uprising going on. Attempts to oppress or control will unleash raw anger, like a dormant volcano's activation. This cardinal-sign clash can also bring out major haughtiness and diva entitlement. "Don't you know who I am?" (Um, no actually.)
On February 4, the Year of the Earth Pig will officially commence.
On February 4 the new moon in egalitarian Aquarius gently brings us down from our high horses. And just in time for Chinese Lunar New Year's Eve, when we could all use a celebration to take the edge off. Good news: After a year of the territorial Earth Dog marking his turf (fences, border walls…enough already!), the Year of the Earth Pig, or Earth Boar, kicks off 12 months devoted to pleasure and cooperation. The inclusive Earth Pig works hard but reminds us to celebrate our victories (with decadent flair) instead of just plowing on to the next thing. Getting down and dirty with a fun-loving crew is hog heaven. This communal energy will pair beautifully with the 3 Universal Year in numerology of 2019, which also encourages diverse friendships and opinions. Welcome to collaboration nation!
On February 13, Mars and Uranus could flare up some temper tantrums.
On February 13, Mars makes its second major scene, locking into a rare conjunction (meetup) with unpredictable Uranus. With these two volatile planets united in hotheaded Aries, we could be seeing red—and not just because Valentine's Day is almost here. Tempers can go from zero to 100 in seconds. Breathe before you react, check your aggression, and channel those pent-up emotions into a good workout.
Mars and Uranus will never meet in Aries again in our lifetimes.
But on the upside, this is a moment to take bold action in an area where you've been fearful or hesitant. Mars and Uranus will never meet in Aries again in our lifetimes, so it's a rare moment to strike while the iron is sizzling.
On February 14, Valentine's Day will be packed with mutable-sign energy.
On Valentine's Day, Mars moves into earthy Taurus, throwing a little dirt on the raging fire. While we don't want to extinguish our excitement, this transit can help tame the flame. Motivator Mars in security-seeking Taurus can act as an economic stimulus plan, helping us put numbers and schedules and all the practical stuff behind our larger-than-life ideas.
Save the big V-Day plans for another year and keep it simple. With the already-scattered Gemini moon locked into a T-square (three-way tug o' war) with excessive Jupiter and confusing Neptune, anything overcomplicated will be a #fail. All this mutable-sign energy will make people indecisive and restless. Sitting through a 10-course tasting menu? Leave room to be spontaneous!
Frankly, Valentine's Day is a calendar miscalculation—at least by astrological standards.
On February 18-19, we'll all come back down to earth.
Frankly, Valentine's Day is a calendar miscalculation—at least by astrological standards. It falls while the Sun is in Aquarius, the sign of friendship, casual connections, and emotional detachment. That doesn't exactly scream "romance"! But four days later, on February 18, the Sun moves into enchanting, sensual Pisces, which would be the perfect time for this Hallmark holiday. Book your do-over dates for Pisces season.
Also on February 18 this year, wounded healer Chiron moves into Aries, staying until 2027. Collectively, we'll all be recovering from feeling silenced and shamed for our individuality. And on February 19, the Virgo full supermoon puts health and organization on our radars. If you haven't binged on Marie Kondo's Netflix series, Tidying Up, the full moon practically mandates the removal of any non-"joy-sparking" detritus from your life.
The shift from fiery to earthy energy will help cool the frantic energy toward the end of the month. Or, at the very least, we'll have a structure that will allow us to fashion the raw materials into something concrete.