Your Weekly Horoscope Is Here: What's In The Stars For You?
Astrologers & Best-Selling Authors
By The AstroTwins
Astrologers & Best-Selling Authors
Dubbed the "astrologers to the stars," identical twin sisters Ophira and Tali Edut, known as the AstroTwins, are professional astrologers who reach millions worldwide. The AstroTwins have been featured by The New York Times, Good Morning America, the Today Show, and People Magazine, and have read charts for celebrities including Beyoncé, Stevie Wonder, Karlie Kloss, and Emma Roberts.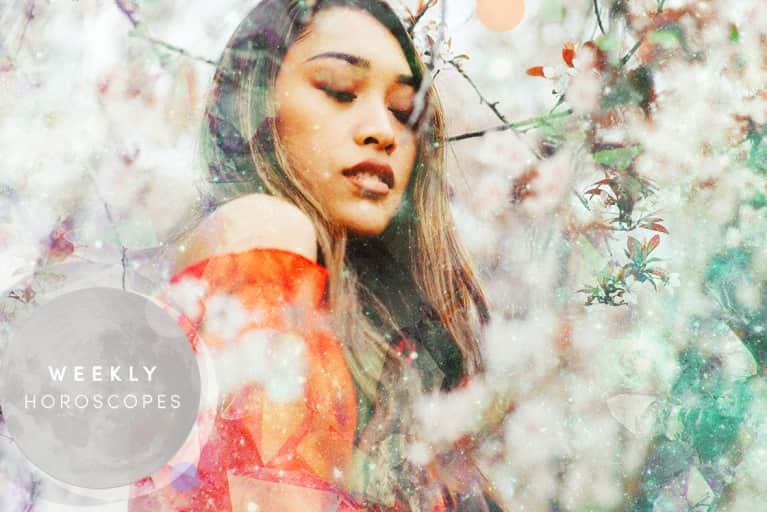 On Wednesday, Venus and Neptune move into Pisces, bringing warm, fuzzy vibes.
On Wednesday, February 21, two of the solar system's dreamiest co-stars—Venus and Neptune—spoon shamelessly in quixotic Pisces. Reality? We'll take a pass on that. If there were ever a day to ignore the political news (or at least read it in a digest format during a calm moment), consider Wednesday it.
This cosmic connection comes only once per year, opening hearts everywhere. Think of it as a bonus Valentine's Day where the poetry and warm-fuzzy feelings rush out unchecked. (And given February 14's detached Aquarius moon, many of us could use a V-Day do-over.) One week after the Hallmark holiday, this Wednesday's heavenly heart-to-heart brings a fairy-tale quality to our romantic interactions. While it's easy to get swept away, we could also get sucked into a charming player's undertow. Enjoy the sweet escape that Hump Day brings—not to mention the divinely inspired creativity. But do keep a foot planted in the reality zone, too, since it's a little too easy to ignore the red flags. Since Pisces is the sign of forgiveness, this is a fine week for mending fences. When you extend the olive branch, sweeten the deal with a gorgeously arranged bouquet of flowers. We hear they're on sale…
This weekend, Venus and Mars will square off, and some harsh truths could come to the surface.
Get all that mushy-gushy sentiment out of your system by Saturday! A challenging dust-up (a 90-degree square) between cosmic lovebirds Venus and Mars could bring trouble in paradise. Venus continues flowing through dreamy, nostalgic Pisces, drawing us all into a fantasy-fueled haze. Then...bam! Warrior Mars charges in on Sagittarius' steed, bursting Venus' bubble with piercing arrows of truth. Lovers' quarrels can go from simmer to boil with Venus in Pisces playing passive-aggressive games as aggro Mars in Sagittarius fires up tempers. While this is certainly not the time to sweep issues under the rug, real talk about relationships may get heated fast! Even if you DO lay all your cards on the table, you're likely to be misunderstood. Set aside touchy topics for the future, even if you have to cleverly stall. The iron is too hot for striking this weekend.
If you've been in a holding pattern, however, the dynamic Mars-Venus square might motivate you into action. Pick up a pair of tickets to a show instead of spending another Saturday night watching movies on the couch. Spark up a conversation with an intriguing stranger. This could be the cosmic catalyst you need to make things interesting again.
Thankfully, some of the drama should blow over by Sunday, when Neptune makes its annual connection to messenger Mercury. Even if we're changing the subject from "hot button topic" to "areas of common ground," it won't feel super awkward. Sometimes a distraction can literally prime the pump for communication. Plan a dreamy nonverbal day trip to divert away from discussions. Wander through a gallery; go watch one of the Oscar-nominated movies (at the theater); take a DIY workshop. You might be hugging it out—or even laughing(!) about the intensity—before the weekend is through.
Want more insights from the AstroTwins? Tune into their mbg podcast episode and check out their Astrology Fundamentals class.