Your Complete Astrological Forecast For Valentine's Week
mbg Contributors
By The AstroTwins
mbg Contributors
Ophira and Tali Edut, known as the AstroTwins, are professional astrologers based out of New York and Seattle. Their work has been featured in The New York Times, Elle Magazine, Vogue and Good Morning America and they are the authors AstroStyle, Love Zodiac, Shoestrology, and Momstrology.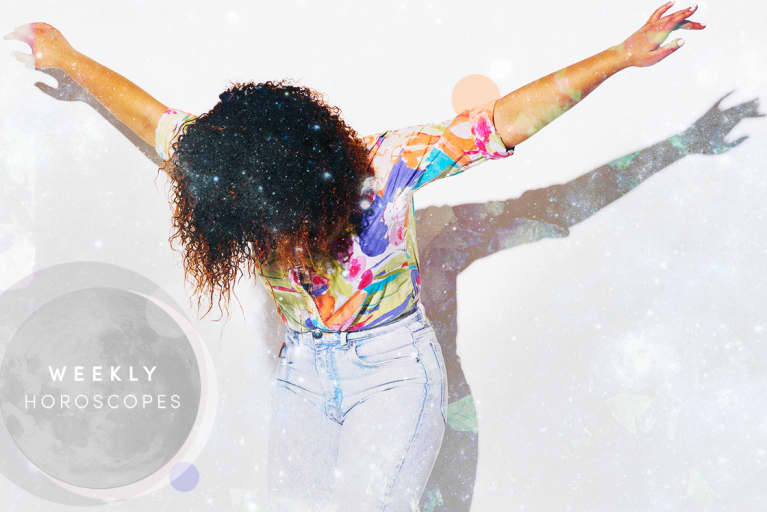 On Valentine's Day, a balsamic moon might leave you feeling lethargic.
This Wednesday, February 14, an almost-new moon in Aquarius will flicker like a waning votive in the sky. Call it mood lighting, which CAN be kind of sexy. But a "balsamic" moon—the name of la luna's final waning phase—can also bring a foggy, sleepy vibe to the day. (And it can feel a bit like interplanetary PMS for people who have a lot to release before Thursday's new moon.) Pro tip: Don't overload your night with a five-part celebration. Instead, scatter rose petals on the bed and plan on climbing in on the early side.
Don't get all bent out of shape if you do more cuddling than, uh, performance art. You'll make it up to each other later. Aquarian energy tends to be more logical than sentimental. We're not saying this will be an erotic buzzkill, but foreplay this V-Day may begin with intellectual stimulation before it gets physical. Start with a rousing activity, like a poetry reading, comedy showcase, or a play at an independent theater. Communal Aquarius enjoys a group date. Don't have a Valentine? Seriously, it's SO not a problem. Rally friends and celebrate the spirit of universal love. How about singing ironic ballads at the local karaoke bar?
On Thursday, a solar eclipse coincides with Chinese New Year.
On Thursday, February 15, hang the red lanterns and get ready for a second celebration! The cocky and frenetic Fire Rooster passes the torch to the loyal and communal Earth Dog until February 4, 2019. In 2017, outsized male egos dominated the world stage and legit almost started a nuclear war via Twitter. But the hens were NOT having it. Shifting coop politics spurred two record Women's Marches, the #MeToo movement, and a powerful new era for women's rights. Unprecedented storms and devastating blazes also caused major destruction during the past two years (2016-17), which were ruled by the fire element. It's been intense, heart-wrenching, exciting, and basically...a lot. Starting Thursday, we may all begin to feel a bit more grounded as the Dog marches in and initiates two years that will be ruled by the earth element. Caring for the planet and conserving natural resources? A must. Dog is associated with the Western sign of Libra, so peace, diplomacy, and cooperation may be restored. But Dog is also a pack animal, so choose your loyalties carefully in 2018—and avoid the divisive Alpha figure whose bark may (or may not) be worse than their bite.
The Chinese New Year always begins with the Aquarius new moon, and Thursday's happens to be a solar eclipse! This is the second in a trio of Aquarius eclipses that began with a lunar (full moon) eclipse last August 7. Aquarius is the zodiac's tech whiz and team player, a high-minded idealist and mad scientist. We're certain this "power to the people" eclipse bundle is spurring the engagement in politics (especially via social media) as well as the rise in activism and populism. This new moon asks: Can you turn your #PersonalGoals into #PackGoals? Collaborations get an extra blessing from this lunar lift. Assemble your dream team and start co-creating! (Hint: You may have met some of these people near last August 7's eclipse.) Together, you might create something world-changing by the final lunar eclipse in Aquarius this coming July 27.
This weekend, Mercury and the sun move into Pisces.
If the workweek fails to bring the romantic fireworks, fear not. The weekend makes up for all that lost time. On Saturday, sweet-talking Mercury flutters into Pisces until March 6. On Sunday, el Sol follows on the winged messenger's heels, parking in dreamy Pisces until March 20. Rose-colored glasses and hearts worn on sleeves are always en vogue during this poetic season. Reality checks? Not so much, but take them periodically anyway. Compassion returns—a blessing in the current world climate! The liquid nature of Pisces allows us to flow beyond our own boundaries so that we can glimpse life from different perspectives. Before you judge, try paddling a mile in someone else's canoe. Pisces is symbolized by two fish swimming in opposite directions. One is pointing us upward, to our visionary selves; the other sends us down into the murky waters of our own shadows. Deep healing awaits for those willing to plunge into the stormy sea of the psyche. And so much beauty can emerge from these trips below the surface! Keep the creative supplies on hand and turn that pain into art.
Learn what the rest of February has in store for us with the AstroTwins' complete monthly forecast.