Family Affects Chronic Health More Than Romantic Relationships, Study Finds
mbg Editorial Assistant
By Abby Moore
mbg Editorial Assistant
Abby Moore is an Editorial Assistant at mindbodygreen. She earned a B.A. in Journalism from The University of Texas at Austin and has previously written for Tribeza magazine.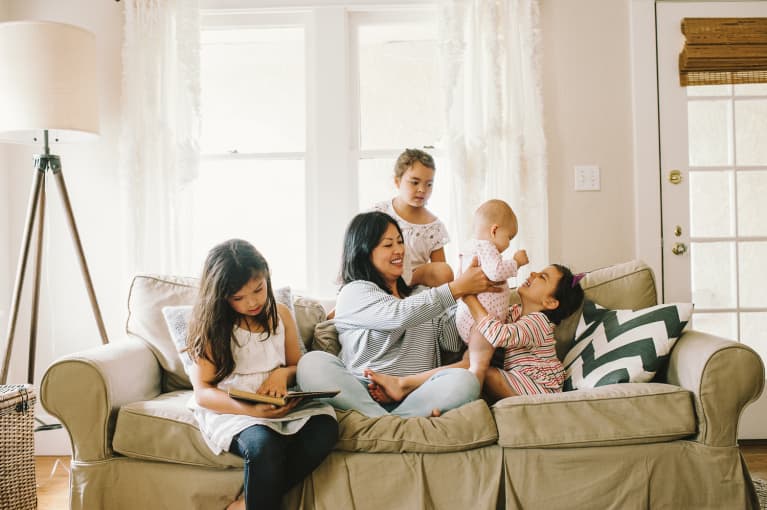 November 11, 2019 — 2:13 AM
Thanksgiving is approaching, which means it's nearly time for a gaggle of great aunts to ask why you're still single. While romantic relationships have their benefits, research finds that your connection to those nosy aunts might be more important than the "special someone" they want you to find.
A study published in the Journal of Family Psychology found that negative emotional relationships with family members had a significant impact on declining physical health while romantic relationships had no influence on long-term health.
What did the researchers find?
The research followed 2,802 participants over the course of 20 years. Three waves of studies were completed, starting in 1995 and ending in 2014. The average participant was 45 years old during the first study.
During each round of surveys, participants were asked to identify their "family emotional climate" by measuring family strain and family support. They repeated the same measures for "intimate partner emotional climate."
To assess physical health, participants were asked to list any chronic conditions (stroke, headaches, and stomach issues) experienced 12 months prior to the questionnaire. They also ranked their physical health from excellent to poor.
Data from round two, conducted 10 years later, showed increased health in participants with greater family support. Surprisingly, health outcomes were not significantly affected by romantic relationships.
"We were honestly stunned that there were zero associations between intimate partner emotional climate and later health," said lead author of the study Sarah B. Woods, Ph.D.
Traditional views on marriage have changed in recent generations. People can choose to marry later in life, and those marriages can end in divorce, but you can't break up with family.
"The vast majority of the people in the study had living parents or siblings," said co-author Patricia N.E. Roberson, Ph.D., "their relationship with a spouse or intimate partner was less likely to be as long as that of their family members."
The researchers hope their findings encourage health care practitioners to focus on family intervention when treating and assessing patients. This practice is typically implemented in early childhood and old age but is less practiced in adulthood.
"Family-based interventions for adult health are likely appropriate, and necessary," the study stated.
What's next for this research?
The research focused primarily on disease and health assessments but excluded death. Further research could be done to link close relationships with disease risk, prevention, and the likelihood of death. This information could help families prepare for medical costs and ensure a better quality of life, according to the study.
When it comes to how our relationships can affect our health, it may be family connections that reign supreme. So as we enter the throes of holiday season, you might want to optimize your physical (and mental!) health by surrounding yourself with relatives and healing any strained relationships—maybe it's time to give those nosy aunts a call.