Foliage Guide 2017: Everything You Need To Know For An Epic Fall Outdoors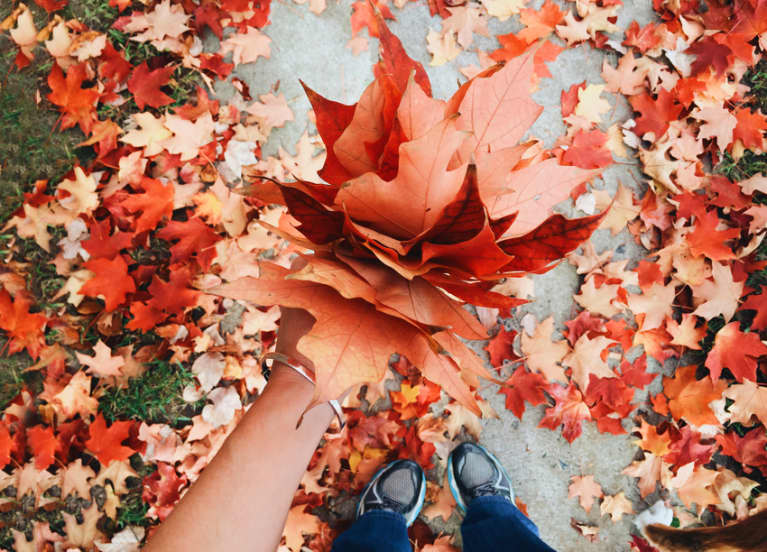 Here in the Northeast, autumn's scent has officially tinged the air and left us all wanting for the colorful crunch of leaves red, orange, and yellow. Fall foliage is a gorgeous reminder of the cyclical nature of our world, the way that leaves must fall from the trees in order to be birthed anew. The process going on behind the scenes is just as awe-inspiring. The shades that leaves take on this time of year are actually their true colors, devoid of the green chlorophyll pigments they produce in the warmer seasons for food. Once this source of nourishment is gone, each one returns to its real stain before cutting off water and nutrients entirely to protect the body of the tree for the harsh winter ahead. Once leaves do so, it's only a matter of time before they fall to the forest floor and break down into nutrients to power next year's cycle.
Whether you're a hard-core fall enthusiast or just someone who enjoys the occasional leaf pile, there are plenty of ways to enjoy the seasonal transformation. Here's your primer:
This year's foliage route.
Peak fall foliage comes at a different time every year, and the fall 2017 season is going to be arriving on the earlier side, according to NOAA predictions. Thanks to warmer-than-average temperatures and high rainfall this summer, certain parts of the United States are already seeing changes. Peak conditions will hit the Northeast and Pacific Northwest first, then travel downward through September and October. By October 29, the whole country should be past peak.
If you're looking to make an occasion of peeping (a fancy way of saying "looking at leaves" that was coined in Vermont after World War II), the pros say to head out on a clear, dry, and cool-but-not-cold day. New England is typically thought of as the mecca of foliage, and the northern part of it will be engulfed in peak season in early October while the southern portion will be most colorful closer to mid to late October. Parts of the Southeast, Midwest, and Northwest will also put on some pretty stunning displays this year. The Great Lakes region and Cascade Mountains are already taking on some colorful hues, while the Smoky Mountains will be breathtaking later in the season. These nifty foliage maps from the Weather Channel and Smoky Mountains sites can help you plan your peeping route.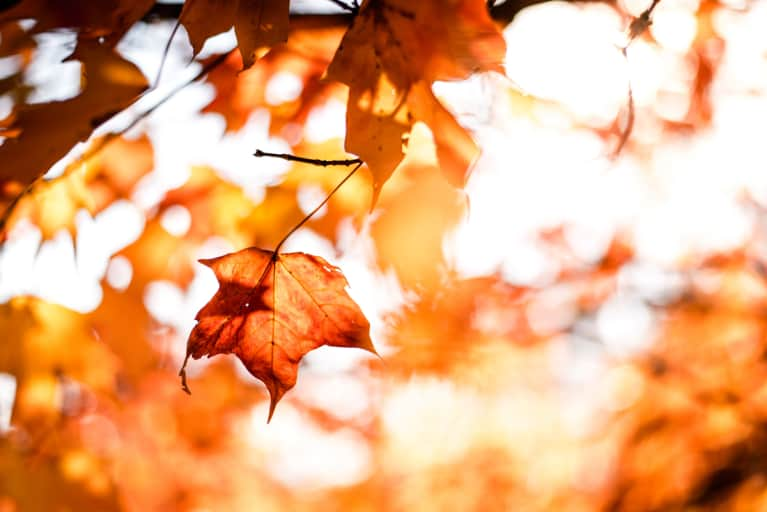 In the age of social media, desk jobs, and Netflix, we could all use a little more time away from our computers, immersed in the world around us. Here are a few top tips mbg has compiled over the last year that can help you plan your next outdoor adventure around the leaves.
If you're going on a day hike...
Even if you only have a few hours, you can still pack in a really great day hike. Check out mbg's list of the top 25 best hiking routes for fall, organized by length, and be sure to read up on the packing essentials before you head out. Throw some trail mix into your pack—lauded by avid hikers for its proteins and fats—or go for a more filling wrap with hummus and avocado. Bring a journal, pen, and maybe some art supplies too, using the day as an opportunity to slow down and get a little reflective. You can plan your goals for fall, write a letter to someone you haven't seen in a while, or simply describe the leaves around you.
If you're going camping...
If you're heading out on a longer hike to take in the beauty of the season, make sure you're comfortable enough to go the distance. This summer, mbg heard from a seriously inspiring "minimalist hiker" who managed to drop all the nonnecessities for easier maneuvering on the trail. Take a page from his book and drop the nonessentials in favor of light, multipurpose items like lavender oil—which can soothe any skin irritations and promote deep sleep. And be sure to leave your campsites as pristine as they were when you found them with these three eco-friendly practices.
If you're going forest bathing...
No, I'm not talking about taking your Epsom salt bath into the woods (though that actually does sound pretty epic). Forest bathing—the act of infusing your time in nature with more mindfulness—has been scientifically shown to boost the immune system, lower heart rate, and tone down blood pressure. It's even been recognized by the Japanese government as a legitimate therapy, and people in the United States are signing on with forest bathing clubs popping up around the country. You can take advantage of this quick, easy way to chill out by heading out into the forest during fall, turning your phone on airplane mode, moving slowly and thoughtfully, and checking in with your five senses as you go. Make it about the journey, not the destination, to reap all the benefits of this restorative practice.
Still in a summertime state of mind? This mental and physical cleanse will get you ready to fully embrace the new season.