How To Make A Homemade Face Mask With Hair Ties, According To The CDC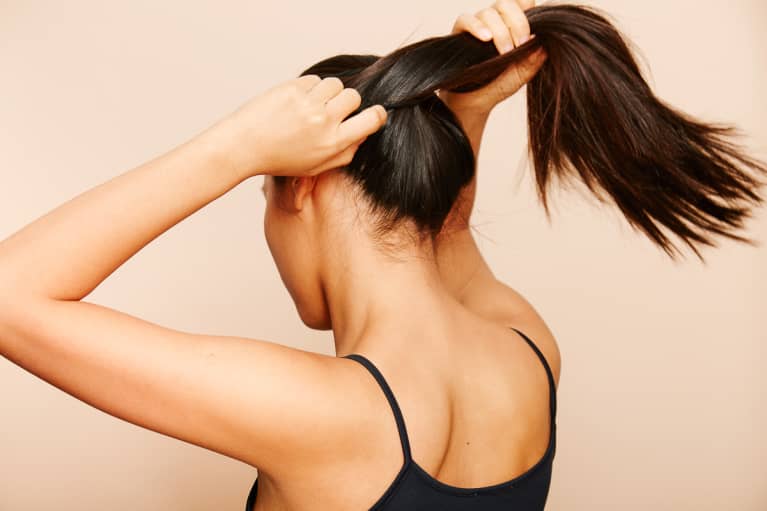 Last updated on August 2, 2020
During the COVID-19 pandemic, wearing a mask has become commonplace. "The reason behind wearing a mask is that masks prevent the spread of respiratory droplets from person to person, which may contain the virus," integrative medicine physician Aditi Nerurkar, M.D., MPH tells mbg. "There is lots of good research to support this over the past few months from studies done in many parts of the world."
It's important to note that face coverings aren't necessarily meant to protect the person wearing them, but rather the people around them from droplets that can spread via coughing, sneezing, and speaking.
There are a number of ways to make your own face mask at home, with or without a sewing machine. One simple option is to put one together using only hair ties and a square piece of fabric. Below, you'll find a step-by-step guide on how to construct this easy DIY mask:
2 hair ties
One 20-by-20-inch piece of fabric (ideally, a scarf or bandanna)
Fold fabric from the top and then from the bottom, so they meet in the middle.
Repeat the first step with the smaller folds. You should now have one long rectangle.
Wrap one hair tie around each end of the rectangle (about 6 inches apart).
Fold both sides into the middle.
Use the hair ties as ear loops. Make sure it's fitted properly so that your nose and mouth are covered.
If you don't have a scarf or bandanna lying around, the CDC recommends using an old T-shirt or towel and cutting it into a 20-by-20-inch square. To see it demonstrated by the surgeon general, watch this video.
Wearing cloth coverings, combined with social distancing and hand hygiene, can help slow the spread of COVID-19. But the CDC wants us to keep these tips in mind when wearing homemade masks:
In order for the mask to serve its purpose, it should cover the nose and mouth snugly, but comfortably.
Never put a cloth face covering on children under the age of 2 and anyone who has trouble breathing, is unconscious, incapacitated, or otherwise unable to remove the mask without assistance.
Regularly wash your face mask, either in the washing machine or with hot water and soap.
Always wash your hands when putting on or removing a face mask, and avoid touching other parts of your face.
"The whole reason we recommend masks is to possibly prevent spread from people who are asymptomatic to other people," says board-certified physician Bindiya Gandhi, M.D.
If you have to leave the house and go to the grocery store, pharmacy, or other crowded places like your running trail, don't forget your mask.
Want to turn your passion for wellbeing into a fulfilling career? Become a Certified Health Coach! Learn more here.