Should You Be Wearing A Face Mask While Running Outside?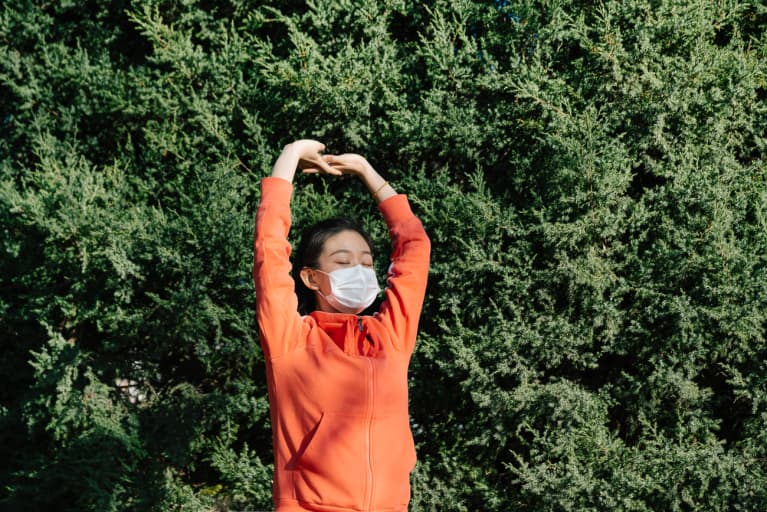 Until last week, only health care professionals and people with confirmed cases of COVID-19 were asked to wear face masks. But now, with evidence of asymptomatic cases, the CDC recommends everyone wear cloth masks in public settings to be safe. But how does this affect runners?
Should you wear a face mask while running?
In order to be most effective, cloth masks should cover both the nose and the mouth, which can make it difficult to breathe while exercising. "Wearing a mask is not going to be comfortable while running," board-certified physician Bindiya Gandhi, M.D., tells mindbodygreen. But if you run on a populated trail, protecting your face with a mask is necessary, even if it is uncomfortable.
If you do wear a mask, it's important to keep some safety tips in mind, to optimize its effectiveness. For starters, odds are your mask will get sweaty while running. According to Gandhi, when the fabric becomes wet, it can potentially harbor the virus, so it's important to avoid touching the mask and other parts of your face.
"Also, immediately upon taking your mask off, carefully wash your hands and the mask with hot water and detergent," she says.
How else can you stay safe while running outside?
"The recommendation is to continue running outside alone and maintaining a 6-foot distance from everyone," Gandhi says.
If your normal route is crowded and prevents you from complying with social distancing guidelines, ideally you would find somewhere else to run or leave at a less busy hour.
If it's simply too difficult for you to breathe in the mask while running and you can't abide by those suggestions, Gandhi recommends finding another type of fitness to substitute. There are plenty of at-home workout options that can keep you active, like this bodyweight workout or this no-jumping HIIT routine to keep your downstairs neighbor happy.
"Wearing a mask is not necessary if you are following all the precautions," says Gandhi. But if you're unable to make take necessary actions like avoiding crowded trails or leaving at an earlier hour, wearing a mask is essential.
Since medical face mask supplies are limited and should be saved for health care workers, consider making your own cloth version. It's easier than it may seem—all you need is a scarf or bandanna and some hair ties.